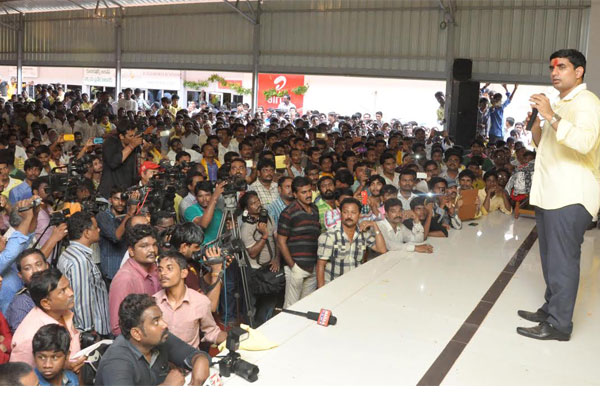 Nara Lokesh Babu , who is going to play key role in party affairs today participated in an impressive gathering of students and youth in Kandukur, Prakasham district. Lokesh inaugurated the TDP Cadre Training Centre at Prakasam Engineering College. He is expected to concentrate on recruiting and moulding the students and youth for the TDP ideology of development of the state. According to party sources, Lokesh Babu is given responsibility of mobilizing youth to support TDP governments policies, which of late attracting criticism from opposition parties. "In Andhra Pradesh, students are not actively involved in TDP politics. The students activity is confined to the Left parties and BJP, and to some extent Congress. TDP doesn't have an effective student and youth wing. Lokesh will concentrate on this aspect and mobilize youth opinion in favor of Chandrababu Naidu's efforts to make Andhra Pradesh, a global destination of investment, which is going to create job in lakhs," TDP sources involved in the Lokesh activities told Telugu 360.com
A senior party leader and politburo member, who doesn't want his name quoted told this correspondent that Naidu wants to channelize youth energy to silence opposition onslaught on the developmental projects of TDP government.
"Chandrababu Naidu seems to have observed that Prime Minister Modi was being robustly defended by youth globally for his initiatives. He has highest youth following among the contemporary political leaders in India. Such a support is needed to rebuild any country or state. TDP president also wants harness youth power. Lokesh is on the job of mobilizing support Andhra youth wherever they are. Lokesh is given the responsibility of building youth force," he said.
Already pressure is building on Lokesh to enter party organization and become in-charge of organizational matters. In a recent high level meeting party held in Vijayawada, politburo member and senior most leader of the party, Kala Venkatarao suggest to CM to appoint Lokesh as secretary-general of the party and make him in charge of organization. Naidu, though diplomatically chose not to respond to the suggestion in public, is indirectly encouraging his son to become the youth and student leader of the party.
The Kandukuru meeting, said the TDP leader, had proven the young Naidu's capacity to attract the youth and sustain dialogue with them for longer time. "This is the quality of the leader", he added.
Now we have to watch keenly the moves Lokesh takes to become the self-made leader or end up as son of Chandrababu Naidu.