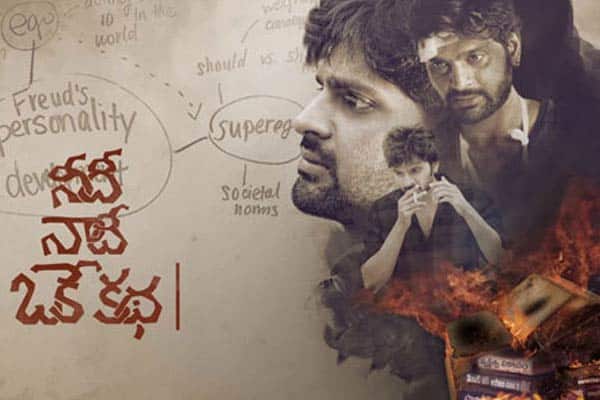 Needi Naadi Oke Katha Review
Telugu360 Rating 3.5/5
Story:
Rudraraju Devi Prasad (Devi Prasad) is a middle class lecturer, highly reputed personality among his circle for his advocacy on importance of education. Sagar ( Sree Vishnu ) is his son who isn't bright in academics but a guy who can understand his father's high ambitions , hopes on him. After failing multiple years, Sagar enters self-realization phase, quits his friends and joins personality development courses. On top of it, he seeks advice time to time from Ms. Dharmika ( Satna ) a brilliant student.
Rest of the story is about pursuit of "Happiness ", "settlement in life" and the whole debate around it.
Performances:
Sree Vishnu walks out with distinction as a failure student role. His character is severely challenging one as it has to showcase the self-conflict of a youth; he excelled in comedy and emotional scenes both. Devi Prasad as sree vishnu's father is another strong performance that will be remembered for few years. Heroine Satna is adequate, so are hero's sister and mother role actresses
Analysis:
The clash between a son and father stories have been dealt 100s of times on Indian silver screen. Only few of them are able to manage to get the right emotions, one such is Needi Naadi Oke Katha. Film opens on entertainment note showcasing Sagar – a pawan kalyan fan's lifestyle. He is lazy and unsuccessful academically. He is three years older to his sister, but becomes her classmate after failing consecutively. Once hit the realization path, director Venu Udugula brings in the seldom discussed point to the stage.
Director takes up an interesting debate between live by your natural instincts Vs what they teach in Personality development courses like positive thinking etc. Similarly How parents force their kids into a fake " intelligent student " image for the sake of society has been dealt good.
From the title ' Needi Naadi Oke Katha ' , the part ' oke katha ' suggests that it is going to narrate the journey of two characters who share same idiosyncrasies. Contrary to this, a brilliant academic background girl tells , a youngster with low-esteem that ' Needi Naadi Oke Katha' and the reasoning has been narrated well justified
Debutante director Venu Udugula deserves all credit. His dialogues, direction are good. However, the plot is single thread, redundant. Few may complain this as a slow paced film, but to generate right emotions, one cannot do with fast paced screenplay. Suresh Bobbili music is cool and adequate. Lyrical value of songs are good.
Positives:
Honesty and message in the film
Slice of life dialogues
A Meaningful debate on given subject
Stellar performances
Negatives:
Preachy at times
Slow paced
Verdict:
' Needi Naadi Oke Katha ' is a realistic , honest , heart-touching and thought provoking film. It is relatable not only to unsuccessful youth, but also to successful ones. The drama between the son-father has been dealt very good. . If you liked "Aa Naluguru" ,"Matru Devobhava " kind of sentiment movies, then this film is for you.
However , at box-office, this sentimental, preachy, single thread film may have a very limited scope because of its genre. Tasteful audience should encourage this type of content based films so that we get more.
TELUGU360 Rating 3.5/5
Release Date : 23nd March, 2018
Director : Venu Udugula
Music Director : Suresh Bobbili
Producers : KrishnaVijay, Prashanti
Starring : Sree Vishnu, Satna Titus