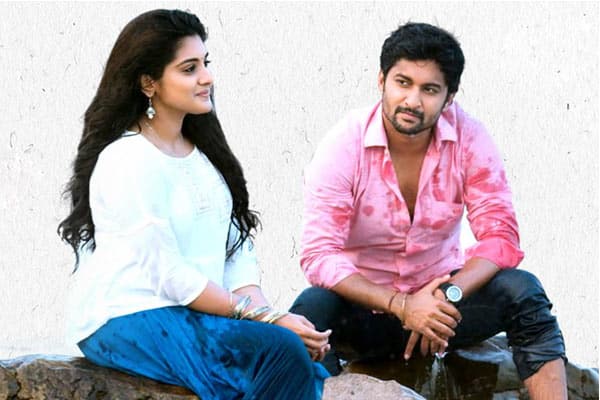 Ninnu Kori Review
Nani Ninnu Kori telugu movie Review
Telugu360 Rating : 3.25/5
Indian movies have time and again revised the 'boy meets girl' love storyline introducing new twists and plots. Vanilla love stories involved plots where the boy & the girl win over the parents opposing their love. And then we got love stories with a bit of tragedy thrown in. And then we have the love stories where the girl is half way to getting married to her parents choice, the lover kicks in,the couple elopes before the all too binding marriage knot is tied. And then we got those love stories where the boy continues his efforts to woo the parents of the "married girl", eventually convincing everyone that the couple belong to each other.
Regardless of the 'twist in the love story', a subtle note in the failed love stories is that the boy strongly believes that his lover is best loved only by him, his love is often superior to any love that her parents' choice spouse may offer. With a whole bunch of movies underlining this viewpoint, it is not uncommon that the youth of today strongly come to believe this to be true in their lives as well.
So, how true is a lover's strong belief that his/her love is not their happiest without them in their life? Or is it just an illusion fortified by the hundreds of movies? 'Ninnu Kori' movie addresses this viewpoint, (you guessed it) with a bit of twist thrown in. And perhaps it does come close to validating/refuting this belief – something that might get the audience thinking.
Story :
Uma Maheshwara Rao (Nani) and Pallavi (Nivetha) are the boy and girl in this love story. A well balanced love, something that could have progressed into happy marriage. But life happens and Uma relocates to Delhi on a career opportunity against Pallavi's wishes. Pallavi's parents perform their parental duty searching for the perfect groom, the NRI Arun (Aadi Pinisetty). Unwilling to disrupt Uma's career goals, Pallavi marries Arun and moves to Bay Area, USA.
Our boy, Uma dons the role of Devadasu, seeking the company of alcohol. Eventually fate intervenes and Uma lands a job in Los Angeles, USA. At this point the story moves forward predictably, as Pallavi coming to know of Uma's addiction, tries her best to convince him to stop pining for her and get on with his life. In spite of her attempts, Uma continues to believe that she is unhappy with her married life; how can she be her happiest when she is not with him – the one who loves her the most. At this point, the movie takes an interesting turn with Pallavi and Arun inviting Uma to live with them for a few days. Rather scandalizing, but well justified as the movie moves forward. So, was Pallavi really happy with her married life or was Uma's heartache validated?
Analysis :
Debutante Director Shiva Nirvana succeeded in delivering a clean film. 'Ninnu Kori' is a classy film with a slow paced first half and a rapidly progressed second half. The first half could have showcased better love scenes between Uma and Pallavi. The rest of the film feels practical enough with rich flow of emotions.
Strong dialogues, melodious songs, rich visuals comprising of 65-70% of the film in the USA add up to make a good movie. The songs 'Unnattundi Gunde…', 'Adigaaa Adigaa…' are pleasing.
Kona Venkat's scored after a long time with a perfect screenplay. Prawin Pudi's editing is crisp as he efficiently trimmed the movie run time to 2hrs 15 mins while keeping together the movie integrity. Gopi Sundar's music is a perfect partner to the movie theme. Good production values from DVV Entertainments and Kona Filem Corporation.
Performances :
Proven yet again is the fact that, selecting the perfect stories comes naturally for the 'Natural Star' Nani. His performance in this movie is top notch, the climax scene definitely a career highlight. His comic timing and the emotional scenes are perfect. The female lead, Nivetha Thomas, is an asset to this movie. Her ability to portray the emotions via her eyes are plus point, something that will not go unnoticed in this movie. Aadi Pinisetty bagged a decent role with getting delegated as the 'heroine's husband'. Murali Sharma, Prudhvi did well in their roles as Pallavi's family members.
Positives :
· Nani, Nivetha's excellent performances.
· Rather slick and trendy story line.
· Strong second half.
· Good climax.
· Simple & light narration
Negatives :
· Slow paced, mediocre first half.
Verdict :
'Ninnu Kori' is a very good watch for the families. Movie should do well in Overseas and A centers. Yet another success for actor Nani.
Telugu360 Rating : 3.25/5
Release Date : 7th July, 2017
Director : Shiva Nirvana
Music Director : Gopi Sundar
Producer : D.V.V. Danayya
Cinematography : Karthik Gattamneni
Starring : Nani, Nivetha Thomas, Aadi Pinisetty
(Telugu360 Official rating is in the review above. Below is just for Search engines — Sometinmes slight variation from official rating as it supports only 0.5 increments)