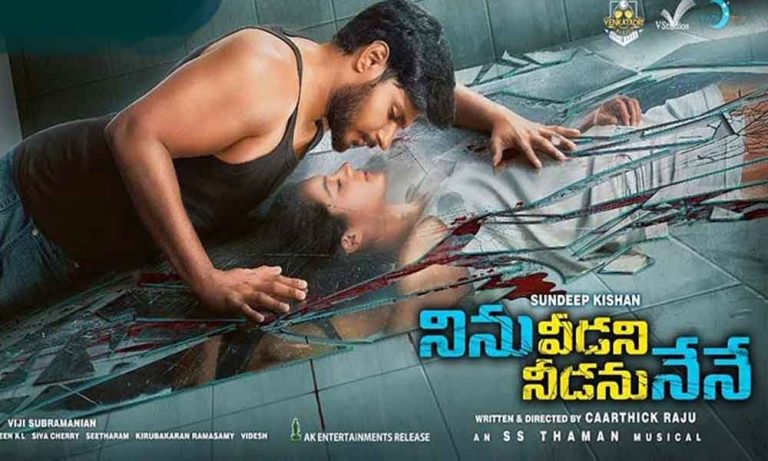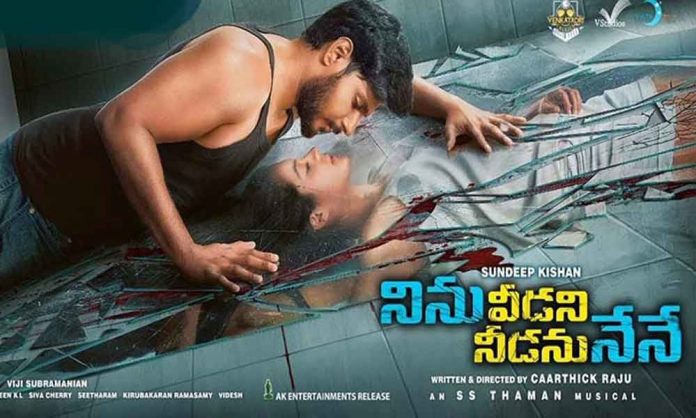 Ninu Veedani Needanu Nene Review
Ninu Veedani Needanu Nene Review
Telugu360 Rating 2/5
Actor SundeepKishan is desperately looking for a much needed break to revive his low lying career. After delivering a string of flops with different genres, he is now testing his luck with a horror drama titled as Ninu Veedani Needanu Nenu. Directed by Caarthick Raju, the film has Anya Singh as the female lead.
Ninu Veedani Needanu Nenu is billed as a supernatural thriller with an interesting premise. Vennela Kishore has a prominent role in this film along with a bunch of other comedians. The intriguing trailer with spine chilling moments has generated decent buzz on the film. Can Sundeep Kishan end his flop streak with this film? Let's find out.
Story:
Set in year 2035, a retired psychology professor ( Murali Sharma) tells a client's story which is close to his heart. In 2013, Rishi ( Sundeep Kishan ) Diya ( Anya Singh ) , a married couple ,meets with an accident. Since then Rishi starts seeing another unknown person's image in the mirror. Similar experience for Diya, another woman is seen in her mirror image. They meet the psychologist, who hires inspector ( Posani) to unravel the mystery. Rest of the story is about how all together unravel the true mystery
Analysis:
This film is not a horror story but a mystery one interlaced with sentiment. Initial scenes are impressive, grabs attention of the audience. But, the curiosity soon dies, as narration revolves around a redundant point and disengage the audience. The lead couple seeing someone else's image in the mirror should have been limited to couple of scenes, and the depiction of super natural things should have shifted on to other incidents.
The interval twist is highly impressive. In second half screenplay is weak, what actually happened to the couple Rishi, Diya has been revealed through investigation by police. In this mystery story, again family sentiment has been added in second half to make things further boring. Climax is a weak point .There is only one song " Excuse Me Rakshasi " composed by SS Thaman is good
SundeepKishan performs decent in Rishi role, Anya Singh is not impressive. Vennela Kishore role is a limited one. Director Caarthick Raju has shown skill in few scenes but not enough. Production values are adequate for the theme and artists market.
Positives :
New Story line
Good Interval twist
Less Horror, mystery oriented theme
Negatives :
Second half is not engaging
Screenplay is weaker
Climax is over simplified
Verdict :
' NinuVeedaniNeedanu Nene' starts off interestingly , but the grip in narration nosedives as it progresses. It is not exactly a ghost / horror film but a mystery one with interlaced sentiment. Given the weaknesses overshadow the strengths , this film stands less chance to become a low-budget hit.
Telugu360 Rating 2/5
Telugu360 is always open for the best and bright journalists. If you are interested in full-time or freelance, email us at
Krishna@telugu360.com