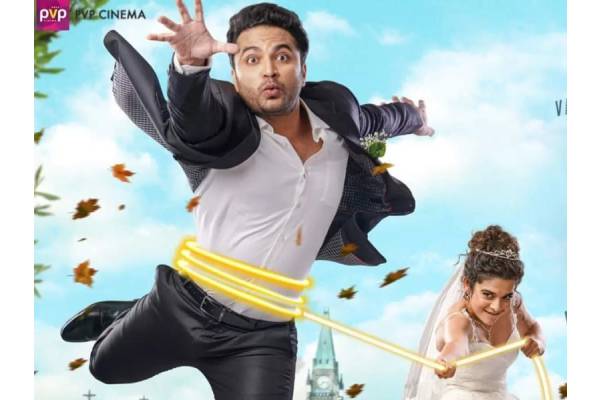 Ori Devuda Movie Review
TELUGU360 RATING: 2.75/5
Story :
Arjun ( Vishwak) , Anu (Mithila) are childhood best friends and Meera (Asha Bhat) is a senior in the college. Story of ' OriDevuda' is a triangular love story between these three. Arjun and Anu apply for divorce within a year of marriage. Anu suspects a relation between Arjun and Meera, the context leads to divorce application. A fictional component of the story, God ( Venkatesh) gives a second chance to Arjun. In second run, Arjun decides not to marry Anu and rest of the story is the consequences of his decision.
Analysis:
(This reviewer have not watched the original film)
' OriDevuda's a smartly written script with its strength lies in the screenplay . A typical triangular love story gets a fresh look by adding the second chance thread. The first half is filled with routine comedy entertainment. Second half has two three emotional scenes which are heart-warming. The comedy attempted around Murali Sharma's ceramic business is not appealing. The dialogues and conversations are contemporary. Arjun Anu and their friend roles are very relatable to present generation youngsters. ';BujjammaBujjamma ' song, ' EmaniAnalani ' song are good on the screen.Leon James music is adequate as he is able to deliver 2 good songs at least. The director AshwathMarimuthu properly designs the lead characters. Vidhu's cinematography deals this urban rom-com in slick manner.
Performances:
VishwakSen,who is known for eccentricity, calms down a bit as Arjun in Ori Devuda . He delivers energetic performance without going overboard this time. Arjun character is his career best performance. However, he needs to watch his weight MithaliPalkar is a good choice for this performance oriented Anu character. Mithali fits urban girl role aptly and acted with ease. Asha as Meera is just adequate.
Victory Venkatesh costumes and stylist appearance are impressive in GOD roles. Murali Sharma as Anu's father delivers excellent performance with his unique style. Especially he stands out in the scene in which he reveals his childhood dreams to Arjun.
Positives :
Vishwak Sen's career best performance, Good Casting
Few Heart-warming scenes
Two Good songs
Negatives:
Over dramatic at times
Slow paced approach typically
Verdict :
'Ori Devuda' is triangular love and friendship story with shades of 2010 timeframe feel good films. Second half of the film is better than the first one.Vishwak Sen excelled as Arjun – perhaps his career best performance. Overalla decent film to try for youth as well family audience
TELUGU360 RATING: 2.75/5
Summary
Reviewer
Review Date
Reviewed Item
Author Rating