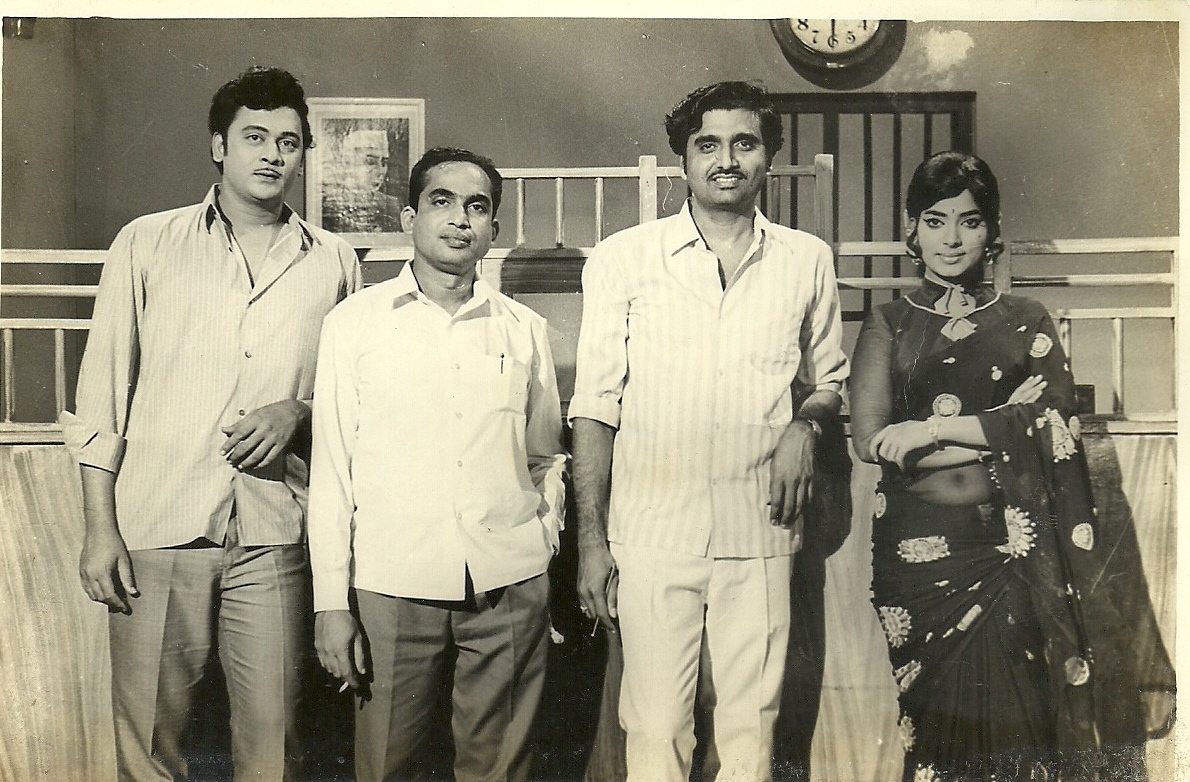 P C Reddy is back again, rekindling the best of memories he spent with the best of actors. This time, he's at his candid best talking about the smart mind behind the handsome Shoban Babu, the advise that he gave on his daughter's birthday. On the other front, elaborating on the quirks and genuineness of Krishnam Raju, he shares about the bond that his wife had shared with his ex-wife who's no more. Lots of that as you read..
Shoban Babu: His turning point in his career came with my movie. He had written in his book that his remuneration grew 8 times after Manavudu Dhanavudu released in which he played dual role of a doctor and a rowdy, as Jagan and as Dr Venu. It appears like a dual role but just seven minutes before the film ends, you get to know he is one and the same. The film had a successful 25 week run. Like you people are talking of Baahubali, those days people would talk about this film. I wrapped up the movie in 25 to 28 days. It was made in many languages and Sharada produced it in Malayalam. She'd asked me to direct it but I had no time then.
[pullquote position="left"] Ramoji Rao and Shobhan babu did something similar and spoke to Andhra or Nagarjuna university principal or vice-chancellor to look out for girls, who are middle and lower middle class, from their caste who got the highest score consistently for the past few years. [/pullquote]My first picture with Shoban Babu was Vichitra Dampatyam in which Savitri and Gummadi played sister-in-law and brother respectively. Vijayalalita too played one role and I remember Shoban Babu who had a glamour boy image was supposed to slap his wife Vijaynirmala and also hit her with the belt. I told him to hit with the belt and he said, "Sir, I am just now getting into the good books of college girls and women and you are making me a bad man." He never objects and questions but that day he told me this. Usually when you'd ask him to ask laugh, he never asked questions. He was the most obedient student. He was a big star and a crorepati but still retained that humility. He liked me a bit more as he felt I gave a boost to his career. He was very punctual and disciplined.
I used to be a busy man and hardly spent time with my family. It was my daughter's birthday and my wife brought both my daughters along to the set for my blessings. We are from Nellore and would earn well. My daughters were decked with gold ornaments and came to distribute chocolates. I think they were 6 and ten years old. After spending time, they left and Shoban Babu who was on the set remarked, "Sir..I want to tell you something, please don't get offended. What will you do with all that jewellery? At the most, you will put them in the locker and take it out for some other appropriate occasion annually. If I were in your place, I would have purchased five acres of land each for my daughters with the money you spent on the jewellery." Looking back, I felt he was correct.
I came home and told my wife and she said, "Aayana alaane antaaru." Shoban Babu added then that he just expressed his opinion and nothing more. He never stopped buying land and my wife never stopped buying jewellery after that. He would give sane, good advice to others. He is good to the producer but would never come to the sets till he got paid. Krishna was working for my film and we got to know that Shoban Babu did not report for work in the morning hours for a film being shot on the next floor. He usually reports at 7 but that day he came at noon. The producer didn't pay and he turned up only after the money was arranged at 11 am. Krishna asked him, "Yemmaiyya late ga vocchavanta kadha adrustam koddhi manam baagane sampadinchukuntunnamu. Producer icche dabbutho mana bhaaryalu ration shop lo nunchuni biyyam tecchi vondi pette dusthithi lo lemu kadha. Yee roju kapothe repu istharuga." Shoban Babu remarked, "Nuvva attage antavu, neeku entha mandi eggottaaru. Naaku okkadu eggotalede?" There were no managers and secretaries those days to handle these.
Be it NTR or Shoban Babu, they would sit under the tree, where sometimes we would offer an umbrella. They were so involved in their work that such small things hardly mattered to them. Shoban Babu's point was that he never demanded money. He merely asked for what was promised and nothing extra. "Nenu rakapothe oorukoruga. Nenocchaanu, na dabbu naku iyyandi." He did a film with me, Manavudu Mahaneeyudu where I did a small mistake and the film did not fare well. He did Nayudu Bava for MS Reddy in which he plays the role of a man who would bring milk from the village and sell in the city. Jayaprada and Jayasudha were the heroines and Jayamalini did an item number. It did well at the box office. Once he gave dates to MS Reddy and worked for someone else, he fell into a mess. MS Reddy made him pay a fine and Shoban Babu readily agreed and accepted his mistake. Gatti ga vasool chestaadu, tana tappu unnappudu but he pays for it too.
After a particular time, he was being given elderly roles and he didn't want to do it. He perhaps sensed, it was time for retirement. It was an interesting manner in which he picked men for his daughters. They were from middle class and lower middle class. He had wealth and decided to choose disciplined and intelligent, good-natured young men. Ramoji Rao did something similar and spoke to Andhra or Nagarjuna university principal or vice-chancellor and look out for girls from his caste who got the highest score consistently for the past few years. He then found out the family background and got his sons married to them. Everyone looks for alliances from wealthy families but both these people did something opposite and stressed on intelligence and other qualities. It was indeed a very great thought. Shoban Babu would spend wisely and he gifted his servants, a few journalists and his teachers generously though people say he was a miser.
Krishnam Raju: I'd directed 30 films starring Krishnam Raju as a bad boy. His wife and my wife were thick friends. Once they went to purchase clothes for their adopted daughter for her engagement and she'd died in a car accident. She was such a noble lady and would send lunch minimum to at least seven people. If the film was in my combination, she would discuss with my wife about the menu for that day and send what I liked too. Rao Gopal Rao would come first and ask if the carriage had arrived from Raju gari's home. He is an innocent man but a bit outspoken. Scene chepithe ila enduku, ala enduku undakooddadhu he would ask. His intention is to take too much interest so that he can get involved in the subject but maa lanti vari deggara ala kudaradhu. If it is only good for the subject, we take it. He is a very handsome man. I remember in Badi Pantulu that NTR had 2 sons where one son had a duet and the other son had none. I asked him once as to why he didn't question me about not including a song for him. He said 'Avasaram unte meere petti undevaaru ga avasaram ledu anukunnaru pettaledu'. His brother Suryanarayana Raju was as good as Krishnam Raju, who was a producer. Krishnam Raju's sister's daughter married Suryanarayana Raju. The turning point in his career came from producer Doondi with Nenante Nene. It was a negative character and he became very popular.