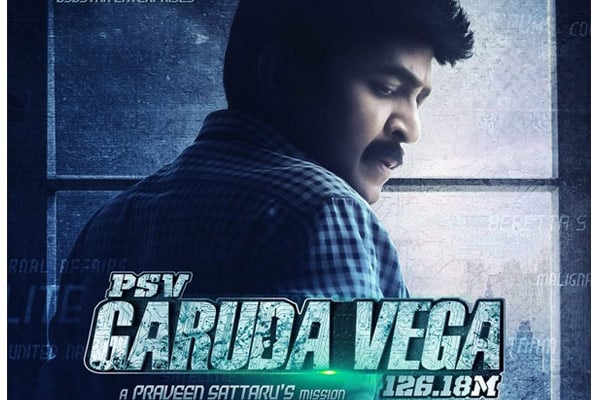 PSV Garuda Vega Review
Telugu360 Rating: 3/5
Story:
NIA officer Sekhar (Dr. Rajasekhar) is always on a mission trying to nab high-profile gangsters. Sekhar gives least importance to his family and his wife swathi (Pooja Kumar) is unhappy about it. One day, sekhar chases down murder suspects, which leads him to a narcotics gang. Further investigation lands him into unearthing the biggest scam in India's history. Rest of the story is how sekhar and his team execute an operation to intercept the mighty forces behind the scam.
Analysis:
PSV Garuda Vega is a director's film. The well-designed opening bike chase sequence gives you a taste of what is in store for you for the remaining two hours of the film. Niranjan (Adith Arun), a software geek, who is in posession of highly confidential information, tries to exchange it with the mafia gangs. The subsequent chase is of high standards like a first of its kind for telugu cinema. As the main plot involving Sekhar (Rajasekhar) begins, how he handles different raids are showcased. This episode was shot near a huge reservoir and the director hits a home run with his breathtaking visuals. In between, how the family life of a workaholic officer is affected has been narrated in a lighter vein. Scenes between Swati (Pooja Kumar) and Sekhar (Rajasekhar) are fun. Later, Rajasekhar's car involves in an accident with a party which is fleeing away from a murder scene. Rajasekhar chases them down, gripping incidents one after another lead to an edge of the seat thriller till interval. The whole interval episode at Charminar is very engaging. Opposition party leader Pratapa Reddy assassination attempt episode keeps the audience hooked. Overall, the first half of the film is very appreciable in terms of making and it sets up a perfect stage for a strong second half.
As skeletons in the closet start falling down in investigation, Sekhar unearths india's biggest scam of all time – A plutonium mining scam. It is related to Weapon grade plutonium mines found in Thummalapalli, Andhra Pradesh. However, the intensity shown in first half melts down in second half. In initial phases of the movie, director had set the expectations way high about 'what could be the backdrop of core story'. But, while revealing, it ends up as a routine telugu action film. The climax is set against the backdrop of huge sea-port and ships. The larger than life canvass set for the climax is very different from what we see regularly, but the execution is pale and the film falters a bit. The second half is a tad too long and main villain Kishore's role is disappointing. Sunny leone item song will be a treat for mass audience. A crispier second half with good editing would have helped the film to reach the next level. Director has properly researched, chosen the plutonium mining backdrop but it appears that he is a little tentative to narrate it in detail as it might not be understandable to common audience. Hence, he chose to simplify it.
Technically this film is brilliant given that it is made on a limited budget. Cinematography, color tone and audiography are simply top class.
Performances: Yesteryear's angry young man Dr. Rajasekhar performed the role with ease. As this is his comeback film, he gave his best performance and he is definitely back in his elements. Pooja Kumar did well. Unfortunately, Shraddha kapoor got insignificant role as TV reporter. Ali is seen in only one scene. Nazar as NIA chief is adequate.
Verdict: All in all, PSV GarudaVega has an engaging first half with slick action sequences and taut narration. But, a pale and typical second half might narrow down the film's performance at the box office. Production values, cinematography and background score are top notch. Content wise, PSV Garuda Vega is a very welcome film for Tollywood and deserves a one time watch.
Telugu360 Rating: 3/5
Release Date : 3rd Nov, 2017
Director : Praveen Sattaru
Music Director : Sricharan Pakala
Choreography : Anji
Production Company: Jyo Star Enterprises
Starring : Rajasekhar, Shraddha Das, Pooja Kumar