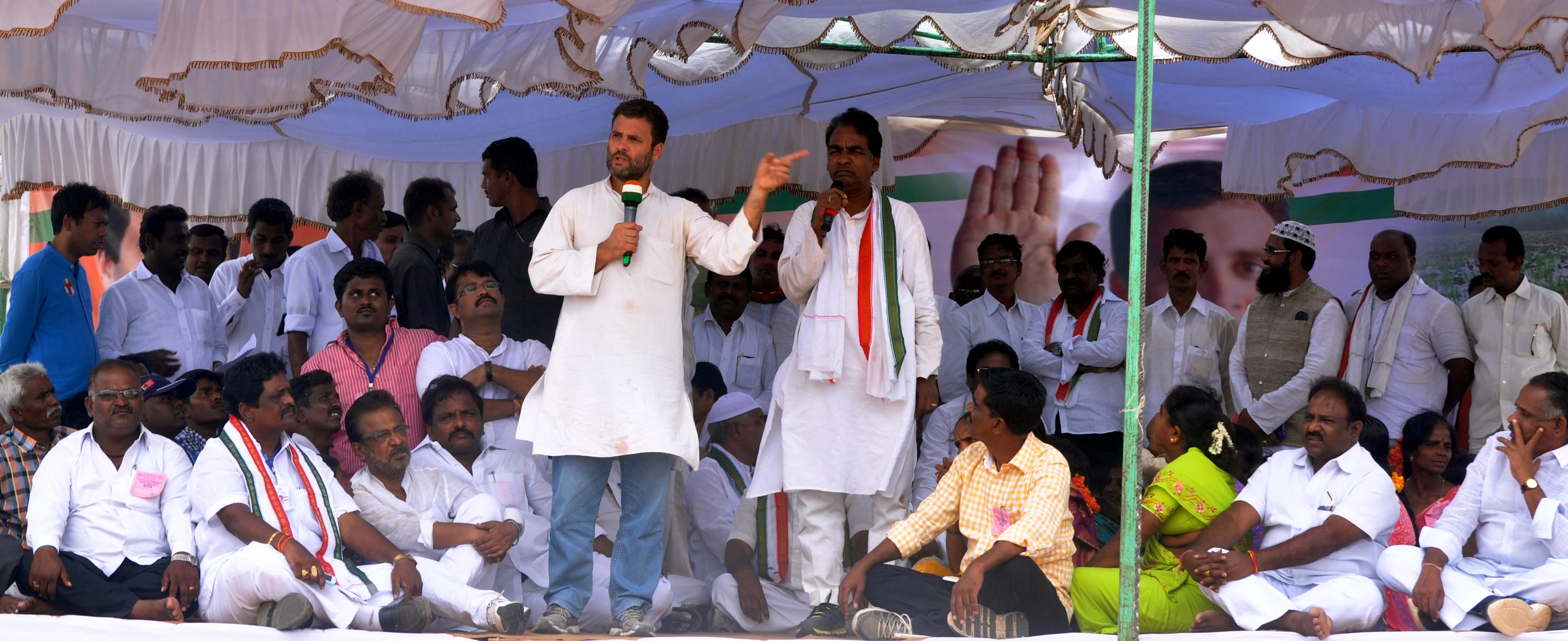 Rahul Gandhi's trip to Anantapuramu district on the pretext of consoling the families of those farmers who committed suicide in the past one year in TDP rule out of indebtedness is not an innocent yatra of a Congress leader to extend some monetary assistance.
There is a clear and ambitious political design to relaunch Congress party in Andhra Pradesh and reposition it as the active opposition party.
Rahul took up Padayatra from Obuladevara Cherutu (ODC)  in the backdrop of a significant political development in the  state. Choosing ODC itself as the starting point of his padayatra is a politically loaded move.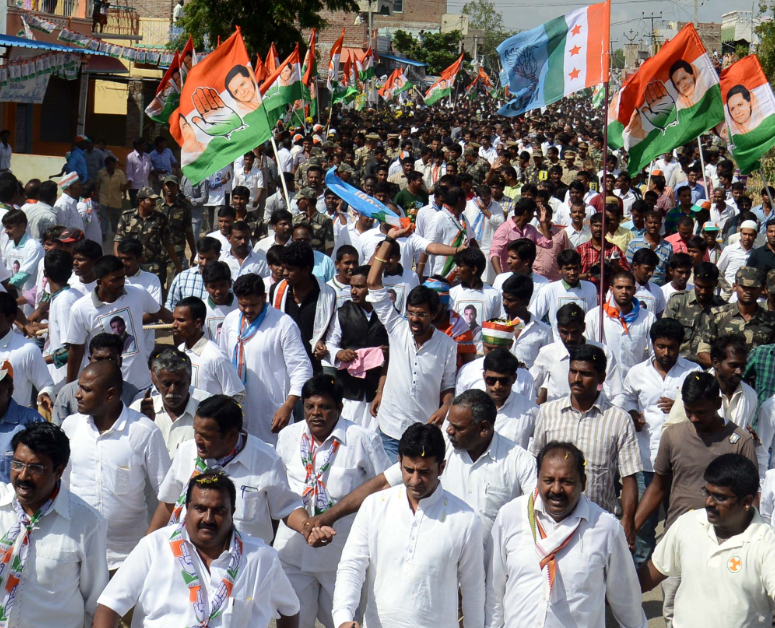 Void in Opposition
Rahul was quick to notice that there is no opposition party in the successor state of Andhra Pradesh.  He noticed that  farmers and weavers are bereft of any real political backing as both Opposition YSR party and ruling Telugu Desam party have surrendered to Prime Minister Modi for different reasons. YSR Congress leader Jaganmohan Reddy who is neck deep in corruption charges and probes is not in a position wage a war with centre to extract major concessions to state as his clash with Modi only strengthen the hands of his rival Chandrababu Naidu. He would be finished in no time if Modi and Naidu were to join hands. So Jagan is behaving like a party that has "observer status" in NDA. His fight, even though centre is backing out on in the implementation of provision of Andhra Pradesh Reoragnization Act-2014, is with  Naidu alone. Centre has no role in his scheme of things.
Naidu's Achilles heel
Similarly chief minister N Chandrababu Naidu doen't want to antagonize Prime Minister Modi, despite the brazen apathy being shown to Andhra Pradesh post-bifurcation.
Naidu knows very well that Modi is not extending the expected support on lines previous the NDA led by Vajapayee used to do. But, he can't afford to say it in public and invite wrath of Modi, who is on a stronger wicket. In the past one year, there has been no public meeting where Naidu has not admitted that  Modi was his leader and the country was in safe hands. The cash-for-vote scam has further weakened his position at the national level. There is no force in TDP's fight for special status, grants to bridge deficit, liberal assistance capital construction etc. Rahul is quite  aware of the weak points of Naidu.
Rahul's Ambitious Plan
When ruling party and opposition party have jettisoned fighting spirit, Rahul wants Congress to fill the gap as real and active opposition party. He wants to turn the non-presence of Congress in Assembly into an opportunity and transform the Congress into a party among the people and on the streets to fight for every issue. PCC president N Raghuvira Reddy has been implementing this for quite some time. Today Rahul formally launched this line of struggle.
No Sonia, only Indiramma
Another important political element in Rahul trip is setting aside party president Sonia Gandhi, who is largely being seen as responsible for the painful division of Andhra Pradesh. People are still not coming to grips on Sonia's role in carving out Telangana. In sync with the mood of the people, Rahul  did not talk of Sonia Gandhi much in his speeches. However, the AICC vice president invoked the name of Indira Gandhi, his grandmother,  in more than one way. The tour of Rahul is governed by the realization that  Indiramma is more relevant to Andhra now than Sonia Gandhi. The choosing of Obuladevera Cheruvu is a calculated decision and meant to evoke memories of Indira Gandhi. He could have started his payatra from any other village. But It misses the political element. In 1979 India Gandhi visited the village and addressed the people. Rahul paid tributes to his grandmother and planted a sapling at that place to keep the memories of Indiramma alive for ever. Similarly, he uttered name of  Indiramma several times and said his grandmother had great affection for Telugu people and he also inherited the same love for Andhra People. Though fresh in mind, he did not recall his mother's tours to Anantapuramu district.
We have keep our fingers crossed for Rahul meta design to revive the party and make it politically fit to contest 2019 elections. Or it has to search for an ally in YSRC or some other non-entity.