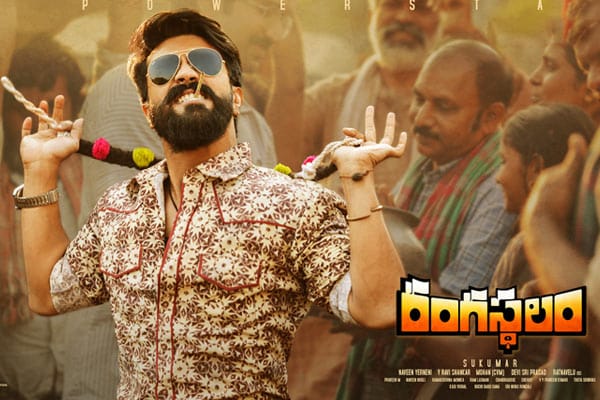 Rangasthalam Review
Telugu360 Rating : 3/5
Ram Charan's long awaited rustic entertainer Rangasthalam 1985, directed by Sukumar, is all set to take the box office by storm. Majority of the film has been shot in Godavari region and the art work is said to be the mainstay of the film.
Story:
Rangasthalam is an uncomplicated, familiar story set in 1980s era. Chittibabu ( Ram Charan) , a village youngster, lives life to fullest despite being partially deaf. He goes all out to support his Dubai returned elder brother Kumar Babu ( Adi Pinisetty). Ruthless baddy Phanindra Bhupati ( Jagapathi Babu ) is the president of Rangasthalam village for continuous 30 years. He kills anyone who dares to question his atrocities. After a sequence of incidents, Kumar Babu revolts against the president, files nomination against him in upcoming elections.
Rest of the story is how Chittibabu helps his brother and deals with the consequences.
Performances:
When Ramcharan announced this film with Sukumar, cine lovers expected a performance-oriented role is on cards. However, some were not convinced about Charan's choice to play village lad that too who is partially deaf. But, with his hard work, Ram Charan has excelled in performance as chittibabu – the sound engineer. Be it his acts to cover-up his disability, or his innocent way of expressing love to Rama Lakshmi, Or Sensitive thread with Rangammattha Or unadulterated love towards his brother or emotional revolt against the landlord .. He is at ease in every scene, delivers stellar performance. Charan carried this film single handedly.
Jagapathi Babu in first half delivers ruthless performance. Rama Lakshmi role is not a tailor made one for Samantha, but she tried hard to succeed. Anchor Anasuya as Rangammattha is a surprise pack. Adi Pinisetty as Charan's brother is adequate. Naresh, Brahmaji played two scenes each roles and obviously they did perform well. Pooja Hegde sizzles in an item song. Devi Sri Prasad does justice to songs and background score.
Analysis:
Rangasthalam has its own merits and demerits equally. Versatile director Sukumar seems focused more on recreating 80s ambience. In each scene, each frame audience can see the utmost care had been put into to make an authentic 80s era story. Sukumar and his production team passed with distinction in this aspect. Not only the sets but also the costumes, characters' diction, their body language etc. are so perfect. Sukumar's characters carry real life with them than just cinematic presence Films with this backdrop have the scope to deliver heart touching emotions, but director has failed in delivering emotional threads within.
First half is very good with Charan-Samantha thread, nice songs and authentic rural setting. By interval, right premise has been set for second half. But, second half has been dragged on with boring sentiment scenes. Telugu audiences are not used for such lengthy sentiment scenes. President Jagapathi babu characterization is too good in first half, but in second half this role is abruptly sidelined and obviously overall impact is diluted. Adi Pinisetty final scene reminds us of a typical Tamil sentiment film. In second half, the violence is bit more. For the dragged second half, climax is the savior. Production values by Mythri movies are top class.
Songs :
Yentha Sakkagunnave , Rangamma Mangamma and Jigelu Rani songs came out very well on screen. Ranga Ranga Ranga sthalaana is a decent one. Other two songs are nothing to talk about. Ram Charan's steps in Jigelu Raani song are a feast for fans and masses.
Positives:
Ram Charan performance
Very authentic recreation of 80s rural life
Three superhit Songs
Negatives:
Overdose of sentiment scenes in second half
No emotional connect
Verdict:
Rangasthalam is a raw drama backed by Ram Charan's unexpected stellar performance, meticulous artwork to portray 80s ambience of a rustic village. However, terribly dragged overdose of sentiment scenes in second half kills the commercial aspect to an extent. Again in Climax , Ram Charan's brilliant act turns saving grace. Box-office performance depends on how fans embrace this different film from a mass star.
Telugu360 Rating : 3/5
Release Date : 30th March, 2018
Director : Sukumar
Music Director : Devi Sri Prasad
Cinematography: R. Rathnavelu
Production Company: Mythri Movie Makers
Starring : Ram Charan, Samantha, Aadhi Pinisetty