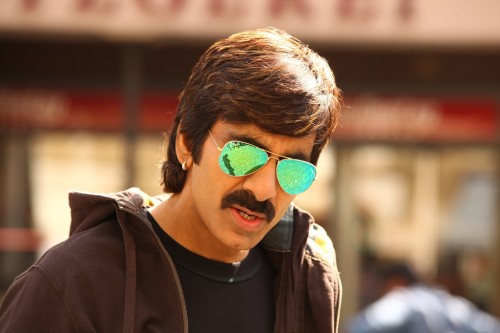 Ravi Teja is really enjoying the fruits of his decade long efforts to get launched as a solo hero. From non filmy background to creating a brand for himself, with his on-screen energy and learning from mistakes over time, he has matured quite well as an artiste and the fond tag attached to him, Mass Maharaja says it all. The actor has become such an impact that commercial films are now synonymous to his brand of choices and the fact of every upcoming actor continuously trying to emulate him suggests everything about the making of RaviTeja, the phenomenon. He exactly knows what he's capable of. Now, fresh after the consecutive successes of Balupu and Power, he rekindles his energy levels for the sequel to his most successful film to date, Kick. And my god, he's slimmed down so much and feels he's flying. All that and much more as he talks to Telugu360.com Exclusively
About Kick Vs Kick-2 :

'Vaadu Kick aithe veedu comfort.' See the trailers of both Kick and Kick 2 and you will know it. Kick-2 is not about selfishness but comfort. Kick-2 will be more entertaining than Kick. Brahmanandam plays Pandit Ravi Teja.
About Surendar Reddy :
Surender Reddy is in full form in this film. His initial films used to be in serious tone but he is very jovial now – so much to an extent that I asked him, 'Yenti Suri yila ayipoyavu?'. He said, 'Mee andaritho undi ila ayipoyaanu'. It is a great transformation in him.
About apprehension in doing bilinguals :
Manam chusetattu migatha languages lo choodaru. Show me one film of ours that has been dubbed and created a history. But now, it is happening. Baahubali is our pride and Mahesh tried it with Srimanthudu. Next,it will be Rudramadevi. Thanks to Rajamouli, people are taking their work seriously. So why not now ? Let's do bilinguals. I don't plan my career or life and just go with the flow.
About Singing :
Keerava
ni told me long back for Vikramarkudu to sing for Jhintata song. I said, 'Voddhandi enduku mosesthaaru'. He remarked he heard me hum and told me to sing. Sruthi bagundi, nenu chusukuntaa, you go ahead, he said. For Balupu, Thaman told me to sing the hook line and he managed the rest. So, I sang Vinave kanya kumari. From Power movie Nautanki song total ga nenu paadanu. I can't believe I sang that song. In Kick 2, all the numbers are good and I can't point out that a particular one is the best. "Mummy Mummy youth ki connect ayindi' and 'Nuvvu Nuvve' is indeed melodious.
About subjects and multi starrers:
I am open to doing multi starrers, 100 percent and to experiment with different subjects. If you remember, I did Bhageeradha which was close to Srimanthudu. It was a very good story but sarigga publicity cheyaledu. If you find time watch it again. For certain films, everything should fall in place to work well. The time, release, marketing and script development.
Other Highlights of Kick 2:
The major asset of Kick 2 is Vamsi's story and the work of DoP Manoj. It is generally difficult to give importance to all the characters, 'kani ikkada kudirindi'. Sruthi Hassan's best look in Race Gurram, Samantha's best look in Yem Maya Chesave and Rakul's in Kick 2 is all because of Manoj. I am usually picky with clothes and got to shop all over again as my wardrobe is empty now. I distributed my new branded jeans to some people. I actually loved them so much and purchased it. 'Brahmandamaina fitting, size chuste bagodhu.' Now, I need to go shopping again as I lost a lot of weight. When I see myself in the mirror, I wonder if it is me. I am 70 kgs now and I am not floating but flying. I would work out earlier too but I am far more disciplined and I enjoy it now. That's the difference.
I don't l
ike travelling but this time I enjoyed shooting in Rajasthan. It would get cold in the nights and I love such places. About my cameos, I did it for certain people. I did a cameo in Kannada because I like Shivraj Kumar's family. The good thing is, I found a good choreographer in Harsha. He is doing very well for himself in Kannada industry and he also did two numbers in Kick 2. Kalyan Ram asked me long back to do a film for his banner and it didn't happen then. Now, everything fell in place with the story. The script too demanded flamboyance as Kick is a brand. I am very happy at the current state of film industry, with consecutive hits like Baahubali and Srimanthudu. I am feeling great and thanks to Rajamouli, it is because of him alone that new gates have opened in North and South for Telugu film artistes and technicians. Even negative people have started thinking positive now. This marks a new era in Telugu films. 'Ippatnundi ollu deggarunchukuni cinemalu chestaaru andaru.'