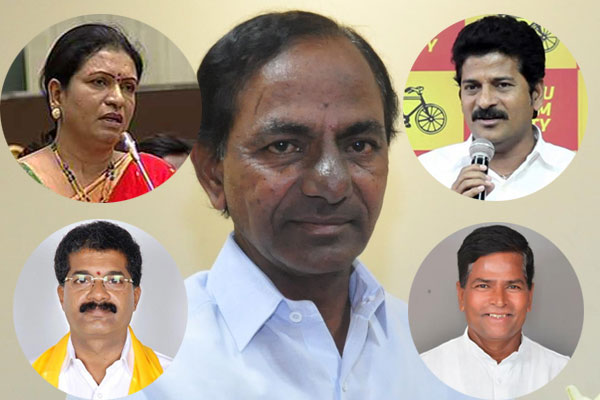 Firebrand TDP MLA Revanth Reddy removed the cloak from the Telangana politics exposing the caste contours clearly. He said TRS government was targeting the Reddys, a social group which is generally seen as the rival to TRS in politics. Ever since Congress lost the 2014 election and TRS formed the government, Reddys are worried of their removal from the political power. All attempts have been made to re-consolidate the Reddy as a political force in the new state. In an attempt to bring all the prominent Reddys together, a conference also was held in Ravindra Bharati. But all this was cloaked in different jargons. Now, Revanth Reddy, on Saturday, reacting to the attack on Ch Rammohan Reddy in Mahabubnagar Zilla Parishat meeting by TRS MLA Guvvala Balaraju, said Telangana government was targeting all Reddys, including himself (for having trapped him in cash-for-vote sting operation by T-ACB).
This is for the first that Telangana politics have been made to seem Reddy versus TRS (Velama).Revanth cited three instances in which Reddys were targeted. One, the attack on Wanaparthy MLA G Chinnareddy in March this year; two, TRS minister Jupalli Krishna Rao stalling S Rajinder Reddy, Narayanpet TDP MLA; three, slapping of Rammohan Reddy by Guvvala Balaraju. He even cited the case booked against home minister Nayani Narasimhan Reddy's son-in-law as the attack on Reddys. What Revanth made was not a sudden announcement. It was the explosion of pent up anger among the Reddys since day one, when TRS formed the government under the leadership of K Chandrasekhar Rao.
Evolution of Reddy versus Velama politics
1.Even though TRS wave swept the Telangana in 2014, all prominent and militant Reddys weathered it successfully.
2. All these Reddys are concentrated mostly in Ranga Reddy, Mahabubnagar, Nalgonda and Hyderabad districts. These district form a separate geography of South Telangana.
3. In these districts Congress and BJP emerged stronger than TRS. Even those Reddys who lost the elections are vocal and militant like Nagam Janardhan Reddy etc.
4. First, Congress MLAs noticed a sort of discrimination against the Reddy region by KCR regime. But instead of calling this as discrimination against Reddys, they carefully, constructed a theory called South ( of Reddys) and North ( of Velamas) divide.
5. MLAs DK Aruna and G Chinna Reddy raised the South voice in Assembly and outside as discrimination against Southern districts.
6. Chinna Reddy beautifully constructed a cultural divide between South and North Telanganas.
7 .According to Chinna Reddy, who is popular as Chinnanna, ruling TRS was trying to force the culture of the northern districts upon people of South Telangana.
8.Names of schemes were being borrowed from North Telangana. He says Bathukamma is being thrust on South Telangana. He objected the naming water tanks restoration scheme as 'Mission Kakatiya'. According to Chinnareddy Kakatiyas built water tanks only in North Telangana.
9. Bonalu, Chinna Reddy says, is the major festival of South Telangana. Though the TRS government declared both as state festivals, it is unduly skewed in favor of Bathukamma and Bonalu given minor attention.
On Saturday, Revanth Reddy removed this cultural cloak of geographical division by making it look like an assault on Reddy social group by Velama TRS.