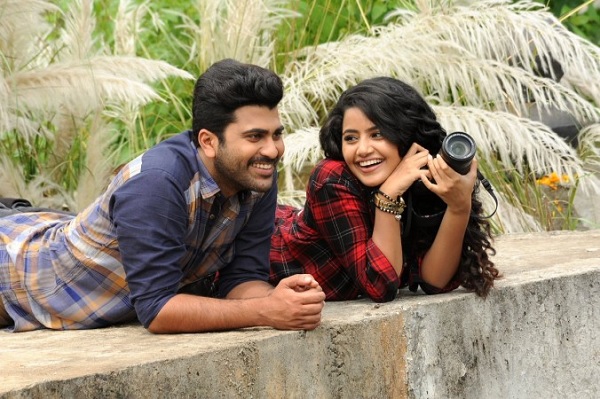 Shatamanam Bhavati  Review ,Shatamanam Bhavati movie review
 Shatamanam Bhavati  Review, Shatamanam Bhavati movie review
TELUGU360 RATING 3.25/5
Sharwanand's Shathamanam Bhavathi is tipped to be the dark horse of this Sankranti. Satish Vegesna is the director and Mickey J Meyer is the music composer for this DIL Raju production.Let's see if the film surprises the trade and emerge as a winner at the box office amidst tough competition.
Story:
Set in the East Godavari village backdrop, Shatamanam Bhavtathi opens a window in the life of the elderly couple Raghavaraju garu and Janakamma. With their two sons and daughter settled aboard and busy with their own lives, the elderly couple are left to spend time with memories of the past. The plot moves ahead with Raghavaraju, on Janakamma's insistence, invites their children home on the pretext of a serious matter requiring their presence.
With their children and their families visiting India, it has all the settings of a family festival. But is this is to be just another memory to be cherished? Will the families come to understand the parent's love and significance ?
Lead Actors:
Sharwanand and Anupama play their roles as village raised grandson and NRI granddaughter very well. They had a good chemistry and acting comes to them with an easy grace.Prakashraj and Jayasudha – Perhaps there are no better pair at this time for these roles. Only a bad director would not choose them. Luckily we are dealing with a pretty competent director and he did not disappoint. A controlled performance from Prakashraj and grandmotherly grace from Jayasudha add to the movie.Senior Actor Naresh as Kangarraju generates some humor. Yesteryear heroine Indraja, who made a comeback as Anupama's mother, may get more offers after this film. Sijju, Raja Ravindra , comedian Satish and all other character artists are adequate.
Analysis:
Shatamanam Bhavati is a classic example of author backed script. It presents you with beautiful country side visuals of Godavari district and then leads you into a nostalgic journey back to childhood. It's the perfect blend of silly games growing up, young romances, happy family values all thrown together to deliver a heart touching message.
In a nutshell, Shatamanam Bhavati promotes Happy Living. It underlines once again to the audience, NRIs more specifically, the importance of visiting parents as often as possible. All songs are very good on screen, with a surprise for fans of yesteryear director Vamsi and Ilayaraja.
Technical Details:
Sameer Reddy's cinematography is at its best. Madhu's crisp editing makes for a smooth running turning the 2 hour 10 minute duration an advantage. For background score, most of the times they used song tunes itself. Production values by Dil Raju is good, his team made sure every frame is so colorful
Positives :
 Satish Vegesna's concept, direction and dialogues
 Feel good moments
 Music and song picturization, All songs are superb
 The scene in which Sharwanand arranges a meet between his Babai and his childhood crush after 30 years
 The scene in which all the television and cellphone connections in the village are disabled.
 Dub Smash Game showing Maheshbabu, Pawan and NTR visuals.
 Arresting climax
Negatives :
 The conflict point i.e. the reason behind Jayasudha's anger at Prakash Raj's lie is unconvincing
Youth, under 30 age, may not connect to the movie in second half
Bit more entertainment would have helped box-office wise
Verdict:
Shatamanam Bhavathi is a feel good family drama, filled with thick emotions and nostalgic moments. Aimed at establishing happiest moments of NRI families when they visit parents and native places, this movie is bang on target.
It turns preachy, sentimental at times but for majority of the duration, movie is just cute. The esthetic visuals, melodious background score, realistic sensibilities, solid characterizations and perfect casting makes this movie a must watch for the families this season. Go for it!
TELUGU360 RATING 3.25/5