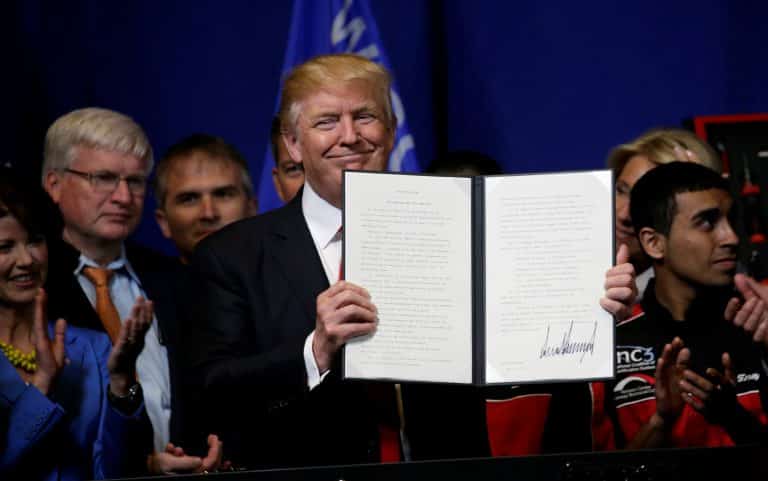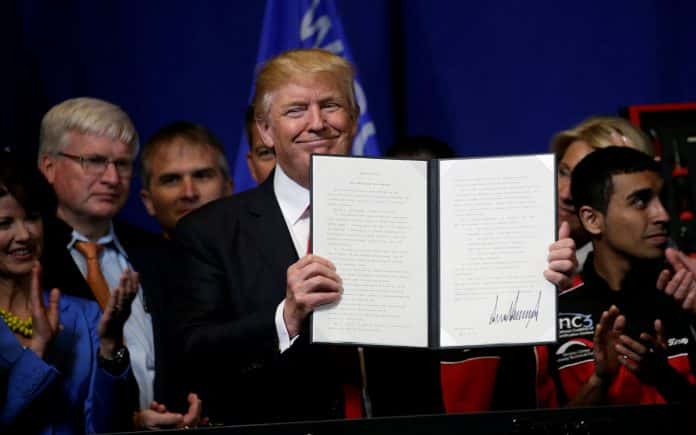 By Steve Holland
KENOSHA, Wis. (Reuters) – President Donald Trump on Tuesday ordered federal agencies to look at tightening a temporary visa program used to bring high-skilled foreign workers to the United States, as he tries to carry out his campaign pledges to put "America First."
Trump signed an executive order on enforcing and reviewing the H-1B visa, popular in the technology industry, on a visit to the headquarters of Snap-On Inc, a tool manufacturer in Kenosha, Wisconsin.
In the document, known to the White House as the "Buy American and Hire American" order, Trump also seeks changes in government procurement that would boost purchases of American products in federal contracts, with one aim being to help U.S. steelmakers.
The moves show Trump once again using his power to issue executive orders to try to fulfill promises he made last year in his election campaign, in this case to reform U.S. immigration policies and encourage purchases of American products.
Senior officials gave few details on implementation of the order but Trump aides have expressed concern that most H-1B visas are awarded for lower-paid jobs at outsourcing firms, many based in India, which they say takes work away from Americans.
They seek a more merit-based way to give the visas to highly skilled workers.
"Right now, widespread abuse in our immigration system is allowing American workers of all backgrounds to be replaced by workers brought in from other countries," Trump said.
As he nears the 100-day benchmark of his presidency, Trump still has no major legislative achievements. With his attempts to overhaul healthcare and tax law not bearing fruit so far in a Congress controlled by his fellow Republicans, Trump has leaned heavily on executive orders to seek changes to the U.S. economy.
The venue for Trump's visit on Tuesday is a nod to his voter base in the manufacturing centers of the American heartland. Wisconsin unexpectedly voted for the Republican last year, partly due to his promises to bring back industrial jobs.
H-1B visas are intended for foreign nationals in occupations that generally require higher education, including science, engineering or computer programming. The government uses a lottery to award 65,000 visas every year and randomly distributes another 20,000 to graduate student workers.
Critics say the lottery benefits outsourcing firms that flood the system with mass applications for visas for lower-paid information technology workers.
"Right now H-1B visas are awarded in a totally random lottery and that's wrong. Instead, they should be given to the most skilled and highest paid applicants and they should never, ever be used to replace Americans," Trump said.
(Writing by Alistair Bell; Additional reporting by Mica Rosenberg and Julia Ainsley in Washington, David Ingram and Stephen Nellis in San Francisco, Sankalp Phartiyal in Mumbai and Manoj Kumar in New Delhi; Editing by Frances Kerry and Lisa Shumaker)