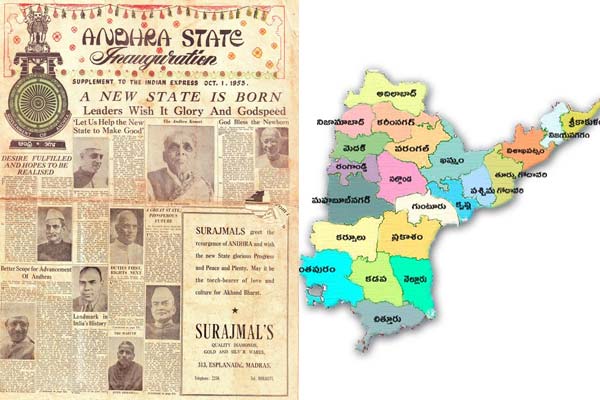 In the last six decades people of Andhra has discarded two important land marks in their modern history: one is October 1 and the other November 1. Historical accidents are so forceful that even remembering these landmarks as important dates is being discontinued making patriotism not an inborn trait but a product of circumstances. Andhra Pradesh government is discontinuing the practice of observing Andhra Pradesh formation day on November 1 commemorating the birth of Andhra Pradesh which symbolizes unity of Telugu people in 1956. With the bifurcation of the Andhra Pradesh in to Andhra (Pradesh) and Telangana, the landmark date November 1 lost its relevance along with it the emotional attachment. Now , the people of residuary Andhra Pradesh have to learn to be emotional about a new date that entered the annals of Telugu people ie June 2 (2014), which was the appointed date fixed up by not Andhras but the central government to indicate that a separate Telangana state came into existence and residuary area continue as Andhra Pradesh.
November 1 used to be a grand occasion for the Telugu people in Delhi and Andhra Bhavan used to observe a week-long Andhra Pradesh formation day in a spectacular way with Andhra food festival and cultural programs etc. Later on all other Bhavan also started celebrating their formation days with similar fervor. With the advent of new date, June 2, which has not yet stuck an emotional card, celebration has not gained momentum yet, November 1 is sinking into oblivion. June 2 is still has not drummed into the minds of many people as patriotic as the November 1, because it was an unwanted development at least for majority of Telugus in Andhra region.
Another date, which is more historical than the November 1, that lost relevance and the patriotic ring about it is October 1, 1953.(pic above is the page one of the supplement the Indian Express brought about on the day of  formation of Andhra state) At least half of Telugu people may not be aware of the importance of this date. The date marked emergence of new India, era linguistic states. It was on this day that Telugu people living Madras state got a separate Telugu state Andhra state. This is for the creation of this Andhra state that Potti Sriramulu sacrificed his life. Andhra Kesari Tanguturi Prakasam pantulu formed his first Government Kurnool as capital on this day. Andhra state was Telugu people's second most important achievement the first being separate provincial Congress committee (1918) for Andhra region arguably the first step words formation of Andhra state. Mahatma Gandhi was forced to bow before the pressure from Andhra supported by tall leaders such a Balagangadhara Tilak. Nobody ever talk of this date. This date which is extinct in collective memory survives only in multiple choice question for competitive exams. November 1 is following suit.
November 1, which Telugu celebrated as great day has already been consigned to the history last year itself when on October 31, when chief minister Chandrababu Naidu's cabinet decided to ignore it and start celebrating Andhra Pradesh day on June 2. Now Andhras have to trim their patriotism confining the 13 districts. Will it be a permanent feature when Andhras are standing on shifting sands?