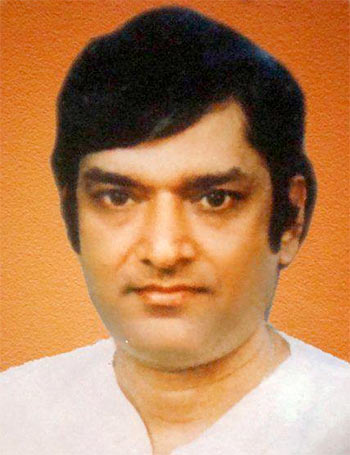 One of the most accomplished singers of Telugu film industry  – V Ramakrishna – passed away at the age of 68. If the Telugu film music is divided into pre- and-post Ghantasala era and later into the SP Balasubramanyam era, the only singer who created waves with his inimitable voice and created some impact on the music was Ramakrishna. He filled the void created in the transition between the last days of Ghantasala and the early days of SPB before Balu strode like a colossus eclipsing every male singer.
[pullquote position="left"]V Ramakrishna surfaced at a time when Ghantasala was past his prime and Balu era was about to begin. A good voice with many memorable musical hits, Ramakrishna lived a full life with a lasting impact despite an abridged career[/pullquote]
Born into an illustrious family in Vizianagaram, Ramakrishna's mother Smt. V Rangasai learnt music under the legendary violinist Dwaaram Venkata Swami Naidu. More importantly, he was the nephew of P Susheela, the greatest female playback singer of South film industry. That gave Ramakrishna great access to meet with the legendary Ghantasala who cast a life-long spell and influence over his singing style. Ramakrishna grew under his influence and got many early breaks in a way that didn't make it seem like a struggle. When the baritone of Ghantasaala started to falter and wither away, the producers were given the option of using Ramakrishna  as  his Plan-B, some at the behest of the legend himself. His voice had the fluid yet firm pronunciation of Ghantasala yet had a soft texture that resembles the voice of Mohd.Rafi. His timber and tone was consistent at every octave and sounded like an instrument that can never have a shrill sound.
ANR was the first to try Ramakrishna and that struck gold for V Ramakrishna as he became a full-fledged playback voice for him. In all those flourishing duets through the seventies, Ramakrishna's mellifluent voice created great chemistry with the dancing agility of ANR with support from music directors like KV Mahadevan, Ramesh Naidu, Satyam, Adi Narayana Rao, Susarla, Pendyala and so on. At a particular time when the voice of SPB was still considered boyish, Ramakrishna pocketed a variety of songs which became memorable hits. Encouraged by the successful combination, NTR also gave a few chances to VRK in few films like "Daana Veera Soora Karna" and the tier-2 heroes also okayed him – most notable were Shobhan Babu and Krishnam Raju. Of course, quite a few other fledgling heroes like Ramakrishna (a namesake actor) and Sridhar also used his services as a playback singer.
But early success can ensnare you into a monotony and thats exactly what happened to VRK. Instead of using the early breaks to hone his singing talent and utilise the breaks, he went back to studies and completed his M.Sc when he actually got the opportunity to get trained in classical music. His rendition was superb and his timing was good but his style of singing was distinct but lacked versatility despite a good range of songs. He sung devotionals, duets, tragedies, joyful numbers and naughty numbers as well as solo philosophical songs. His output was best appreciated when he sung like a celestial singer to propitiate a Shirdi Sai Baba or those calibrated and well-pronounced Padyaalu in many mythologicals. Many music directors used Ramakrishna as a contrasting voice to counter the war-cries of the opponent. Years later, N T Rama Rao used VRK's voice as a single card for his own production," Sri Sri Sri Potuluri Veera Brahmendra Swami Charitra". When the movie became a raging hit, Chief Minister NTR  personally called VRK, embraced him  and said: "Your role in the success of this film is splendid, brother."
As a singer, his career scored many hits. But if one goes by chart-busting popularity, some stand out forever as the most sonorous rendition by VRK. Famous among them are: "Andaala Ramudu", "Mahakavi Kshetrayya", "Chakradhari", "Bhakta Kannappa", "Kanna Vaari Kalalu", "Jeevitam", "Sarada" and "Mutyala Muggu". Of course, the industry deserted VRK once SPB was ready but music directors always reserved some exclusive numbers to Ramakrishna whenever the situation demanded a reprise of the divine voice of Ghantasala. Of all the heroes, not many will remember that Superstar Krishna never used VRK's voice except in one film – "Kumaara Raaja" (the film got remade into "Mahaan" starring Amitabh Bachchan). There used to be an unspoken rivalry between VRK and SPB in the seventies before the mega-success created a large divide. Despite SPB inheriting the mantle of monopoly in male playback singing from Ghantasala, VRK cribbed but never let the bitterness affect the sweetness or the depth of his voice. His songs had dignity, class and lyrical values – perhaps equal  to only Ghantasala, in later years his voice was used for creating contrast in multi-starrer films – mainly for ANR, Shoban Babu and Krishnam Raju while NTR and Krishna took to SPB's voice.
VRK settled down in life well, he married a singer called Jyothi who sang a few duets with him in films like "Dhanama Daivamaa?". Both of them gave countless concerts where they passed off as a "married" couple. After one such concert, when the embarrassment of being "married" became too much for them, they rushed to the Registrar's Office and got married immediately. Happy Singers, happily married with two children – one of whom is Sai Kiran who had a promising film career as a hero. As far as Telugu film music stands, Ramakrishna's songs will endure and history will remember him a more than just a transition singer, as one of the few male voices with a distinct popularity and class.