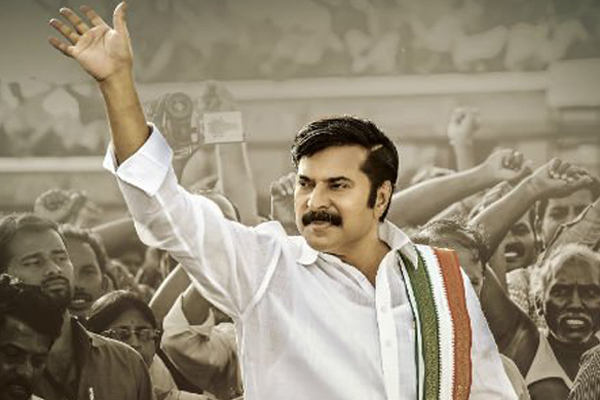 Yatra movie Review
T360 Rating : 2.75/5
Yatra is billed as a biopic that focuses on the historical padayatra taken up by former Chief Minister of the Andhra Pradesh, Y .S . Rajasekhar Reddy. Legendary actor Mammootty is returning to Telugu cinema after a long gap with this film. Directed by Mahi V Raghav, this film has caught the attention of everyone in political spectrum as well as movie buffs for the intriguing trailers and teasers.
Story:
Yatra story begins somewhere in 2003 when YSR, then Congress legislative party leader, plans for a Padayatra as a last weapon to take on the incumbent TDP, and also to checkmate other contenders (for CM post) within the party. Movie showcases his padayatra, victory in general elections and ends as he takes oath as a chief minister of Andhra Pradesh in 2004.
Analysis:
Yatra movie starts off with engaging scenes to establish YSR's character. It was shown that in 2003 YSR struggled to come up with a strategy on how to deal with then ruling Telugu Desam Party which appeared very strong. As a last option he takes up a 60 day padayatra which touches base of every district with the main route covering cities, towns and villages.
After a good start, first half moves on sluggishly till interval. Chandrababu Naidu's infamous "They briefed me "(Vote for Note) audio tape from 2015 has been used for a 2003 dated context very effectively. For this scene, everyone in the theater burst out laughing. As padayatra begins, people come to YSR and tell their grievances and moved by their suffering YSR declares 'Free power to farmers' scheme if he comes to power.
As second half starts, Rajasekhar reddy's personality has been highlighted as a changed person (from angry man to a composed one) . Even opposition party leaders start praising YSR for his makeover. Many biopics in Telugu and in other languages stick to the facts or project the protagonist as good they're originally! YATRA film did not stop at it, but unabashedly taken a different approach. The team constantly attempted to fetch political mileage to present day YSRCP by showing Congress high command in bad light, and also by criticizing TDP as and when possible.
In the process of appeasing Jagan, the team of Yatra distorted facts to large extent. Showing TDP in a bad light is understandable given the arch rivalry and present political compulsion. But portraying that Congress high command was against to YSR, depicting that YSR dictated terms to high command in pre-2004 phase etc scenes are far fetched. A quick glance into history here to know the levels of distortion. It was Rajiv Gandhi who gave opportunity to YSR (at 33 age) as PCC president in 1983. Again, in 2004 it was Sonia Gandhi who preferred YSR as CM candidate. Until 2007, YSR had less leverage with Congress high command and only in the last two to three years his clout increased at Delhi.  But to everyone's dismay, in this film it was shown as it was YSR who dictated terms to high command by choosing all 294 candidates himself for 2004 elections. Everyone from that era knew that any congress CM waited at 10 Janpath lobby for hours and in some cases days to get their candidates in list. However, YSR was always subservient to Congress high command and publicly stated umpteen times that his dream is to make Rahul Gandhi as PM.
Contrary to above facts, to appease Y.S. Jagan, makers of YATRA projected congress as villain for Y.S. Rajasekhar reddy as well. In addition, every scene tries way too hard to paint YSR as a God like politician and kills the cinematic experience for general audience. In Climax, after the movie ends, they have shown 10 minutes of real life videos of YSR's untimely and sad demise, subsequent circumstances which may recreate emotion for YSR fans. Penchal Das 's background song added emotion to those news reel clippings. YS Jagan's video speech clips at the end gives kick to Jagan's followers.
Each of the YSR's popular schemes were written with a story woven as a rationale behind the scheme. Overall, the film appeared as a political vehicle than a biopic.
Performances:
Mammootty is very good as YSR, but appeared too subtle for YSR's actual character. Rao Ramesh as KVP fits the bill, other characters have no much presence. The actress who played YSR's wife Vijayamma garu role acted well
Positives:
First two scenes
"They briefed me "satire
Two emotional songs
Climax (TV and Youtube Visuals though) for hardcore fans
Negatives:
Documentary styled direction and slow pace
Overtry of sentiment scenes
Political pitch ruins cinematic experience
At times one may feel watching Sakshi TV's program on YSR's Jayanti / Vardhanti
Verdict:
Yatra is a two-hour documentary which attempts to cater YSRCP's political needs than being a Rajanna's biopic. First half is somewhat decent, but the director takes too much cinematic liberties in a movie that is supposed to be story of a real leader. It may not appeal to General audience, may appeal to hardcore YSR fans due to the emotional bonding between them and one of the great mass leaders of AP. A great opportunity was only half utilized to give a good tribute to Dr. YSR.
T360 Rating : 2.75/5