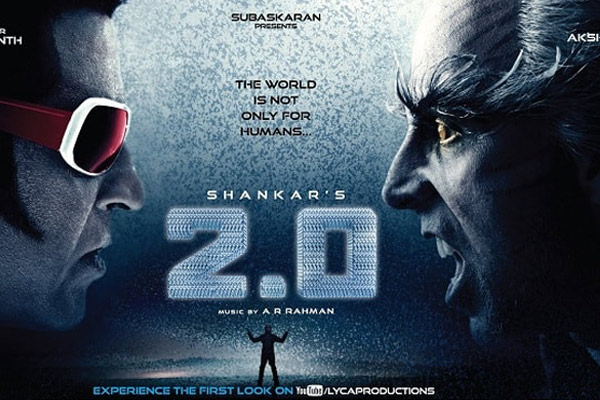 2.0 Review 
2.0 Review 
Telugu360 Rating 3/5
2.0 Review Superstar Rajinikanth's 2Point0 is all set to take the box office by a storm from this Thursday. Touted to be the most expensive Indian film, which is loaded with heavy duty VFX and CG effects, 2Point0 is directed by Shankar 
2.0 Review
Story:
Pakshi Raja (Akshay Kumar), an ornithologist turned social activist, tries to educate the society about the negative effects of cell phone radiation. As his pleadings go invain, Pakshi Raju commits suicide and returns as a fifth force. He makes every mobile phone in the city disappear, attacks those who excessively use cell phones. As entire city is paralyzed, Government and Robo scientist Dr. Vaseegaran (Rajinikanth) together redeploy the Robo CHITTI to deal with the evil force
Rest of the film is all about the war between the Pakshi Raju's massive force and Chitti's counter acts to contain the evil.
Analysis:
Shankar's films are known for technical brilliance as well as a strong story point. In 2.0, while he continues enthralling audience with his sheer scale of visualization, fails to deliver a strong story point. First half of the film is average, takes time to establish the birdman character and chitti. The repetitive shots of Birdman taking away citizen's phones are boring. Once we're into second half, the film turns into engaging mode with Akshay's flashback. Though he is villain in this film, he turns bad guy for a good reason. After flashback ends, story again turns into familiar mode and climax gives some wow factor to the common audience.
In climax, Shankar banks on Rajini's charishma and has penned couple of dialogues about his numero uno status. Some graphics in climax are shabby, especially those designed around Robo 3.0. The microbots concept, few other scientific reasonings don't add credence.
However, despite many flaws, Shankar with the help of technicians and Lyca productions' free hand in budget, is able to deliver a boxoffice winner with 2.0. From critical point of view, he may not get brownie points this time, but general public may like VFX extravaganza.
Technical:
2.0 's major credit goes to the technical team unarguably. Background score by A.R. Rahman and young composers' team Qutub E Kripa stands out of all departments. Nirav Shah 's cinematography to match the visualization of Shankar is good. His combined work with VFX team captures the gigantic high-altitude movements of Pakshi Raja and Chitti. Resul Pookutty 's 4D SRL sound design is awestruck.  There are 100s of hollydwood technicians worked this film especially in Art, Sound and special effects departments.
Performances:
Rajinikanth as scientist is limited to a chair, as Chitti he is behind the Robo makeup. So, performance wise he offers nothing much in this film.  Amy is a humanoid and same story – no scope for performance. Akshay Kumar as ornithologist got a good role, he performed well in those flashback scenes. Remaining there are not many characters, this film is all about VFX work
Positives:
VFX Extravaganza
Akshay Kumar's Flashback
Climax Episode
Negatives:
Soul less plot, weak story
Emotional connect is a big miss
The scientific reasoning in the film is laughable 

2.0 Review
Verdict:
Shankar and team delivered a Box-office winner in the form of '2.0'. First half is pretty average, second half is good AND last 30 minutes is VFX Extravaganza! Story wise there is not much to rave about and Shankar's mark in effectiveness is gone missing. Emotional connect is limited, good in the Birdman (Akshay) 's flashback which is the crux of the film. Overall, you may watch it for its big-ticket action episodes. 2.0 Review
Telugu360 Rating 3/5
Telugu360 is always open for the best and bright journalists. If you are interested in full-time or freelance, email us at
Krishna@telugu360.com