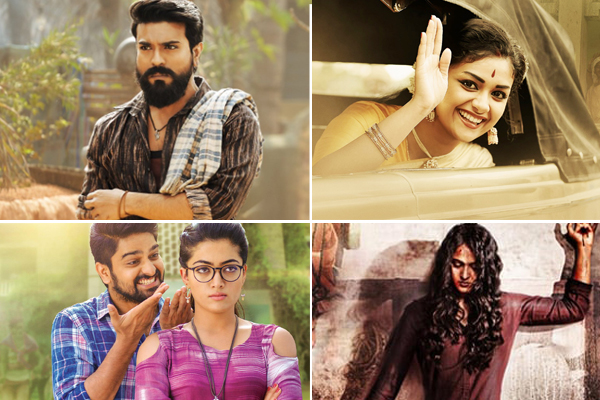 2018 Telugu Films – Half Yearly box office Report
Approximately 66 straight Telugu films released between January and June 2018. In 2017 first half 78 films were released, thus comparatively significantly low number of films have been produced this year. However, the success rate has been same 11 percent as there were 8 successful films last year , 7 films in this year's first half.
Let us analyze the box-office classification of 2018 first half films
BLOCKBUSTERS
Rangasthalam – This film registered a comeback for RamCharan who had been struggling for a success for the last four years. The film has smashed many records and emerged as the Non-Baahubali highest grosser in all the trade areas. It has collected a gross of over 210 Cr worldwide which hadn't been achieved by any other films the Baahubali(s). Rangasthalam's worldwide distributor share stands at 120 Crores , is also the biggest Blockbuster for the director Sukumar.
[Worldwide distributor share – 119.72 Cr]
Mahanati – This Biopic of 'Mahanati' Savitri has received both critical and commercial accolades. It has collected a distributor share of over 42 Crores Worldwide and emerged as the Highest Tollywood Grosser in Female Oriented films. The film has even ran for straight 50 days in few A centres.
[Worldwide distributor share – 42.08 Cr]
Super Hit
Chalo – This film has emerged as the highest grosser in hero Naga Shourya's Career with a distributor share of over 12 Crore worldwide. It is the first SUPER HIT for him.
[Worldwide distributor share – 12.32 Cr]
Hit
Bhaagamthie – With a distributor share of near 28 Cr, this film has emerged as the second solo highest grosser for Anushka Shetty after Arundathi. The film was postponed many times but that didn't hinder the success of it.
[Worldwide distributor share – 27.69 Cr]
Tholiprema : This film is the Second consecutive hit , second highest grosser for hero Varun Tej after Fidaa. It's also a first hit for the producer after a long five years. This banner's last hit was Attarintiki Daredi in 2013.
[Worldwide distributor share – 24.60 Cr]
Above Average
Bharat Ane Nenu – This film has collected a distributor share of 95 Cr which is the highest in Mahesh Babu career. It has performed very well outside Telugu States but was a loss venture for few buyers in some of the trade areas of Telugu States. This film is a relief for the hero who has received back to back disasters in recent years.
[Worldwide distributor share – 94.80 Cr]
Jai Simha – This film is the only success out of all this year's pongal releases. It has incurred minor percentage losses to buyers in couple of areas.
[Worldwide distributor share – 26.98 Cr]
Average
Awe – The film had a good opening weekend all over the world but has literally crashed from First monday onwards in domestic markets. However , it had a Superhit run in USA. It is a below average fare in domestic Markets and a SuperHit in Overseas which makes it an Average one overall
[Worldwide distributor share – 7.11 Cr]
Disasters
Agnyaathavaasi – This film is definitely the biggest disappointment of the year and one of the biggest ever disasters in Tollywood history. The film has incurred a near 70 Crore losses for buyers which is highest ever for any Tollywood film. It was the first release of the year and ended up as a huge DISASTER.
[Worldwide distributor share – 57.88 Cr]
Naa Peru Surya – The film has ended up a disaster, first disaster for the hero Allu Arjun after a long 8 years.
[Worldwide distributor share – 50.14 Cr]
Officer – This film is the biggest disaster ever in hero Nag's career with a mere 1 Crore Worldwide share. Buyers have lost their entire investment, even publicity costs haven't recovered
[Worldwide distributor share – 1.01 Cr]
Kalyan Ram had a disaster in the form of Naa Nuvve . Producers have lost more than 6 Crores on this film. This is continuation to his another flop MLA. A bad year so far for Kalyan
Raviteja had a disappointing first half as both Touch Chesi Chudu and Nela Ticket have ended up as disasters with a worldwide share of less than 10 Crore each.
Raj Tarun also had a disappointment first half with Rangula Ratnam ending up as a flop and Rajugadu being a literal washout.
Sai Dharam Tej continued his disastrous form with Inttelligent.
Nani's Krishnarjuna Yuddham & Nithin's Chal Mohan Ranga are the other notable disasters.
Dubbing Films :
This year so far approximately 29 films were dubbed into Telugu from other languages. Similar to straight films, the count of dubbed releases also came down as there were 38 films last year. But the success rate has doubled this year (10 percent) when compared to last year (5 percent).
Super Hit
Abhimanyudu – This film has emerged as career highest grosser for Vishal with a gross of 19 cr and share of over 8 cr in Telugu States
Hit
Padmaavat – Controversy has helped the film to get a decent opening and that has sustained for a limited period of time.
Avengers : Infinity War – Opening was shocker for exhibitors in Telugu States with house fulls in some centres. The film can be termed as a HIT
Suriya's Gang was average while Rajinikanth's Kaala ended up as a miserable disaster
Note : This week's straight release ' ee Nagaraniki emaindi ' has a chance of ending up as an average fare at box office in A centers. If this film manages to achieve an above average status, first half of 2018 success percentage stands at 12%.