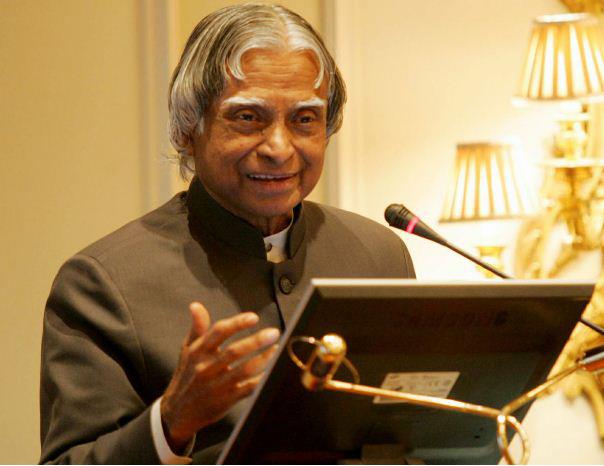 The most popular of Indian Presidents Dr APJ Kalam is no more. The winner of all three of the nation's prestigious civilian awards – Padma Bhushan, Padma Vibhushan and the Bharat Ratna, Dr Kalam collapsed while delivering a lecture at IIM Shillong Monday evening.
He was 83. He was immediately shifted to Bethany Hospital. But doctors declared that the iconic Indian former president passed away following a cardiac arrest. He was the only  president who did not belong to any political party or subscribed to any ideology. He remained apolitical through out his term in Rashtrapati Bhavan much to the chagrin all political parties, including the one which allowed him to get elected to the office of president. Consequently he was denied second chance. He wished that there should be no holiday condoling his death.
Known for his simplicity and accessibility the 11 th president of India dreamed of a new India with scientific temper. By his love and affection for children he became the darling of children of India. Setting aside the Protocol he always would spend time with children and young students during his tours. He used to stay with them like a school teacher, sometimes even reciting verses.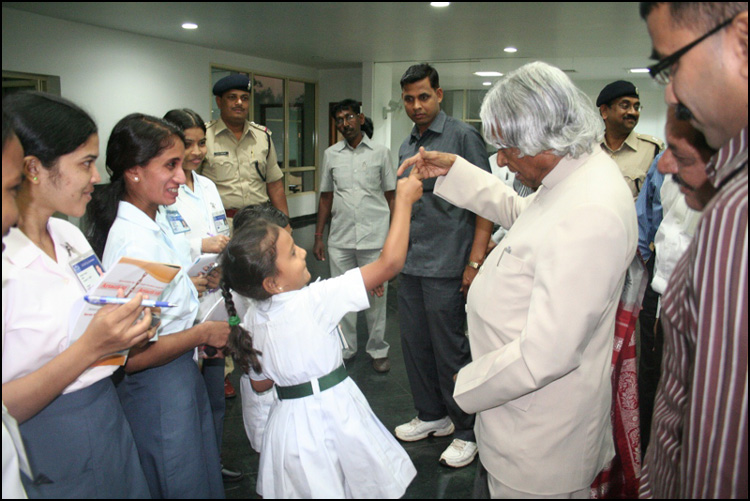 Dr Kalam, a bachelor, was instrumental in executing the Pokhran-II nuclear tests. A rocket scientist, Dr Kalam studied aerospace engineering to fulfill a childhood dream of flying.
He was solely responsible for the evolution of ISRO's indigenous PSLV programme . He took up and successfully completed the responsibility of developing Indigenous Guided Missiles at DRDO which earned him the moniker of father of Indian missiles' program.
He was born on October 15, 1931, at Rameswaram in Tamil Nadu as Avul Pakir Jainulabdeen Abdul Kalam and began working at an early age as paper boy to support his education.
After completing his schooling from the Ramanathapuram Schwartz Matriculation School, Kalam went on to attend Saint Joseph's College at Tiruchirappalli. He graduated in Physics in 1954, left for Chennai in 1955 to study aerospace engineering. In 1960, he joined the Aeronautical Development Establishment of DRDO.
Though grew up in complicated rocket technology, Kalam used to translate everything around him into simple, easily understandable vocabulary. His messages from Rashtrapati Bhavan as also his interactions with students and children were straightforward and devoid of rhetoric.
Precisely because of this reason, Dr Kalam, a lover of poetry, flowers, children and solitude never disappeared into oblivion after demitting office in Raisina Hills. He had been most sought after 'chief guest" by universities, institutes, self-help women groups, farmers , schools etc. He defied age to mingle with people. Exactly this was the reason that brought him to the North East's Shillong's IIM. His recent visit to Andhra Pradesh was to participate in launching of Primary Sector Mission program in October 2014 in Anantapur district which he enjoyed to the core. He moved around with farmers, traveled in a bullock cart and planted a sapling.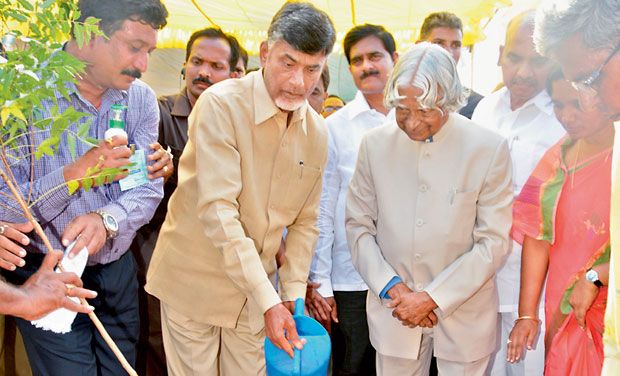 Dr Kalam served as the President of India from July 25, 2002 to July 25, 2007.
There is a theory about how Kalam, catapulted to Raisina hills in 2002 from his laboratory in Hyderabad.
According to the theory BJP, which was caught up in the notorious Gujarat riots, found Kalam, a Muslim, as savior who could help the party come out from the ignominy of killing hundreds of Muslims. So, it was said, the party used Naidu to consolidate support from other non-BJP NDA parties.
Kalam wrote a number of books inlucing Wings of Fire, India 2020 – A Vision for the New Millennium, My Journey, and Ignited Minds – Unleashing the Power Within India. All are best sellers.
Telugu360 is always open for the best and bright journalists. If you are interested in full-time or freelance, email us at
Krishna@telugu360.com