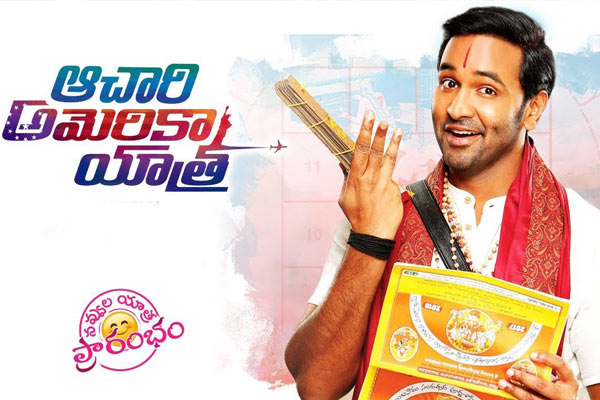 Achari America Yatra Review
Telugu360 Rating : 1.5/5
Manchu Vishnu's long delayed comedy caper Achari America Yatra is finally hitting the screens all over on April 27th. Also Starring Pragya Jaiswal and comedy king Brahmanandam in prominent roles.
Story:
Priest Krishnamachari ( Vishnu ) , and his Guru ( Brahmanandam ) performs 'homam' at bad guy Raju's( Pradeep Rawat ) house. As things go wrong, head of the house ( Kota Srinivasa Rao ) passes away. Believing Krishna & co as bad omen , Raju tries to kill them.
To escape from life threat, Krishnamachari plans to hideaway in USA.
The rest of the story is how Krishna escapes from Raju and what is the real reason behind his runaway to USA.
Performances :
Manchu Vishnu tries his best in this comedy oriented role but weak characterization and lackluster script doesn't back his efforts. Pragya Jaiswal as Renuka did a decent job. Contrary to her girl-next-door image ,she comfortably handled this mass role with ease.
Brahmanandam's role has good length, but he couldn't shine due to the loose comedy track . Other popular artists like Praveen, Prabhas Seenu , Prudhvi , Posani are wasted . Thakur Anoop Singh and Pradeep Rawat are ok as villains.
Analysis :
G. Nageswara reddy has the reputation for delivering entertaining comedy capers with mass touch. Writer Malladi Venkata Krishna Murthy has a good sense of humor. Expectations are high on this writer-dirrctor combination. A minimum guarantee is what anticipated from this combination. However, due to the postponement of the film's several times, the buzz fizzled out and it has finally released with lowered expectations.
Unfortunately, even with level zero expectations , the film still disappointed right from the get-go.
A silly plot, logicless sequences, poor dialogues and lack of comedy will test the patience of audience to the core. The premise of the film has ample scope for comedy but poor script work from the team has turned out to be a big letdown for the film. A beaten to death comedy track involving first-time America visitors, drooling at beach babes etc fill the first half.
The core story line : to immerse ashes of the deceased family head in Holy city Kashi, which forms the second half, is not at all interesting. Comedian Prudhvi who joins the party in the second half couldn't rescue the film either. His comedy track is very poorly written.
Overall, the first half is uninteresting and the second half tests patience. Director G. Nageswar Reddy failed in all departments.
' Arere ne anukunnana ' , ' Siriscilla cheera kattii ' and ' Enthaa sakkanodu srinivasudu ' songs are watchable on screen. Pragya Jaiswal is looks gorgeous in this film, especially in songs.
Production values are good. For this poor script , producers Kittu and Keerthi ( Son & Daughter of M L Kumar Chowdary ) have spent quite lavishly. Half of the film's shoot was done in various locations of USA.
Verdict :
On the whole, Achari America Yatra is a disappointing film which fails in all segments. The silly plot, weak direction and poor humor-laced scenes makes this an awful film which can be skipped with no second thoughts.
Telugu360 Rating : 1.5/5
Release Date : 27th April, 2018
Director : G. Nageswara Reddy
Music Director : SS Thaman
Producers : Kirthi Chowdary, Kittu
Starring : Manchu Vishnu, Pragya Jaiswal and Brahmanandam