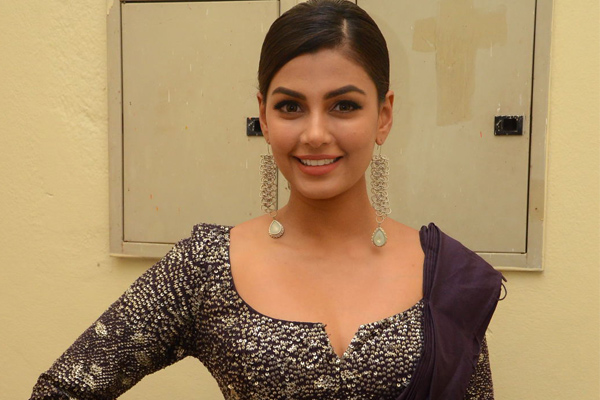 Nagaraj Goud
Having featured in a slew of notable films like 'Gopala Gopala', 'Manamantha' and 'Fashion Designer- S/o Ladies Tailor', Anisha Ambrose chose to audition for Tharun Bhascker's Friday dated 'Ee Nagaraniki Emaindi' despite being aware of the fact that the director wasn't on the lookout for experienced actors. This is because she wanted to work with the one-film-old as she liked his 'sensibilities' in '#Pellichoopulu'. "I went to Suresh Productions office and said, 'Okka chance' (chortles). They made me audition for one part (which was eventually played by Simran Chowdary). They liked it and later called me for another part Shirley. They liked it too and gave me the option to choose. Shirley was my pick," Anisha flashbacks speaking to telugu360.com, while adding that there were no awkward feelings at all. "An actress shelf life is less and you have to do as much work as possible in that limited span. And it was just a matter of trying. That's what I felt."
A buddy comedy, 'Ee Nagaraniki Emaindi' follows the journey of four friends (played by Vishwak Sen, Abhinav, Venkat and Sushanth) who are out to make a short film. Shirley, says Anisha, gives them a window. "Tharun gave me the part and said, 'Play the way you interpret it'. That way he was different from the other set of directors I've worked with until now. Shirley is a piano player, who has Telugu roots but is based out of Goa," Anisha shares, adding that while she prepped for the part by taking piano lessons from Vivek Sagar, film's musician, Latha, Tharun's wife and also stylist, did her look. "She had a vision about Shirley should look like and we moulded her accordingly."
She admits that 'Ee Nagaraniki Emaindi' was the first unit that had both cast and crew belonging to her age group. "The 20-day Goa schedule was nothing short of a jolly trip. We had a whale of time," she smiles, adding that the since it's a buddy film, the cast required to be friends off sets first. "There were no sirs and garus and we've became buddies for real even before we went to floors. The atmosphere that Tharun created on sets had a lot to do with our bonding. From the reports that I've got till now from the private screenings, one unanimous observation was that the film is a laugh-riot."
This is also the first time that Anisha has shot for a film in sync sound, which rules out dubbing. "Most of the times I delivered dialogue in a certain way, the dubbing artiste would give it a different emotion. So this time it's completely me and I'm happy about it," she exults, admitting that since the dialogues were in simple Telugu, it wasn't quite a task for her— though her Telugu is good.
She says that Tharun's stories are from real life. "For 'Ee Nagaraniki Emaindi', he picked a lot from his own life. The friends go to Goa for a short film fest in the film, an episode which transpired in Tharun's life sometime back. He lives his stories first and later translates them to screen," she adds, with a laugh.
Anisha hasn't tasted true success yet in spite of this being her fifth year in the industry and she maintains that the thought— she being an unsuccessful actress—has never crossed her mind as she began to shoot for 'Ee Nagaraniki Emaindi'. She informs that since the beginning of her career, films were just a break for her from what she wants to eventually do with her future—taking her dad's business to newer heights. "Movies were just a break for me so that I don't feel like I've done nothing in my life regardless of studying so much and straightaway leap into my father's business. Even my parents didn't want me to be like that; they wanted me to do what I felt like doing and come back to business at a time that I was comfortable with. So, every time a film of mine didn't do well, it did affect me but my mom always reminded that movies were just a hobby and that I have other things to look forward to. Those words of her always brought back me to a point where I used to tell myself, 'I'm doing cinema out of zeal. This film didn't work? Ok. I'll get another one'," she says.
On her future projects, she shares, "I'm making my Tamil debut with a gangster flick. It mostly features newcomers. There's also a Telugu-Tamil bilingual with cinematographer-turned-director Nizar Shafi. It is 70 per cent through."