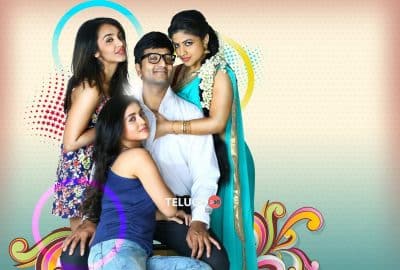 Babu baga busy Review
Babu baga busy Movie Review
Telugu360 Rating 2.25/5
Story ( No Spoilers) :
'Babu Baga Busy' is the story in the year 2017 about Madhav ( Avasarala Srinivas) who is in his early thirties and is about to get married. Madhav falls in love with Radha (Mishti Chakraborty), whom he meets first time at the matchmaking interview (pelli choopulu). The narration is in a sliced flashback format which takes the audience from past to present alternatively. Madhav and his friends' adolescent sexual adventures and their experiences in the recent years are shown back and forth. Both Radha and Madhav have crooked relationships in the past and ultimately reveal their shady background to each other. Rest of the story is how they resolve the marital life issue!
Performances:
Avasarala Srinivas in the role of Madhav as a sex addict has performed well. Mishti Chakraborty as Radha looked alright and delivered decent performance. Tejaswai Madiwada who plays the role of Madhav's Ex-Girl Friend looks lost and uncomfortable. 'Pelli Choopulu' fame Priyadarshi got lengthy role and acted well. Anchor Sreemukhi got only one scene and has nothing much to perform. Tanikella Bharani and Sudha endured the role of Madhav's parents. Posani Krishna Murali was seen in the film. Aadarsh Balakrishna played a special role.
Analysis:
The concept might be interesting for youth, however it's not supported by a good story, so ends up as a forced comedy. Though the trailer indicates a lot of sleazy content, the theme of the film is sex-centred without any sleazy sex comedy. Moreover, the director did not resort to skin show of women which is one positive. The screenplay of the film is the key spoilsport, especially the switching between past and present did not work well. In addition to the confusing screenplay, the film is slow paced. The ' Meow..' concept filled the theatre with some laughs. Songs are poor and music by Sunil Kalshyap is disappointing. This film runs just for 125 minutes.
It was hardly a difficult task for Debutante director Naveen Medaram, as this film is simple word to word remake of a Hindi film. Abhishek Pictures which is known for aggressive distribution offers, could not do the same in production and consequently the flick has B grade look
Scenes involving aunty ( Supriya ) and Madhav( Avasararala), sexual mischiefs of Madhav and friends at their adolescent age might somewhat appeal to masses
Verdict:
'Babu Baga busy' is neither out n out adult comedy film nor a message oriented one. Poor narration, B grade production values and lack of proper comedy (nor Adult comedy) leaves the audience disappointed. Very small percentage of youth may find this film as an average, for all others it is avoidable.
Telugu360 Rating 2.25/5