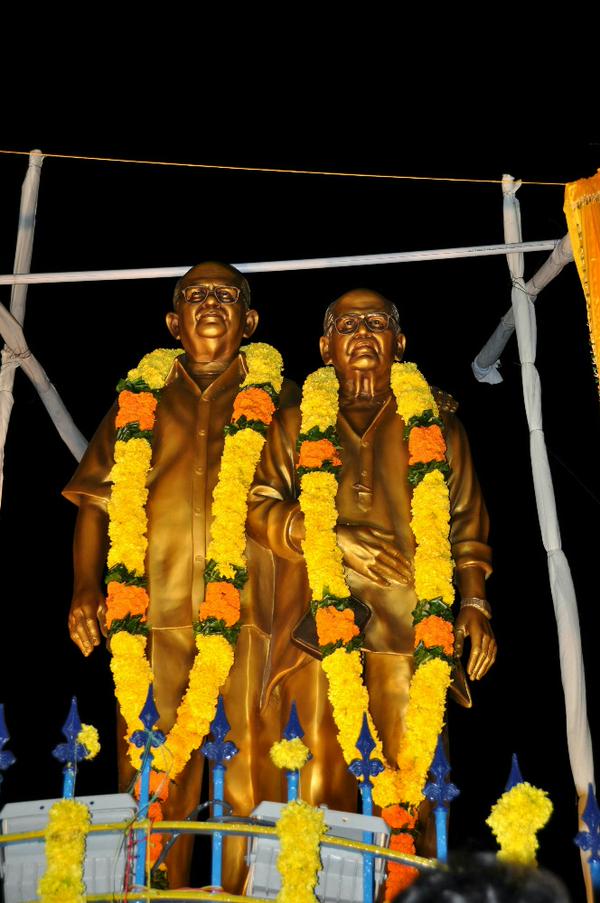 It is indeed poetic justice that the statues of Bapu and Ramana were installed alongside that of N T Rama Rao on the banks of River Godavari around Pushkaram. Not many people know this but the relationship of the duo Bapu Ramana with NTR has not begun well. But once a relationship got established, it grew into a life-long friendship that culminated into many fruitful associations.[pullquote position="right"]                                                                                                                                                                                                                                                                                                               Bapu-Ramana's statues just got erected alongside NTR. Is this a collaboration that was made in heaven? A recount of one of the most creative associations in Telugu film industry – something that never got noticed.
[/pullquote]
Here's how it began. Bapu-Ramana already created a sensation with début film "Saakshi" and films like "Buddhimanthudu" in which Sobhan Babu played Krishna – which became as popular as NTR's Krishna role. By that time, NTR already attained demi-god status as Lord Krishna. Nobody had the guts to make a film revolving around Krishna or Raman without invoking the blessings of NTR at that time. But Bapu-Ramana had that courage because they sought to make films in which the story was the real star. They followed it up with a brand-new first-time color version of Ramayana called "Sampurna Ramayana" in which Sobhan Babu played the title role of Rama. The film faced lot of issues because of fears of antagonizing NTR at the helm of stardom.
Distributors tried to stall the film itself – how can you make a film based on Rama without NTR? Produced by Bapu-Ramana themselves, the film struggled to find distributors because nobody dared to displease NTR. Then the legendary actor SV Ranga Rao (who played Ravana in the film) stepped in and decided to take the soliloquy sequence of Ravana at the climax to be shown to NTR, the boss relented and the film found buyers. It didn't run for the first few weeks but later went to celebrate 100 days in almost every centre it got released. Many weeks later, the great NTR requested a screening of the film and watched it, sitting next to Sobhan Babu and patted him for a stellar performance.
The sensation of "Sampurna Ramayana" led to NTR grudgingly accepting the directorial genius of Bapu and the craftsmanship of Ramana to create characters that breathe fire on screen. He wanted to work with the writer-director duo that is making new wave cinema in Telugu. Lakshmi Films, one of the foremost distributors and producers came forward to make a film again based on Ramayana, this time with the original NTR himself. Everybody thought if a film with Sobhan Babu as Rama created such sensation, then the combination of Bapu Ramana and NTR will create a bigger sensation.
The story was a lesser known episode of a war between a God and his supreme devotee – "Sri Ramanjaneya Yuddham". The film showed NTR in sparkling costumes and dazzling crown and amulets and had the unmistaken stamp of Bapu and Ramana. Few songs also stood out. But the film bombed and sank the producers. It brought good name for NTR as a handsome Rama but failed to create magic at the box office closing the doors for a long, long time on Bapu-Ramana to make any more films with NTR. While the film looks squeaky clean and classy, Bapu and Ramana later opined that had NTR listened better to some suggestions made by the makers, the film would have got better angles and treatment. In some crucial scenes, they felt the star didn't cooperate.
After "Sri Ramanjaneya Yuddham" in 1974, the makers surged ahead with a magnificent blockbuster "Mutyala Muggu" in 1975 – the same year that "Sholay" was released. Just as "Sholay" had made Amjad Khan the most famous villain in Bollywood, "Mutyala Muggu" gave Rao Gopal Rao the chance to become the ruling villain for the next decade or so in Telugu films. It was that big hit – again NT Rama Rao saw the film early on and lavished praise on Bapu and Ramana for creating the most exquisite sequences of marital bliss between Sridhar and Sangita, which made NTR recall his marriage days. He liked the film at the première and suggested to Bapu that if had included some fights, the film would run for at least a year. Without fights, with due apologies to NTR, the film ran for a day less than an year!
And NTR and Bapu Ramana never worked together as the duo made hit films with Krishnam Raju, Krishna, Sobhan Babu, Chiranjeevi, Rajendra Prasad, Mohan Baba, Chandra Mohan, Anil Kapoor and others but a movie with NTR never came calling. Both NTR and Bapu-Ramana attained giddy fame with paths that never crossed.
When NTR became the Chief Minister of Andhra Pradesh, he summoned the duo once again.