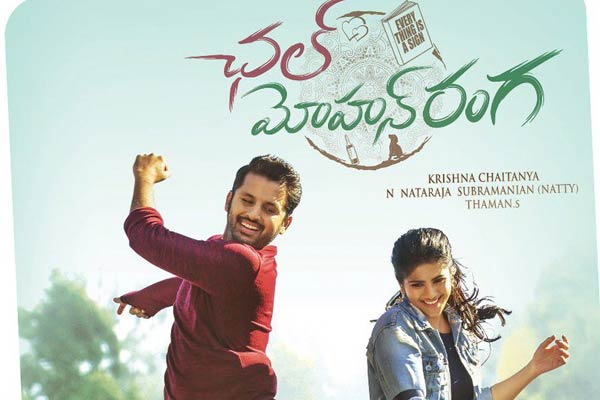 Chal Mohan Ranga Review
TELUGU360 RATING 2.75/5
Chal Mohan Ranga has been creating good buzz among audience as it is a joint production of Pawan Kalyan and Trivikram Srinivas. The breezy trailers have promised a cute romantic entertainer with strong technical values.
Both Nithiin and Megha Akash, who teamed up after last year's debacle LIE, have pinned a lot of hopes on this film. The audio composed by SS Thaman has received a good response from music lovers and increased the buzz on the film.
Can Chal Mohan Ranga give some respite to Nithin and Pawan – Trivikram production houses ? Let's find out.
Story:
Mohan Ranga ( Nithiin ) 's childhood ambition is to secure a job in USA. After his Visa being rejected three times, Ranga finds an innovative way to land in USA on a temporary visa. Being street smart, Ranga finds a person who can sponsor H1B for him to continue in US. Ranga finds Megha in a road trip from New York city, falls in love with her. When it is time for proposal, both back off for a reason. Then Megha's family moves to Ooty.
Rest of the story is how Ranga wins back Megha and the comedy sequences in that process.
Performances:
Young star Nithiin has done full comedy-oriented role in this milestone (25th) film. He has shown improvement in comedy timing. Nithiin's dances deserve special mention for 'Peddha puli' song. Heroine Megha Akash is adequate as Megha. Satya, Narra Srinu, Rao Ramesh, Prabhas Srinu, Madhu played comedy roles with good ease.
Analysis:
'Chal Mohan ranga' has a predictable storyline but dashed with Trivikram mark witty dialogues and punches throughout. As movie begins Mohan Ranga's struggle to get US visa is portrayed. After he gets Visa, visits USA and meets Megha coincidentally. In a road trip, as he interacts more with Megha, love blooms between them. Entire first half is situational comedy and connects more with NRIs. Second half, after the lead pair moves to coonor (Ooty) there are three non-stop comedy sequences which are the crux of this film. There are many dialogues which appear to have Trivikram mark. Unless someone tells you those were not written by trivikram, you will take it granted as Trivikram dialogues. Is it influence or ghost work?
The love track did not work much, as the main focus remained on comedy only. There are no high or low moments in the film, script runs in flat graph. "Peddha Puli "a hyderabadi folk song stands out in terms of songs. Miami song is also peppy and youthful. However, rest of the songs some were good on audio but could have been better onscreen.
Director Krishna Chaitanya has shown command over dialogues and in comedy segment. In films that deal with NRIs story, often they lack NRIs psyche. But in this film dialogues or scenes woven around NRIs are appropriate. However, the lovetrack between the lead pair is where director couldn't come out with his own mark and so remains pale.
Production values by Pawan Kalyan's PK creative works & sreshth movies is good. Music by S.S.Thaman is decent. Cinematographer Natty has done a good work and captured slick locations in New York, Miami well.
Positives:
Comedy oriented scenes, dialogues
Nithiin's performance
Writer-Director's wit
Crisp editing
Negatives:
Run of the mill story
No high moments
Flat Narration
Verdict:
'Chal Mohan Ranga ' is an urbane comedy film with decent entertainment. First half which had been shot entirely in USA is adequate, second half is slightly got better in comedy. Storywise, this "Boy loves girl and finally they get married " line has nothing new to offer. All in all, you may watch it for clean comedy, if you don't mind predictable story!
TELUGU360 RATING 2.75/5
Release Date : 5th April, 2018
Director : Krishna Chaitanya
Music Director : SS Thaman
Production Company: Sreshth Movies
Starring : Nithiin, Megha Akash