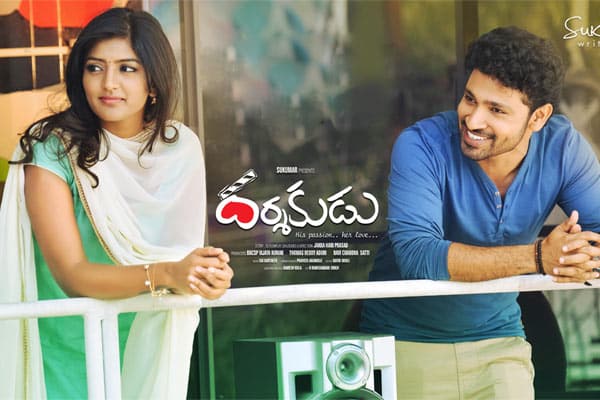 Darshakudu Review , Darshakudu Movie Review
Telugu360 Rating : 1.5/5
Filmmaker Sukumar's next production Darshakudu is one of the two films releasing today. The film marks the debut of his nephew Ashok as an actor and his close friend Hari Prasad as a director. Hyderabadi gir Eesha Rabba is the leading lady in this romantic drama.
Story:
Darshakudu is the story of a young and aspiring director who places his goal above everything else. Mahesh (Debutante hero Ashok) is extremely passionate about film direction since his childhood and settles as a light boy in Hyderabad. He narrates an excellent story to a producer, who largely agrees to do a film only if Mahesh improvises comeback the love track in the story.
Mahesh who was never in love, thinks that he cannot do justice to the love track in the script unless he experiences that kind of relationship with a girl. The following day, at his native place, he bumps into a girl Namratha ( Eesha Rebba) in a train and slowly attracts her into love relation. He only focuses on how that girl responds to various situations and incorporates it into his script. Realizing his intentions Namratha starts hating him. Rest of the story revolves around how the love hate relationship comes to a closure.
Analysis:
'Darshakudu' subject is quite interesting on paper, as it has ample scope to showcase struggles, emotions and some fun. This film needs conviction from its director and faith in his characters. A strong characterization is crucial for this subject, which director of the film 'Darshakudu ' totally overlooked. Hero has been showcased as a guy who can be manipulative, who can go to any extent to get a chance as director. Hero has to make a choice between career or love at times. Consistency in his approach would have made this film more honest at least. Mahesh (Aspiring director) has been shown as very manipulative guy, uses even personal moments with his girlfriend into the script. But in the end he is portrayed as if he is aware of the fact that Namratha ( Eesha) is his childhood friend. Towards the end, he twists that all those manipulative scenes as true feelings. This did not go down well. Especially because it contradicts the core point of the aspiring director being ruthless manipulator. This context cannot be justified with his dual intent [ Kala Vs Prema ( Art Vs Love ) ] . That's where the audience get disconnected with the protagonist.
This film lacks entertainment despite being a filmy based theme. While in second half towards pre-climax, the drama is a bit engaging momentarily, the climax is again a farce. First half of the film is not interesting either. On the whole, even though each half of the story runs only for an hour, it is still boring.
'Passionate aspiring director' is a fancy word for wanna be directors in KrishnaNagar of Hyderabad. 'Darshakudu' film is a lame attempt to portray one such director's life until his first directorial film hits the screens.
Performances:
Debutante hero Ashok is just okay. In his role as a director, one cannot complain much about on his short height and pretty average looks. However, a better performer would have elevated the role further. Heroine Eesha Rebba fits the role very well. She had an ease in performing the roles of a lover and costumes designer. Her role demands some complexity. She should portray a girl who is in love with the director simultaneously expressing hatred towards him as she realizes that he is utilizing her to get script ideas. She is convincingly good in that aspect. Hero's father and heroine's father roles are played by unknown small-time artists. YouTube star Sudharshan played hero's sidekick and has done a decent job.
Technicians:
Sai Karthik's music in this film doesn't have any noteworthy songs to memorize. Darshakudu theme music provides some consolation. Cinematographer Praveen Anumolu succeeded in giving class and mid-range budget look for this low budget film.
Director Jakka Hari prasad has delivered a very bland movie. Neither the dialogues nor the screenplay are engaging. He depended on only one single point "a director who takes inspirations from his real-life incidents to incorporate them into his script".
Verdict:
Darshakudu movie offers nothing to common audience. Poor script, amateurish hero and lack of any entertainment mark this film as a total disappointment. This kind of films, even if they are not appealing to the regular audience, should at least show the struggle or pain of cinema industry people in a way that they can try to relate to it. This film fails even in that perspective.
Overall, a pathetic effort by Sukumar Writings.
Telugu360 Rating : 1.5/5
Release Date : 4th Aug, 2017
Director : Jakka Hariprasad
Music Director : Sai Karthik
Produced by : Sukumar
Cinematography : Praveen Anumolu
Starring : Ashok Bandreddi, Noel Sean, Eesha Rebba, Pujita Ponnada