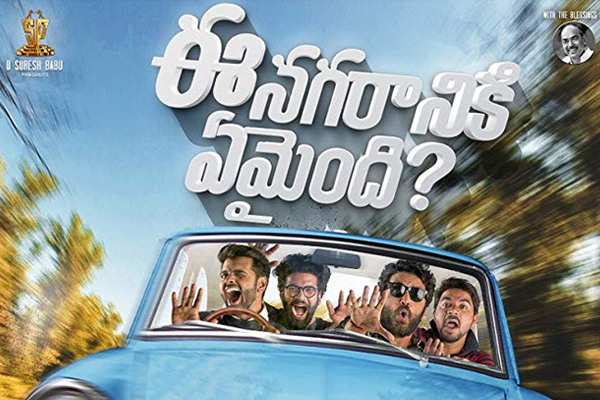 Ee Nagaraniki Emaindi Review
Telugu360 Rating 3/5
Vivek, Karthik, Kaushik and Upendra are childhood friends. An aspirant director, Vivek plans to make short films with the help of other three as technicians. Meanwhile Vivek addicts to alcohol after breakup with his lover. Gradually each one of the four friends takes different career path until the day they re-unite. Back to their elements, the gang kicks off liquor parties and one ill-fated night all of them end up in GOA. Rest of the story is how they enjoy life in GOA, what kind of life decisions they take etc.
Performances:
VishwakSenNaidu as Vivek , Sushant Reddy as Karthik , AbhinavGomatam as Kaushik , VenkateshKakumanu as Upendra are the four main characters in this film. Each one of them excelled in acting becomes familiar to us by end of the film. Heroines Anisha Ambrose, SimranChowdary are adequate.Influence of 'the hangover 'can be visible in artists' getups .Vijay Deverakonda's cameo is interesting one
Analysis:
As they say 'First impression is the best impression'. Within first few minutes, one can feel the director's unconventional approach. The natural conversation between the friends, Scenes with no background score, spot dubbing to give off-beat feel,Karthik's scene as club manager all in all TharunBhascker arrests the audience with his bold approach combined with talented writing. Once each character has been established, the fun ride starts. Kaushik as English film dubbing artist is hilarious, so is the gang's drunken scenes. Vivek love proposing to the short film heroine scene came out well. . However, as movie progresses the scenes become redundant. The interval episodes make up for the downside of first half.
In second half, story lacks neither depth nor any emotion. Many scenes with conversations serve no purpose. Kaushik – Vivek drunken scene, Upendra's Hindi dialogues scenes are saving grace in other wise boring second half.
' Pellichoopulu' or any other hit movies carry strong characterizations of protagonists. This film has realistic conversations but the four friends' individual characterization is poorly written. Karthik – the club manager characterization is half baked one. Though vivek's attitude is shown it lacks characterization. There is no single impressive song in the film which is another drawback. Overall second half disappoints except two comedy sequences.
Positives:
Tharun Bhascker's Subtle comedy dialogues
Youth appealing friends' scenes
Direction and casting
First half entertainment
Lead actors' performance
Negatives:
Slow paced narration
Very weak songs
Weak story
Verdict:
' EeNagaranikiEmaindi ' is an unconventional , slow paced , subtle comedy film which revolves around four childhood friends. Director Tharun Bhascker's fresh approach in making , dialogues, all 4 lead actors' performance are positive points. Ultra-slow paced meaningless scenes here and there, lack of good songs , redundant drunken scenes may limit the box-office performance . While trying to be a different, this film ends up little short of high expectations and may appeal for urbane youth.
Telugu360 Rating 3/5Release Date : 29th June, 2018
Director : Tharun Bhascker
Music Director : Vivek Sagar
Choreography : Niketh Bommi
Producer : D. Suresh Babu
Starring : Vishwaksen Naidu, Sushanth Reddy, Abhinav Gomatam, Venkatesh Kakumanu