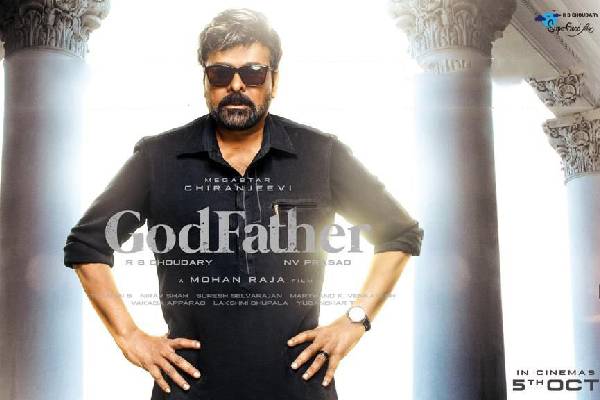 GodFather 2022 Movie Review

Telugu360 rating : 3/5
After the debacle of Acharya, Megastar Chiranjeevi is testing his luck with a remake titled God Father. Mohan Raja directed a political drama that also has enough dose of action. The team says that they have made enough changes to suit the Telugu audience. Bollywood Superstar Salman Khan will be seen in a prominent role and Nayanthara, Satyadev and Samuthirakani will be seen playing other important roles. Thaman scored the music and Konidela Production Company; Super Good Films are the producers.Here is the complete review of God Father:
Story:
God Father is about BRAHMA (Chiranjeevi) the force behind the ruling party. As incumbent chief minister PKR dies, fight erupts within the party for the next Chief Minister post. Strong contenders for the next CM position are PKR's daughter Satya Sri ( Nayanatara) , Jaya Dev ( Satya Dev) and Home minister Verma ( Murali Sharma). Brahma's objective is to protect the JJParty and CKR's daughter. Rest of the film is how Brahma and his rivals plan to take control of the state.
Analysis:
God Father Movie takes off with intense political drama and family feud around the chief minister's family. Chiranjeevi role is characterized as a creator, and named after the same creator god.Brahma. Chiranjeevi is the invisible force behind the chief minister PKR family. After PKR death, PKR's son-in-law Jaya dev tries to become the chief minister. Brahma intercepts and continuously foil Mr Jaya dev attempts. The bonding between PKR and Brahma has been established emotionally, but the growth of the Brahma as a force (Don) wasn't established convincingly. The Dubai mafia support to Brahma, Masoombhai( Salman Khan) thread and international mafia dons' meeting etc. scenes are not dealt well.
PKR's daughter Satya Sri (Nayanatara ) is unaware of her husband Jaya Dev's dark side. Under Jaya Dev's trap, Satya Sri tries to make him as the Chief Minister. But, Brahma outwits Jaya Dev and how is able to make Satya Sri as the chief minister is rest of the story. Chiranjeevi'sBrahma characterization is a mixed bag. While it suits his age, the mass audience might not like the idea of protagonist being passively showing the heroism. As per the characterization Brahma is majority of the times shown taking back seat in the action than active. At some point, while Salman Khan Fights against the villains chiranjeevi is shown walking behind salman under his protection. Script wise this approach is absolutely fine but might be a negative with core masses. Last 30 minutes of the film is a clichéd one.
Overall, director Jayam Mohan Raja did a good job in balancing the remake and customizing to telugu audience. Konidela Pro production values are adequate, but the VFX work is poor. SS Thaman provides loud and mass appealing background score for Godfather. Nirav Shah Cinematography is good. Marthand K Venkatesh's editing is adequate.
Performances :
Megastar Chiranjeevi getup suits his age, performance is subtle and Good. Satya Dev and Nayana Tara added solid performances and both are fantastic. Salman adds to the star power and it is nice to see both Megastars together on the screen. However, there is not much depth in his character. Murali Sharma, Sayaji Shinde got good roles. Puri Jagannath got a significant role as journalist.
Positives:
Mega Star's performance
Engaging political Story line
Two mass appealing fights
Negatives:
Salman Khan's scenes
Backstory Chiranjeevi's Brahma character
Lack of typical chiranjeevi elements like Dance, comedy for his fans
Verdict:
Godfather stays true to the original with adequate tweaks to appeal to Telugu audience. Brahma's role is tailor made for the Megastar Chiranjeevi, which he plays in efficient manner. Overall, if you like political themed films, Godfather keeps you engaged .
Telugu360 rating : 3/5
Release date: 5 October 2022
Director: Mohan Raja
Language: Telugu
Cinematography: Nirav Shah
Producers: Ram Charan, R B Choudary, Prasad N.V.
Production companies: Konidela Production Company, Super Good Films
Cast : Chiranjeevi, Salman Khan, Nayanthara, Satya Dev
Summary
Reviewer
Review Date
Reviewed Item
Author Rating