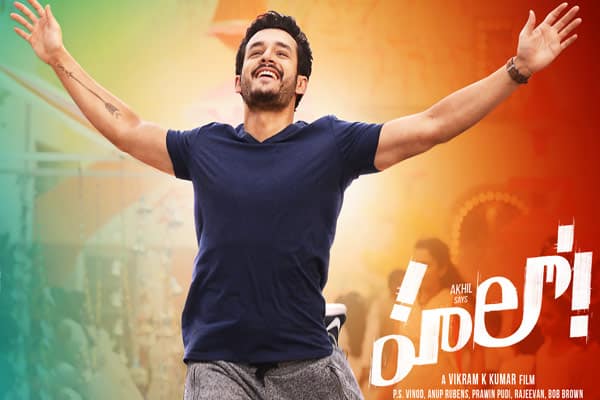 Hello Movie Review Akhil Telugu
Telugu360 Rating : 3/5
Hello Movie Review: 
Two years after making his debut in Tollywood, Akhil, third generation actor from Akkineni family, comeback with his second film titled as "Hello". Directed by "Manam" fame Vikram Kumar, the film marks the debut of Kalyani Priyadarshan as the female lead.
Can Akhil bounce back strongly with his film after a disappointing debut ? Let's find out .
Plot :
Seenu and Junnu are soul mates who meet as children and are from different backgrounds. Seenu is an orphan and street kid, whereas Junnu is a rich kid. Junnu likes Seenu's music composing skills on his Ektara instrument. Set in Hyderabad, these two childhood friends with massive class difference end up falling in love but get separated as Junnu's family transfers to Delhi. 15 years later they are brought back together by destiny but neither of them know who the other person is. As grownups, they are Avinash (Akhil) and Priya (Kalyani) and everyday they look to reunite with their childhood friend.
Rest of the story is how Avinash's effort to trace down his childhood love's whereabouts fulfill and how they recognize each other.
Performances:
Akhil looked uber cool, impresses with his dances, singing and original acts in fights. He is so natural in his histrionics and performance. However, his presence is limited in first half and even that limited screen time he got is majorly occupied with action sequences. In second half he has some scope to act and he did decent job. The amount of work that Akhil has put in is clearly visible on screen in parkour-style chase sequences and in dances. Kalyani , the debut heroine, is perfect fit for Priya role. Though she is not a great beauty, she has class and elegance.
Ramyakrishna and Jagapathi Babu look good as the couple who adopt seenu. Sentimental scenes between the family are good and 'Diamond Ring' episode also brings few laughters. Ajay, as the boss of phone theft gang, starts off as a serious villain but ends up as a comedy one. Anish Kuruvilla, Satya krishnan as parents of heroine are adequate.
Technical Team:
Anup Rubens who has done great job with the songs have also done excellent work with background score as well. Hollywood Stunt Master Bob Brown does a good job showcasing parkour-style chase sequences. Cinematographer  P.S Vinod captures all the action scenes well. As one walks out of Hello, one feels that Vikram Kumar style ala Ishq, Manam is missing. There are very few of his signature scenes. The flat storyline might had limited his skills . Prawin Pudi's editing is very slick, may be prawin along with defacto editor Nagarjuna is too strict about any lag. Result is movie ended up just two hour three minute duration.
Nagarjuna as a producer reminds us bollywood making style of yesteryear's showman Subhash Ghai's richness and present days' urbane trendy look from  Karan Johar / Aditya chopra films
Songs : 
"Hello Hello.." title song is an youth appealing one with akhil's classy steps shot in slow motion. " Anagananga oka uru… " shot on the kids is just okay, "Thalachi Thalachi" song is the winner in first half for its artistic shot making. "Yevevo Kalalu Kanna" song is our favorite from the film and easily one of the best songs in recent times. This song raises the bar for tollywood in terms of making. And last but not the least, sangeet song  " Merise Merise .." has hallmarks of a bollywood one in terms of choreography and artwork. Overall, songs are biggest asset for "Hello"
Positives: 
Akhil's dances and stunts

Ultimate Production Values

Songs

Background score
Negatives:
Single threaded story

Flat Narration

Movie slows down towards Climax

Vikram Kumar's magic is limited only to songs and few scenes

Much hyped Chase sequences are of less impact even though executed well
Analysis : 
Experts often say there are only seven basic plots in the whole world – plots that are recycled again and again in movies. Separated childhood sweethearts end up meeting when they grow up is one such plot in telugu films. Actor Nagarjuna and his favorite director Vikram kumar didn't hesitate to pick this beaten to death plot to relaunch the former's son Akhil Akkineni.  
First half is just decent and lays premise for the latter half. 35 out of the 55 minutes length first half are childhood episodes and remaining duration is covered by two chases which came out well and can see a lot of effort went into those. Filling the major part of the first half with a flashback episode, that too with kids' episodes is somewhat risky experiment. In few scenes, example in which Akhil calls Ramya Krishna 'Amma' scene came out well.
Second half has some good moments in " one week back in hyderabad " flashback episodes. The diamond ring episode of Ramya Krishna , her scenes with Kalyani came out well and are hilarious. Those good moments are followed by Yevevo kalalu kanna , Merise Merise songs which are picturised spectacularly. As soon as Merise merise song ends, the film loses its steam and ends with a too melodramatic climax.
Vikram Kumar's strength in weaving magical scenes in Manam is not seen in this film except in songs making. In second half the visuals are superbly rich in many scenes. The house , the backdrops, sangeet function and musical shop.. You name it…the artwork is on par with urbane bolly films. In addition, throughout the film be it action part or songs, sheer technical brilliance can be seen.
However, the collective impact is missing.  The love story which is the main thread has failed to create emotional impact on audience. The main gripe is that considering the superior technical team and budget in hand the team managed delivering just an product with bells and whistles.
Verdict :
Hello is a movie that the makers tried to pack with all the right technical ingredients – Stunts, dances, excellent artwork etc. At times this film has finest class moments dashed with artistic shots conceived by director Vikram Kumar. However, the weak plot and lack of emotional connect spoils the overall impact. Producer Nagarjuna's effort to stamp his mark on rich production values is visible throughout the movie.
Box-Office wise this film may perform decently in urban centers and chance of success in other centers is limited.
You may watch it for super cool Akhil and technical brilliance
Telugu360 Rating : 3/5
Hello movie review Hello movie review  Hello movie review  Hello movie review  Hello movie review  Hello movie review