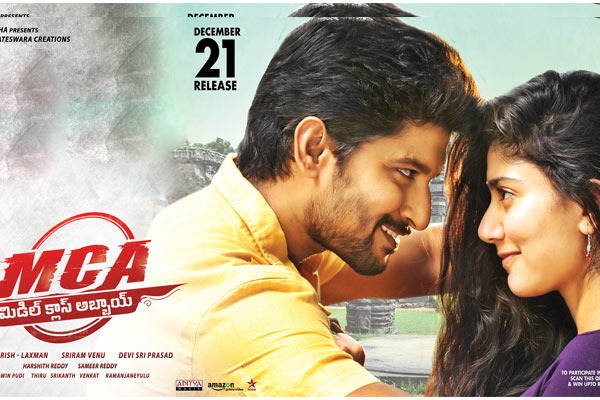 MCA Telugu Movie Review
TELUGU360 RATING 2.75/5
Story:
Nani & Rajeev Kanakala are brothers who lead happy bachelors' life. Bhumika enters into their life as Rajeev's wife , Nani gets uncomfortable for being sidelined. The obvious importance and authority that Vadhina Bhumika gets at the home drives Nani to develop slight conflict with her. Adding to the woes,  Bhumika gets transferred to Warangal as RTO and Rajeev gets posted to Delhi on training. On Rajeev's request, Nani accompanies Bhumika to Warangal. Pallavi is an undergraduate student in Warangal falls in love with Nani – a love at first sight. Shiva (Vijay) is a ruthless transport mafia operates illegal bus fleet, confronts with Bhumika – a RTO officer.
Story runs in three threads. First one deals with funny situations generated on Nani's struggle with household chores, second one with Pallavi's love on Nani and last crucial one how Bhumika – Nani deal with death threat from transport mafia.
Artists Performances:
Nani does justice to the role and brings believability to the 'Middle Class Abbayi' character. You feel connected to a number of scenes if you have grown up in a middle-class family – doing household chores sans a maid etc. Sai Pallavi is just OK, doesn't show the spark everyone is expecting from her post Fida. The star of MCA is Bhumika. She excels as Nani's vadina and she is elegance personified. This is going to be a harbinger of more such roles for her in Tollywood. New villain Vijay looks ruthless, but nativity is missing in his features. Rajeev Kanakala, Priyadarshi pulikonda have limited roles and they did ok. Naresh, Subhaleka Sudhakar, Pavitra Lokesh got insignificant roles.
Analysis:
Movie takes off entertainingly showcasing a jobless lazy middle-class youngster's struggle in performing household chores. A good situational comedy has been generated out of the contexts like helping his vadhina in cutting vegetables, grabbing milk from the booth and groceries from the market. However, after an hour into the movie, we'll realise neither conflict point nor any new screenplay exist. Poor villainy marred the little scope they have to generate some fear factor. But till interval Nani is able to manage the show single handedly with his superb comedy performance yet again. When Bhumika's sacrifice to help Nani's career is revealed, followed by Nani's confrontation with villains – that interval block is the best moment of the film.
With not so impressive threat to Bhumika-Nani, post interval the film's graph goes down with routine stuff. Second half is all about cat and mouse game between Hero and antagonist without any exciting factor. However, this drama may appeal to family audience to some extent but for others. Overall, second half could have been much better leaving many to a little disappointment
While "kotthaga Kotthaga rekkalochinattu ga ", "yevandoi Nani garu "songs are fine on screen, all other songs are not upto the mark. Not only with songs, but background score as well Devi Sri prasad disappoints the audience
Production Values:
This movie was touted as "Double Hat Trick" for Dil Raju (Not sure how, he himself accepted he compensated for DJ losses, but that is a discussion for another day), one would assume he would take extra care to mould this movie well, considering the market value of Nani and new-found craze of Sai Pallavi. Despite having close to 30 crore pre-release business, minimum production values are missing which is glaringly evident in songs and other technical aspects.
Positives:
-Clean comedy & dialogues in 1st half
-Nani's performance as Nani
-Bhumika's characterization, very good decision to pick her this role
– Vadhina, Maridhi theme came out as different backdrop.
– Sai Pallavi is just OK.
Negatives:
– Songs
– Run of mill second half
– Poor background score (one wonders if DSP really did background for this movie)
– Low production values by Dil Raju's SVC Creations
Verdict:
MCA first half is decent and second half is not upto the mark. If family audience lap up the second half, it may end up as an average film. In USA, this film has opened on par with topstars' films, even in India advance bookings are reportedly high. Thanks to Nani, Brand Dil Raju and Sai Pallavi combination – but sustaining these openings is doubtful
TELUGU360 RATING 2.75/5