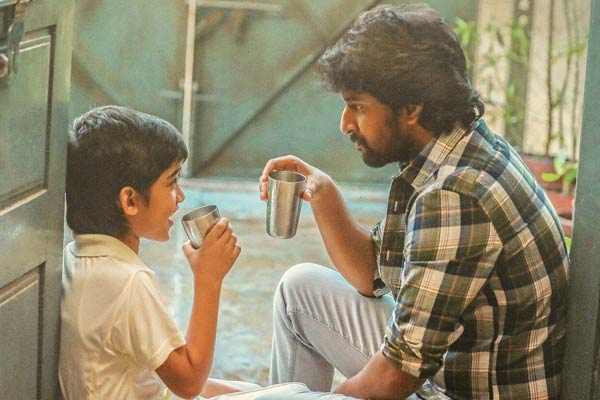 Jersey Movie Review
Telugu360 Rating : 3.25/5
Natural star Nani's Jersey is touted as an emotional sports drama based on cricket. He is playing a middle aged cricketer in this film which also features Shraddha Srinath in heroine role. Gautham Tinnanuri of Malli Raava fame is the director. Anirudh Ravichander composed the soundtrack for this film.
Let's see if Nani delivers another box office hit. Here is our review.
Story:
Arjun, a star in first class cricket, quits his career abruptly at the age of 26 for unknown reason. Ten years later, turmoil in his financial status pushes him to reconsider his decision. In the backdrop of emotional bonding with his son, Arjun resumes pursuing his career at 36. Rest of the film is how he grows up in cricket. The ultimate sequence of the film reveals the crux.
Analysis:
The plot points revealed in the trailer may give audience an impression like another sports flick with 'underdog wins against all odds' theme. But, this film is much beyond that, and not a regular sports flick. Jersey film has honesty, it has heart wrenching emotions and also it delivers an inspirational message. " It's never too late to dream " is the tag line for the film
The film starts off at slow pace, gains momentum as it goes on. It takes a while for the director to establish the family life of an ex-cricketer. The central characters of the film are a middle class family consisting a woman, her jobless husband, a kid, and their financial needs. Set in 1986 – 1996, this film is about Arjun ( Nani) a star in first class cricket. As given credits in titles, the film unit has taken inputs from BCCI and HCA (Hyderabad Cricket Association) it appears. Authenticity is the USP of this film. The 80s homes, then Hyderabad streets, the people, costumes and the cricket stadiums from that age are taken good care. Anirudh's background score elevates many scenes to next level. Sanu Varghese cinematography is another asset.
Young director Gowtam believes in his script, shows command over the father – son track. Gowtam and team might had put lot of efforts to present the cricket matches that look real. The team has casted real cricketers from HCA, not junior artists hence the cricket matches looked so authentic. Gowtam shows his mettle in climax writing. Even though this is a fictional story, is so authentic that one may get a feel of a true biopic of some star cricketer. There are some resemblances to cricketer Raman Lamba's career
Performances:
Nani plays middle aged cricketer role so effortless that we cannot imagine anyone else from Tollywood for this role. He betters all his previous films' performance by miles in JERSEY. He adapted body language of a cricketer – a batsman so good that he looked like a real cricketer while batting. Train station scene, helplessness about son's wish, Feeling guilty towards his wife and aggressiveness as cricketer etc. scenes Nani excelled. Undoubtedly this film is his career best performance. Heroine Shraddha Srinadh is adequate in housewife role. The kid Ronit who acted as their son performed well. Satyaraj and Sampath get coach roles.
+Ves
Engaging Story with authentic theme and honest direction
Nani's stellar performance
Anirudh's background score
Director Gowtam's finesse in emotional sequences, Cricket matches
Dialogues are another major asset
Good film for family crowds
Brilliant Climax
-Ves:
Bit dragged scenes in middle of 2nd half, at the film beginning
Might not a universal film
2nd half could have been slightly trimmed
Verdict:
JERSEY is a path breaking, stand out in a crowd film in Telugu after years. Young director Gowtam delivers an authentic sports film with an inspirational message interlaced with family drama. Natural star Nani excelled as Cricketer Arjun. It has boring moments at times, but those are easily excusable for rest of the film experience. Go and Watch it to encourage an honest film.
Telugu360 Rating : 3.25/5
Release Date : 19th April , 2019
Director : Gowtam Tinnanuri
Music Director : Anirudh Ravichander
Choreography : Sanu Varghese
Producer : ‎Suryadevara Naga Vamsi
Starring : Nani, Shraddha Srinath