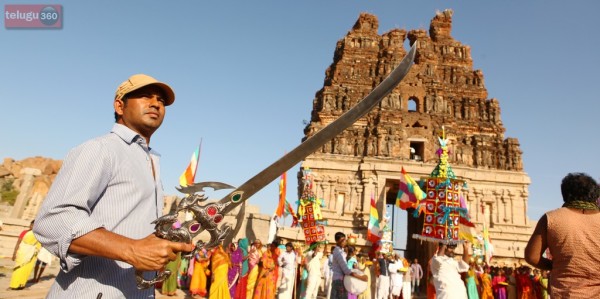 [intro]Art director Narayan Reddy is from Ongole, he made his debut with Teja's Chitram after having completed bachelors of fine arts. He has worked in 50 films so far and with NTR Arts, this is his fourth film. The simple and soft spoken technician chats with Telugu360.com on his work experience with Kick and Kick 2.[/intro]
Tell us about your debut
For NTR Arts, I have worked on Athanokkade and Asaadhyudu, Kick and now Kick 2. I am a graduate in Fine Arts but that theory never came of help except the sketching part which we hardly use today. Here you have to learn practically and that is what helps you finally.
How does your work begin?
We listen to the stories once or twice, there comes the requirement – the house, the characters, who stays where and in accordance with those characters we decide – that is after taking the director's suggestions. We mould it better with our style towards the end. The director, producers and camera man choose an art director who are in synch with their thinking and those who go with their budget. I give what the director wants, I don't change their style. Some people like Ravi Babu go for detailing, every shot of his has art direction. Surender Reddy and Sreenu Vytla are bit flexible, they enhance the existing structures. Ravi Babu takes a place and does total interiors, just to give examples of how directors work. My work is to blend the director's thoughts with mine and going ahead with DoP's suggestions within the budget given to us..
What did Surender Reddy want for Kick 2?
Surender Reddy wanted a Bihar backdrop, with village. After drawings and discussions, we created a village set of Bihar. We can't take a live location because we can't get the centre point, the hero's house, the placement doesn't happen. If you work in an existing house, there is an additional burden of controlling people. If we create a set we can work day and night according to our feasibility, the lighting, color, mood all fall in place. When you travel and visit places you update yourself, and when such a requirement comes you have an idea about how it is, if the colours need to be earthy or cool.
Give us an idea about Ravi Teja's house..
The director of photography plays a big role here and we both go about it with an understanding. Only if the art director and DoP are in sync and only if we give what director wants things move. When it came to the hero, and when he wanted to return for the girl, we created a house in water. Already there was some water due to rain, the placement came in handy. We wanted to work on it on a dry area in the sand but since everything would be dry around we put it up in water and arranged a bridge. This was done in Rajendra Nagar near the quarries. We broke the rocks, we had to make the surface smooth and for the water, we had to dig out the mud, the water was 20 ft and in it we made a house.
What is your rapport with Surender Reddy and Ravi Teja?
Each director has their own different style. This is my 6th film with Ravi Teja. Once you get along with a person be it a hero or anyone, things become easier and gets comfortable. Surender is a stylish director, for this film, action bheebatsam ga untadhi..not ordinary style, adhi naku baga nachhuddhi. The climax will be on a mammoth scale, they picturised it so well on par with the budget spent on top heroes.
Do you too travel abroad with the DoP?
Yes earlier days it wasn't needed, but with improvement in technology and requirement, the directors too want certain things. Also there will be big work at those locations. The assistant also goes with the art director. If the hero falls on the pillar, if it is going to hurt him as it is made of iron, we have to create a dummy pillar, there will be change in curtains if the DoP says not good. Be it contemporary, ancient we go with the subject. There is culture and taste in art. Earlier there would be import and export but now there are many interior works to handle. Sourcing gets easy if you know technically where and how to get it from. I don't work two films at a time.