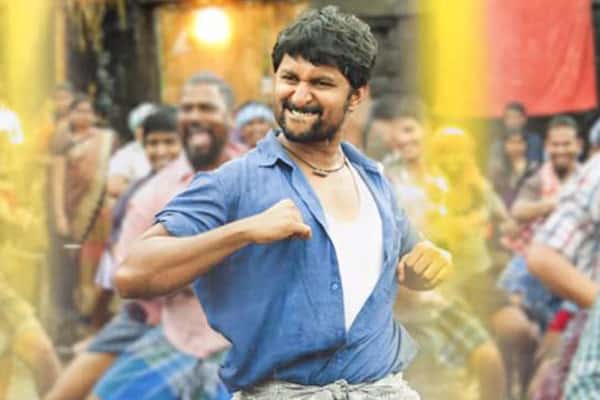 Krishnarjuna Yudham Review
Telugu360 Rating : 2.5/5
Following the super success of MCA, Natural star Nani is back with yet another entertainer titled as Krishnarjuna Yuddham. The film stars Nani in dual roles , Krishna and Arjun. Krishnarjuna Yudham Review Directed by Merlapaka Gandhi, the film has Anupama Parameshwaran and Rukshar Mir as the female leads. Nani is going to be seen in contrasting roles. Contrary to what the title suggests, the trailers have promised high on entertainment with Nani's trademark mannerisms.
Story:
Krishna, Arjun are identical looking guys with no blood relation. While the former belongs to a village in Chittoor district, latter is a rockstar who tours worldwide. Krishna is an innocent guy, who falls in love with Riya. Arjun falls for SubbaLakshmi; while all is going well, a criminal twist in the story occurs. Rest of the story is about how Krishna Arjun fight together to resolve the crisis in their lives
Performances:
Nani played dual role as Krishna and Arjun but excelled only as Krishna. With chittoor rural dialect and innocense his characterization, Krishna character will be loved by one and all. Arjun's characterization is the weak link. Nani's body language did not match that of a rockstar – who is also a millionaire. Anupama Parameswaran as Subba Lakshmi is adequate, performance wise she has less scope. Rukshar as Riya, the love interest of Krishna, is a cool looking girl, but she doesn't make an impact. Brahmaji got a good comedy role, youtube star sudhakar as a painter and sidekick of krishna performed well.
Analysis:
In pre-production planning and/or during script phase, the team seem to be aimed at inserting non-stop comedy in first half and racy action part in second half. Designing a rockstar role for Nani, they might had attempted bringing in some versatality to Nani's image. But, they only succeeded in generating cool comedy in this film's first half. In it's 90 minutes length, there are no high moments nor boring moments either. A typical breezy comedy mainly revolved around Krishna (Nani). Nani lived in his character as krishna. In addition, 'Brahmaji – Wanna be singer aunty 'comedy thread came out well. Now, on flipside, Arjun Character suffers with lack of nativity. A telugu guy as rockstar – that too becoming popular worldwide, is far from reality. Even superstar Maheshbabu who has a cosmopolitan image couldn't convince audience as a rockstar in his film 1-Nenokkadine. Given that, they shouldn't have attempted a rockstar character for Arjun. Story-wise, designing Arjun as just a rich NRI – who is a casanova by character – would have been sufficient. Mass to middle-class, boy next door image Nani is a misfit as a rockstar. Keeping that wrong backdrop to the character, in second half Arjun is more like a puppet to elevate Krishna. At interval, story takes a criminal turn.
Given the director's proven ability to execute 'on the run' action sequences, this film's second half should have been much better. It lacks any creative ideas from protagonists nor antagonists. Adding salt to the wound, songs in the second half pulls down the films' graph southwards. Director Gandhi's slap stick comedy works partly. Rolling titles comedy bits are good.
Technically camera work by Kathik Ghattamaneni is very good. He captured visuals of Europe, rural locations in India in a nicely manner. production values shine screens are very good. They lavishly spent on Europe and for songs. Music by Hip Hop Tamizha is adequate. Two songs are good, one is Okay. However, the background score is not appealing.
Positives:
Nani's superb performance , diction as Krishna.
First half cool comedy
'Dhari chudu Mama' song and picturization
Comedy generated around typos on english signboards
Negatives:
In second half plot lacks any creativity
Poor songs in second half
Routine story
Verdict:
Nani who has been in an uninterrupted success streak might face headwinds with Krishnarjuna Yudham. Krishna (Nani) characterization throughout the film is good and decent comedy in first half is the USP of this film. However, second half lacks engaging value and songs in this half are not appealing. You may try this film if you like Nani's films.
Telugu360 Rating : 2.5/5