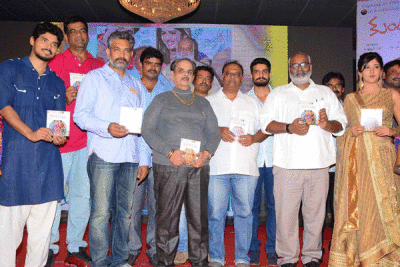 [intro]Kundanapu Bomma turned out to be a different audio launch minus the usual fanfare and loudness. A review of the audio function where the greats like SS Rajamouli and K Raghavendra Rao heaped praise on Vara Mullapudi.[/intro]
When Vara Mullapudi invited me for the audio launch of KundanapuBomma, I was first reluctant because I thought this one will be like any other audio function in Tollywood – huge settings, loud sound, over-the-top anchoring, fan-rousing speeches, exaggerated comments and vulgar renditions of old songs by thinly-clad troupe dancers. When I finally went to Taj Deccan, the experience was completely different from the usual audio launches. It was  an original and pleasanter audio launch seen in years. None of the usual stuff that greets us with fan-appeasing predictability, instead it is minimalistic and squeaky clean, full of Telugu nativity. As Director K Raghavendra Rao put it, the function aptly commemorates the World Telugu Language Day because of the nativity and the cultural richness it portrayed.
The folks who turned up to wish the team of KB were all living legends – K Viswanath, K Raghavendra Rao, B Gopal, and yes, yes, Rajamouli – the man who directed Bahubali. Suma Kanakala, anchored the show with her usual fluency and vivaciousness,  she was dressed up like a Bapu Bomma – with the finesse of a traditional Telugu woman. She introduced the film's heroine, Chandni Chowdhary and the heroes Sudhir Varma and Sudhakar (Life is Beautiful fame) and in comes a toddler Satvik aged about seven who gives the rest of the film's details in a manner that floors Suma and the audience. After this cameo, Suma called two percussionists Ganesh and Acharya onto the stage and explained to the audience that their role is to play the Mridangam whenever anyone on stage makes a lavish praise on the work of the film's team. The idea itself is a leaf out of Bapu-Ramana's MuthyaalaMugguin which the villain Rao Gopal Rao keeps such orchestra to check anybody who praises him to the skies and misleads him. Infact, that famous scene was shown to the audience as a reminder. The idea itself was funny and evoked huge laughter from the audience, as speaker after speaker came and spoke apologetically – nobody got spared the occasional "Re-Recording" sound. Every time someone spoke, from Ananth Sriram (lyricist) to Keeravani (music director for the film) to K Raghavendra Rao and SS Rajamouli, the audience erupted into laughter whenever the "sound party" beat the drums out of the exaggerated statements. At times, they said it was not exaggeration but the orchestra wouldn't listen – they didn't spare Suma also. Infact, Ananth Sriram quipped that the producer Anil was so liberal with the finance for the film, he should have been named Manil (Money Nil) instead of Anil!
The speeches were brief. K Viswanath said his association with Bapu-Ramana was so old that he can't even recall and wished Vara well for all future endeavors – in a typical Sankara Sastry style in climax scene. K Raghavendra Rao said that Vara Mullapudi and SS Rajamouli both started work in his studios when they started shooting for a serial Shanti Nivasam.He said he has seen bits of the film and is convinced that Vara had imbibed the commercial elements of his own films, the drama of K Viswanath, the aesthetic creativity of Bapu-Ramana, and the high emotions seen in Rajamouli films. SS Rajamouli recollected his early days in Madras when he joined as Assistant Director to K Raghavendra Rao and was told by him to see and learn from the way "Bujji" (Vara Mullapudi) frames the shots and picture-frames. He said he learnt a lot from Bujji the basics of film-making and the craft itself because he was handling the unit 1 of Shanti Nivasamwhen Vara was handling the unit 2 in those days. Rajamouli said success comes late for some people and Vara deserved great success long ago and is sure this movie will get him that fame. Keeravani, the music composer of KB, said he loved working with Vara as much as he enjoyed working with Bapu-Ramana. He actually asked the orchestra to pack up when they started drumming up for Keeravani'scomments; he said some good things have to be told at the audio launch, willy-nilly.
Vara Mullapudi in his speech acknowledged the presence of the all the greats who graced the occasion to bless him and the team. He said he is blessed to have someone like K Raghavendra Rao as his mentor, who calls him every few days to ask what he is doing. Rajamouli, he says used to take longer time for the shoots while he used to finish everything in quick time. Vara said he used to finish his shooting and observe "Jakkanna" for his obsession with re-takes; he noted that it is this intensity and passion that made Rajamouli go places.
The function was over in 90 minutes with crisp speeches and good renditions of Bapu film songs with excellent dancing by Gayatri Bhargavi (his grand-daughter), Suma, Ikshita and a few other dancers. There were video speeches by SPB and DSP who couldn't make it to the function. SPB said some of the rare thumriswritten and composed by Arudra and KV Mahadevan in the film GorinthaDeepam were used in the film as a song. The song was played out on the stage after a formal consecration of the photos of Arudra and KV Mahadevan. DSP said there are few people who cast an impression on you as genuine people – Vara is one of them.
The audio and the trailer was formally launched by SS Rajamouli. It has four songs, all of them sound promising and rich in melody and rhythms. But overall, it was one of the different audio launches of Tollywood in recent times – it started late but kept the crowds regaled with good memories of Bapu-Ramana, goodwill earned by their next-gen director Vara Mullapudi and some wonderful good laughs and symbols of Telugu nativity.