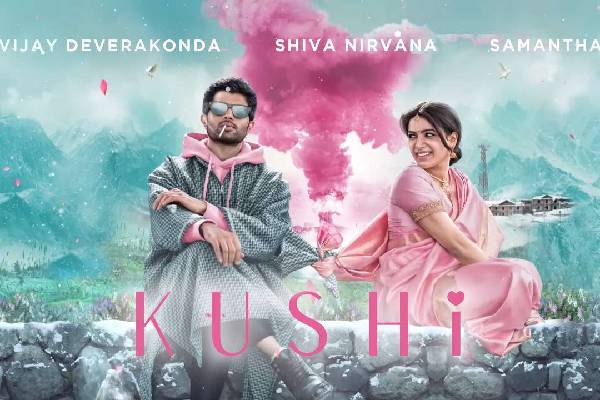 Kushi Movie Review
Kushi Movie Review
TELUGU360 RATING: 3.25/5
Story:
Viplav (Vijay Deverakonda is the son of atheist Lenin Satyam (Sachin Khedekar). Viplav, who works for BSNL is deployed to Kashmir where he meets Aara (Samantha). Aara and her friend trick Viplav that they are Muslims. But she is a Brahmin with a celebrity father who is a very God believer. The rest of the story is about the conflict between the lead couple, and the conflict between the Atheist family and the religious family.
Analysis:
Kushi takes off to the main story point without any delay after the main character's introduction. As the protagonist moves to Kashmir on the job, the stunning Kashmir welcomes the audience. The beautiful locations, the first two soothing songs work, entertaining scenes will make the movie run smoothly. The hero Viplav tries to help Aaradya, and both fall in love with each other. The comedy is not great, but adequate entertainment throughout the first half of the film. The Hesham Abdul Wahab music and background score do the trick. Samantha in Aara's role appeal. The second half starts with the typical newly married couple romance.
The Vijay Deverakonda, and Samantha chemistry worked out well, in some scenes they look like a real couple. There are even lip locks between them. The casting Is another asset for the film, Murali Sharma Sachin, Saranya, Lakshmi, Vennela Kishore, Rohini, Jayaram, and all other character actors did well.
There are minor hiccups in the second half of the film, which are covered by the good climax. Murali G's photography is excellent and captures nature very well in Kashmir and Kerala. Prawin Pudi editing has been largely good, but should have been crisper in the second half.
Positives:
-Good Entertainment throughout
-Vijay – Samantha Pair is Superb
-Great Songs and picturization
-Family elements are blended well.
-Different backdrop to a regular story
-Production Values
Negatives:
-Slows down around pre-climax.
-Some of the comedy bits are average.
-There is ample scope for good dialogues but not been able to deliver.
-The Kerala episode is not appealing.
Verdict:
An Entertaining, Classy, and Good family film after a long gap in Telugu. It has a simple story with a new backdrop that's been effectively narrated by director Shiva Nirvana. The Superb songs and their aesthetic visuals are additional strengths of the film. Vijay Deverakonda and Samantha are at their best. The emotional climax covers the minor hiccups the film had. Go and Watch !
TELUGU360 RATING: 3.25/5
Director: Shiva Nirvana
Music: Hesham Abdul Wahab
Cinematography: Murali G
Producers: Mythri Movie Makers
Summary
Reviewer
Review Date
Reviewed Item
Author Rating