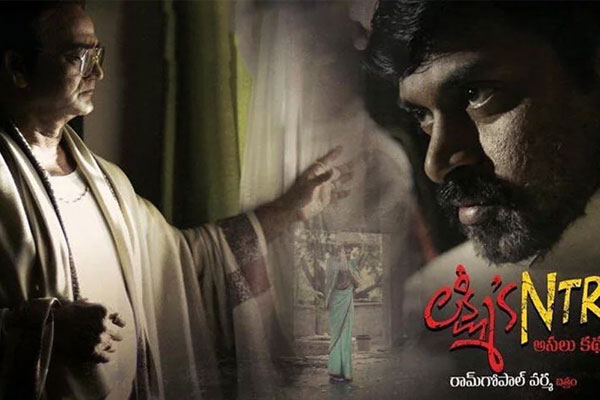 Lakshmi's NTR Review
Telugu360 Rating 2/5
Story:
Lakshmi's NTR story starts in 1989-90 time, ends with the demise of NTR in 1996. NTR's loneliness post defeat in 1989 general elections, Lakshmi Parvathi's entry into his life, NTR's comeback to power in 1994, and Viceroy Coup etc. important sequences of NTR – Lakshmi Parvathi life are covered.
Analysis:
Lakshmi's NTR is a propaganda film which takes side of Lakshmi Parvati. This film focusses on projecting 'Babu' ,' Rao ' and NTR family in bad light. The makers blatantly ignore to showcase Lakshmi's anti-constitutional involvment in then Government and in Telugu Desam party affairs. Rather the director depicted Lakshmi as very innocent, honest person who became victim of power politics. Though it was highly publicized by Ram Gopal Varma as " Truth " has been shown , none of the historical facts like Lakshmi collecting jewelry , sarees and cash from then Telugu Desam party leaders is not shown at all. When TDP lost power in 1989, NTR was in exile for a while,not involved in party affairs for some time. It was Chandrababu Naidu who ran the party as de-facto presient. But, in this film, it has been shown as Lakshmi motivated, advised NTR to comeback to active politics in 1990-1991 time. There are many such factual distortions, with focus being playing itto galleries to benefit a present political party which allegedly funded this film.
Coming back to the film, entire first half revolves around the love story between aged NTR and Lakshmi. The conversational scenes between them are boring with television serial pace. In second half, when viceroy hotel episodes are shown, movie picks up some momentum. After that ,again last 25 minutesof the film is overdose of sentiment showing NTR as sufferer. With the makers intention being alienating NTR fans from Babu , and to develop hatred on him ,this film appears a failed attempt to do so after 23 years of NTR's demise. Climax of the film is emotional.
Performances:
Yagna Shetty as Lakshmi performed well, Sri Teja as Babu is good as well. However, the artist ( P. Vijaya Kumar ) who played NTR appears like a village drama artist , acted as a cheap imitation of NTR. It was a pain to see him in NTR's role. All artists casted as NTR family appear like they're hired fromsome Bhojpuri B- grade films.
Production values are way cheaper than television serials. Technically, Kalyan Malik's background score is somewhat fine.
Verdict:
Shooting Chandrababu over the shoulders of NTR , and to portray him in bad light as much as possible are the objectives of this propaganda film. Facts are buried under the rug, Lakshmi has been shown as if most honest wife and as a victim. Sub-standard production values, poor casting make it not worth the controversial hype surrounding this film.
Telugu360 Rating 2/5