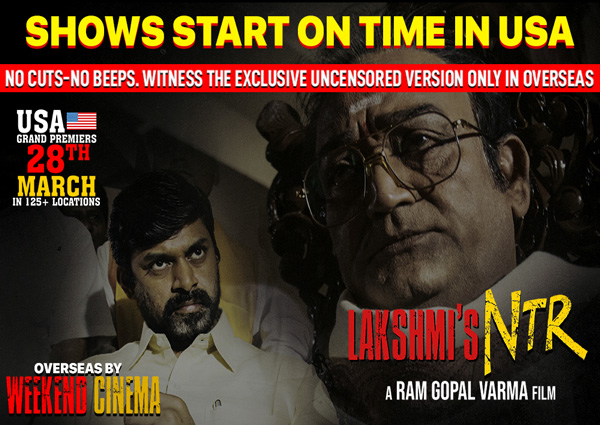 Lakshmi's NTR USA premiers TODAY (March 28th) as planned by Weekend Cinema USA. No impact on the USA release schedule. Lies can be spread but Truth can't be stopped!!!
**MOVIE PASS ENABLED**
Lakshmi's NTR the untold story about Telugu people pride NT Rama Rao. The most awaited political thriller is directed by none other than the biggest fan of late NTR.
Written & directed by Ram Gopal Varma (RGV) the ace director who needs no introduction, the director who changed both Tollywood and Bollywood film industries permanently with his movies like 'Shiva', 'Rangeela and 'Company'.
"Even the greatest personalities are susceptible to family betrayal". The movie is Plutonic love between NTR and Lakshmi Parvathi which revolves around human emotions, family betrayal with unwinding political drama.
With Indian elections around the corner the movie created huge hype and curiosity among movie goers. All the earlier released teasers, posters and songs generated a lot of curiosity among the audience. With the High Court Stay Order today, the movie got additional craze. What is in the movie – The TRUTH.
The theatrical trailer that was released last month shows the trademark of RGV film making. No copying business, showing the Truth boldly!!!
USA theater are all set for the premiers TODAY (Thursday – March 28th).
KDM's are issued and Drivers are delivered on time. All set for the PREMIERS – Long live NTR
Great News – MOVIE PASS ENABLED for many theaters for this movie. Please check with the theater.
Online booking opened and getting houseful in many of the locations… Book your tickets now and Go Watch this Plutonic LOVE STORY with your Friends & Family
RGV Boss is back – The Real Director
KUDOS !!! to all the USA Movie theaters for getting the movie released on time.
Enjoy…!!  See you in theaters…!!
Weekend Cinema team & RGV's Crew
CLICK HERE!! for Theaters List.
Press release by: Indian Clicks, LLC