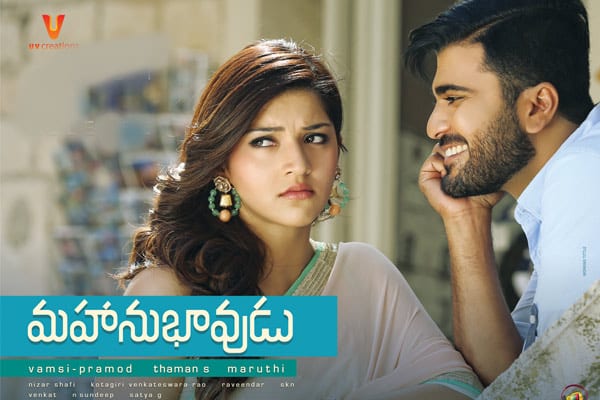 Telugu360 Rating : 3/5
Story:
Anand(Sharwanand) a software engineer suffers from obsessive-compulsive disorder (OCD). He is fastidious about cleanliness and gets irritated with unhygienic things or behavior. His brain stops functioning properly and the behavior gets weird under unsanitary circumstances. Meghana(Mehrene) who likes hygienic men, joins as a programmer in the project managed by Anand. This like-mindedness between Anand and Meghana leads to friendship which in turn blossoms into love. Meghana's father Ramaraju comes to city to have formal talk with his prospective son-in-law. An incident changes the course of events, leads to Anand temporarily moving to Native village of Meghana.
Being obsessive about cleanliness, how Anand survived in the village environment and how he drives his love to marriage is rest of the story
Analysis:
Hollywood cinema has been attracted by characters with obsessive-compulsive disorder (OCD) and there were more than a dozen notable films of this genre. However, this genre is less explored in south Indian cinema which is the subset of Indian cinema. A few years ago, there was a film named 'North 24 Kaatham' in Malayalam of this genre. In Telugu, this is first attempt where the Protagonist is suffering from OCD. This genre has ample scope to generate entertainment in films, without heckling the mentally disordered person.
Director Maruthi completely succeeded in writing a very intrinsic story around the character with this disorder, but partially in generating rib-tickling comedy. He took the approach of KISS ("Keep it simple, stupid") design principle in writing, directing this love story of a person with OCD.
Mahanubhavudu film has situational comedy from the word go, but do not expect funny situations similar to as this director's previous outing "Bhale Bhale Magadivoy". Mahanubhavudu is adequately entertaining for all sections of audience though. In the initial phase director tries to showcase the symptoms of OCD, situations that a person with the disorder faces in day to day life and tries to generate humour out of it. Later the romance track has been nicely woven into OCD thread. A not-so-effective conflict point ensues and subsequently then second half runs with different i.e. village backdrop. With a discernible climax, this predictable Mahanubhavudu comes to an end.
While first half flows smoothly with entertainment, from the mid of the second half the story is clichéd and travels back to the 80s mode. Do we have any village now that picks the Sarpanch based on the outcome of a wrestling match? Scenes around this become too predictable. However, climax scenes of the film are good, thus aiding the audience to leave the theatre on a positive note.
Apart from entertainment quotient, songs are the vital strength of Mahanubhavudu
Songs Order :
Rendu Kallu, Mahanu bhavudavera, Kiss Me Baby, My Love is back, Bhamalu Bhamalu, Yeppudaina nee roopam.
'Kiss Me Baby' is a youth appealing one and the picturization stands out with trendy visuals
'Rendu Kallu' , 'Mahanubhavudavera' songs are classy.
'Bhamalu Bhamalu' track is aimed at mass audience and works fine.
'Yeppudaina nee roopam' is a melodious montage song on lead pair and family members also
'My love is back' is another a youth alluring lyrical melody with some cool dance moves
Technicians:
Every department has exceled at their job. The team work of editing, cinematography, music, BGM and direction is clearly visible on screen. Nizar Shafi's cinematography is consistent and top class. Cinematography and color grading made this film look niche. UV creations production values are superb, each frame appears good, producers had spent money lavishly on songs. Music director S S Thaman has done extremely satisfactory with the songs as well as background score. Director Maruti has shown his narration skills yet again.
Performances:
Sharwanand is T fit as software engineer and lover boy. He acted with ease. His comedy timing is satisfactory in many scenes, but in a few scenes the effectiveness is diluted as he could not show required expression or missed the timing. Mehrene looks good and acted adequately. Nazar, Vennela Kishore, Youtube star Bhadhram as Jiddesh performed well. Director Maruti, Co-Producer SKN played a cameo in Bhamalu bhamalu song.
Verdict:
Mahanubhavudu is a decent entertainer. With a good first half and an average second half – On the whole it is a satisfactory and minimum guaranteed entertainment for comedy movie lovers. At the box-office , this film has opened well in AP-TS states and moderately in USA.
Telugu360 Rating : 3/5
Release Date : 29th Sep, 2017
Director : Maruthi
Music Director : S. Thaman
Choreography : Nizar Shafi
Production Company: UV Creations
Starring : Sharwanand, Mehreen