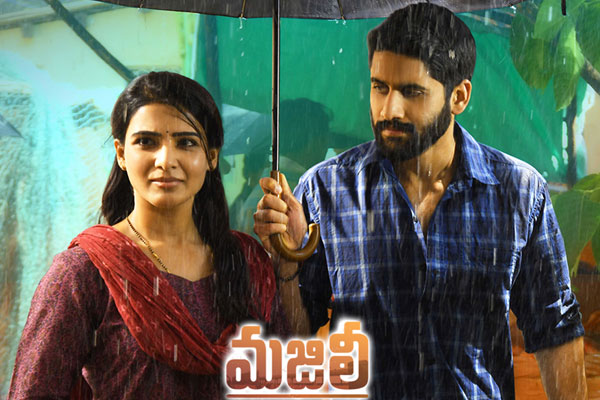 Majili Movie Review
Telugu360 Rating 3/5
Akkineni Naga Chaitanya is going through a tough phase as all his recent outings left no trace at box office. He has pinned all hopes on his new release romantic entertainer Majili which has Samantha as the female lead. Siva Nirvana of "Ninnu Kori" fame is the director
Story:
Purna (Chaitanya) is a middle-class boy from Vizag who wants to be a cricketer. Anshu( Divyansha ) is a north Indian girl , daughter of aVizag naval officer. Purna and Anshu loves each other but destiny separates them and Sravani(Samantha ) enters into the life of Purna . Unable to forget his first love, Purna lives in memories of Anshu though married to Sravani. Rest of the film is how the marital life of Purna, Sravani shapes up!
Analysis:
'Majili' is a sensible film that has been made with honesty and nativity. This film is a slice of a youngster's life. The life phases of Purna ( Naga Chaitanya) such as pursuing his passion of becoming cricketer, falling in love with a girl, missing the girl and marrying another girl etc. have been showcased with an emotional content.First half deals with hanging out with friends, practising in cricket matches and Love with Anshu. Second half is about the marital life with Sravani (Samantha).
Director Shiva Nirvana shows his command over writing heart touching dialogues and in writing good scenes to showcase the chemistry between Anshu and Purna. While in most of the film he didn't go over the top, but the key twist that happens in Dehradun and subsequent scenes are illogical or too cinematic. Though abrupt, climax is fine with impressive performances of Naga Chaitanya and Samantha. But pre- climax 30 minutes are dragged. Little crisper editing would have helped in pace.
The pure friendship, deceit friendships, General misimpression amongst middle class youth about north Indian girls, many other scenes are impressively handled by the director. Gopi Sundar's music is just okay !
Performances:
Naga Chaitanya got his career best author backed role as ' Purna ', acted superb too ! Samantha steals the show with her stellar performance in 2nd half as ' Sravani' .New girl Divyansha is adequate. Posani Krishna murali, Rao Ramesh got tailor made roles for them.
Positives:
Engaging and family oriented story
Honest storytelling with good dialogues
Performances of lead couple
Pleasant songs
Good Climax
Thaman's BG Score
Negatives:
Old school drama in last 30 minutes
Unconvincing twist in Dehradun
Slow pace at times
Verdict:
Majili is a Good film for family audience and a decent one time watch for Youth! USP of the film is in it's story, while dialogues and performances are added assets. On flip side, slow paced narration at times doesn't go well with a section of audience.
Telugu360 Rating 3/5