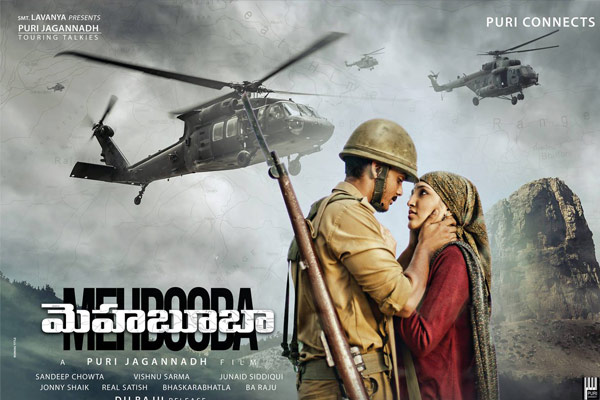 Mehbooba Movie Review
Telugu360 Rating : 2.5/5
Story:
Hyerabadi Boy Roshan (Akash Puri) and Lahore girl Afreen (Neha Shetty) often recall their past life in dreams. The dreams haunt them even after they grown up. Roshan helps Afreen who is in Hyderabad to pursue higher studies and they start liking each other. Afreen parents bring her back to hometown in Lahore.
Meanwhile in an interesting scene, Roshan comes to know that Afreen's past life is real. The previous birth's roles of them are interesting. Why they could not fulfill their dreams in the past life etc forms the remaining story
Performances:
Akash Puri is impressive with his performance; his dialogue diction is also good. However, he looks too young as a soldier. Akash has good future if continue work hard. Neha Shetty as Afreen looks cool but not so good in past life role. Murali Sharma, Sayaji Shinde and other character artists are adequate
Analysis :
Puri Jagan's hero characters are often designed to behave with attitude and irresponsibility. Contrary to this practice, he designed Roshan (Akash Puri) character with conviction for entire first half. The secular tone yet patriotic attitude is well balanced. The past life story of the lead couple is interesting. Proceedings after revealing the past life have gone out of order.
Majority of the film has been shot in real locations with lot of hardwork. War episodes CGI has been well done. Production values by Puri Touring talkies and Puri Connects are very good. Few scenes reflect Bollywood range production.
On flip side, once the story of previous birth has been revealed … Roshan travels to Pakistan to bring Afreen back. From then onwards the film is too artificial and over the top. The stretchy climax tests the patience.
Puri Jagan's direction lack any punch nor Wow factor. The problem is with the artificial story he picked. However, he must be appreciated for not inserting unwanted comedy tracks, vulgar words
Technical Aspects :
Cinematopgraphy by Vishnu Sarma, editing by Junaid Siddiquii are top class. Sandeep Chowta 's music is good in one or two songs and background score is just ok.
Verdict:
The premise, narration and production design of Mehbooba are 'region and language' free, it can be shown to any group of audience of the subcontinent. Director Puri Jagan has put his radical approach and tried to deliver an honest love story but succeeded only partially. First half is average, second half picks up impressively but towards the climax the movie goes down the hill.
Telugu360 Rating : 2.5/5
Release Date : 10th May, 2018
Director : Puri Jagannadh
Music Director : Sandeep Chowta
Producer : Puri Jagannadh
Starring : Akash Puri and Neha Shetty