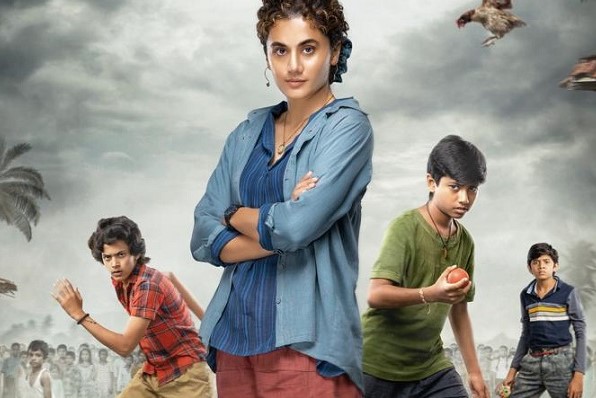 Mishan Impossible review
Mishan Impossible review
Telugu360 2/5
Sailaja (Tapsee Pannu) is an investigative journalist who takes on child trafficking mafia. On her next assignment to expose a large-scale mafia event, three boys from a rural Andhra Pradesh area coincidentally end up in her mission. These three naughty village boys' want to capture Dawood Ibrahim and earn the reward money. Rest of the film is about how the three boys and Sailaja complete their missions.
Analysis:
With a different premise than the run of the mill plots, the director Swaroop RSJ (of the 'Agent Sai Srinivasa Athreya' fame), gets creative with the plot. Movie starts off with Tapsee, the investigative journalist, taking down a politician. She progresses on to her next mission, which is where the audience is introduced to the main plot of the movie involving the 3 boys – RaghuPati (movie buff), Raghava (reality TV addict) and Rajaram (cricket lover). Raised in a village near Tirupati, academically poor and naughty by nature, their antics generate some good humor in the first 30 mins. One day, they decide it is a good plan to run away from home to capture Dawood Ibrahim for the 50L reward money. The script starts to weaken from here and the director failed to properly narrate the events that follow 10–12-year-old kids lost in a metro city, chasing a hare-brained idea. Around this time, Sailaja meets these boys and decides that 10yrs make a great team to bring down a child trafficking mafia. Then onwards it sounds all farcical and the plans she uses against the Ram Shetty (Mafia don) are boring and doesn't engage audience. The director has failed to establish reasonable motive for Sailaja's missions.
Matinee Entertainments production values are good. The production house has spent more than what this script deserves. Director Swaroop RSJ couldn't overcome the second movie syndrome. Except for a few social media driven silly jokes, there are no sparks that match with his debut film '' Agent Sai Srinivasa Athreya'.
Performances :
Tapsee Pannu who is known for choosing better scripts fails this time to pick right one for her image. The core plot is based on her but it is not appealing. She performed well within the character limits. The three boys need appreciation for their ease in acting.
Positives :
• The three young boys' performance
• Some humor in first half
Negatives :
• Script and direction are amateurish
• Story, screenplay fail to engage
• Illogical plot points
Verdict :
'Mishan Impossible' is a nonsensical film that fails to impress. The fun part ends with whatever we see in the trailer. Initial 30-40 minutes of the film is okay and the three boys acted well. Rest of the film fails to engage the audience. Tapsee pannu has been wasted in a half-baked role. Overall, a disappointing film.
Telugu360 2/5
Summary
Reviewer
Review Date
Reviewed Item
Author Rating