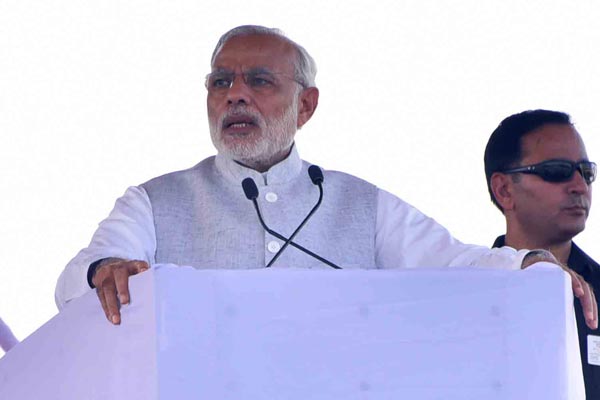 Prime Minister Narendra Modi's signature oratory at the grand and spectacular foundation stone laying ceremony seem to have landed the Andhra People more in confusion and disappointment rather than generating hope for the future . There has been an explosion of resentment in Andhra Pradesh over the way PM's program ended yesterday without offering anything tangible to the state. Disapproval, protests, Rasta Rokos, burning of PM Modi's effigy marked the day after PM visited the Amaravati on October 22, 2015.
The creative sterility of Prime Minister Modi' oratory has triggered protest across the state on Friday. One can say the much publicized trip has done more damage to the ruling combine of TDP and BJP, of course, outside the capital region of Amaravati or Krishna and Guntur districts. Youth Congress staged a rasta roko near Vijayawada against the PM"s failure to announce special status for Andhra Pradesh.
CPI National leader Suravaram Sudhakar Reddy said in Delhi that Prime Minister's speech was not at all useful to the people of Andhra Pradesh. He said Modi's criticism of Congress for bifurcating Andhra Pradesh was misplaced because BJP had been the advocate of bifurcation of the state.
Dalit leader, Karem Sivaji, who performed Jala Diskha at Rajahnumdry said, " PM minister might have thought he should contribute one way or the other to the construction of Amaravati and chose cheapest way of offering " a fistful  soil and a pint of Yamuna water" to Chandrababu Naidu.
Even TDP Guntur MP Galla Jayadev admitted that MP Modi had disappointed Telugu people. "Prime Minister's acceptance of invitation to Amaravati had raised hopes among the people of some major announcement. But, the PM's speech disappointed the people, " he said today in Guntur.
YSR Congress' Amabati Rambabu dubbed the Amaravati ceremony as the best management event. Already Lok Satta president Jayaprakash Narayan and YSRCP supremo Jagan reacted sharply on the PM's attitude towards AP. CPM also organized a rasta roko on Krishna Lanka national highway and it workers burnt the effigy of Prime Minister Modi. Except TDP and its supporters no party appears to have been satisfied with the outcome of the Prime Minister's presence in the state.
Now everybody is convinced that the centre is not ready to offer anything outside the AP Reorganization Act, leave alone a Bihar-like package. The talk that the PMO is preparing special package or NITI Aayog is giving finishing touches or finance minister is vetting it is all nonsensical face saving, remarked APCC general secretary Janga Gautham.
What is now clear is after Modi's visit, both the TDP and BJP on the defensive. See the reaction from union urban development minister M Venkaiah Naidu :
A. NITI Aayog is looking into the subject according special category status to Andhra Pradesh.
B. Centre's help to Andhra Pradesh is a continuous process.
C. Centre will fulfill whatever offered to Andhra Pradesh in the Act.
PM Modi, by sticking to AP reorganization Act, 2014, in extending the financial assistance, appears to have made life difficult for TDP in  Andhra Pradesh, where chief minister Naidu is planning to build his Rome in a day.