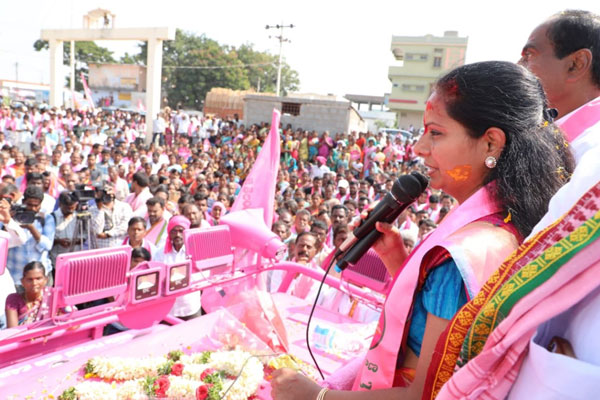 The Jagityal assembly constituency falls in the Nizamabad parliamentary segment which is represented by KCR's daughter Kavitha. In the present election, she has taken upon herself the big responsibility of defeating Congress in Jagityal. Here, TRS has fielded Dr. Sanjay Kumar while senior leader and former minister T. Jeevan Reddy is contesting on Congress ticket. TRS candidate is solely relying on Kavitha's campaign and pro-people programmes implemented by the KCR government in the past four and half years.
For Jeevan Reddy, it is going to be a tough battle as he is gearing up for victory for a seventh time in the segment. He has got close relations with activists all over the segment and he has been known as a farmers' leader always ready to fight for the cause of solving their problems. Jeevan Reddy first got elected on TDP ticket in 1983 but later shifted loyalties to the Congress. He had worked as minister in the cabinets of NTR and YSR. In their speeches, both Kavitha and Jeevan Reddy are asserting that their respective parties' victory run will begin from Jagityal.
Kavitha is reaching out to the voters, saying that the TRS government has brought in development at a cost of Rs. 450 crore all over the segment. Benefits like two-bedroom houses, funds to irrigation, drinking water schemes and others will help in victory of TRS nominee, she says.
TRS candidate Sanjay Kumar says intense campaign by Kavitha will ensure his win. He has been actively working in the segment in past fours years though he was defeated in 2014.
G.Ravikiran
Telugu360 is always open for the best and bright journalists. If you are interested in full-time or freelance, email us at
Krishna@telugu360.com