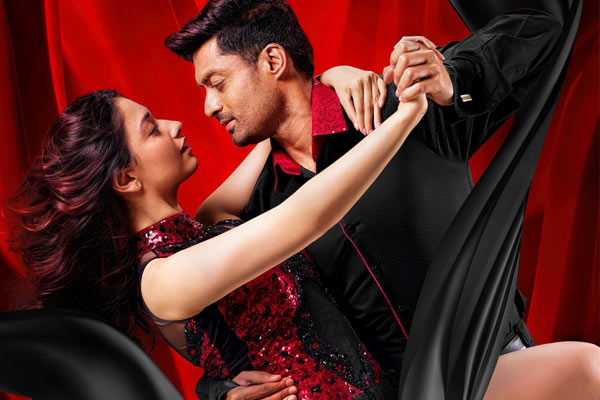 Naa Nuvve Review Rating
Telugu360 rating : 2.25/5Meera (Tamannaah Bhatia) is a happy-go-lucky girl, and also who believes in destiny. While she is struggling to clear examinations, a book named 'Love Signs 'turns as her lucky charm. Meera falls in love with Varun (Kalyan Ram) whose photo she finds inside the book. Meanwhile, she will be selected as a RJ in Magic-100FM, in parallel, do search for Varun. Varun is a H1B visa holder, whose US travel gets postponed multiple times for various reasons. After a while they both meet, friendship blossoms. Meera tells him why she has been searching for him and gives credit to Destiny. Varun, who is a non-believer of destiny, throws a crazy challenge to her to disprove the existence of destiny.
Rest of the film is abouthow the challenge between Varun, Meera ends as? What are the consequences of the challenge? etc
Performances:
Kalyan Ram who is known for Mass, family-oriented roles have tried a makeover as a loverboy Varun in this film. While looks and performance wise he is adequate, in those scenes where it needs to act intimacy with the heroine, he appeared uncomfortable.
Tamannah Bhatia acted decently, her generous glamorous show may appeal her fans. Tanikella Bharani, Posani got small roles. There are many comedians Vennela Kishore, Bithiri Satthi, Praveen and Sudhakar, they're under utilized
Analysis:
A love story-based film, to be successful, requires minimum of 3-4 scenes in which the audiencecould connect to the lead pair/ feel their love or chemistry. If that successful story is topped with melodious songs, potentially becomes superhit. 'Naa Nuvve' which has been stuffed with some cool songs, fail to impress with its story and direction. The artificial incidents in the name of 'destiny'couldn't build the much-required chemistry between the lead pair of a 'love story '. After a slow start, movie picks up a bit towards the interval. However, the second half is a series of cinematic liberty events. Varun's characterization is unexplainable. Why would any US visa (H1B) holder misses the international flight three times back to back and yet happily roams on the roads? Also, RJ Meera camping in a train station for 36 hours, self imposing a dead line to meet her lover sounds inconvincing. Especially, a scene in which Varun finds Meera in an elevator is laughable emotion. Posani character is not over the top this time, generates little bit fun in climax. The comedy by traffic constable (Bitthiri Sathi) is a damp squib, other comedians praveen, vennela kishore are wasted as well. Well known PRO, presenter of this film, Mahesh S Koneru played a cameo as a railway T.C. NTR.Jr references may appeal his fans. Sharreth music is impressive. Overall, the second half gets bored with pointless, slow moving story.
P.C. Sreeram cinematography is noticeable only in few colorful songs.The songs 'Nijama Manasa ', 'Chiniki Chiniki ' , 'Premika' are decent. Production values by Cool Breeze Cinemas (Producers Vijay Vattikooti, Kiran Muppavarapu) are good, succeed in bringing in rich look to the film. Graphics in the songs are of poor quality though
Positives:
Three melodious songs, their colourful visuals
Tamannah Glamour
Contemporary styling to the film
Negatives:
Poor Script
Lack of chemistry between lead pair
Un-Exiting, Slow narration direction
Comedy thread failed to generate any laugh
Verdict:
'Naa Nuvve 'is a soulless film stuffed with few melodious songs. Though it is a short 2-hour duration film, poor and unexciting direction by Jayendra makes it a non-satisfactory watch. Glamorous Tamannah is a plus point and she acted well. Nandamuri Kalyanram looks Okay in his makeover role. Fans of Tamannah, Kalyanram may give it a try to this otherwise boring film.
Telugu360 rating : 2.25/5Release Date : 14th June, 2018
Director : Jayendra Panchapakesan
Music Director : Sharreth
Choreography : P. C. Sreeram
Producers : Kiran Muppavarapu, Vijayakumar Vattikuti
Starring : Nandamuri Kalyan Ram, Tamannaah