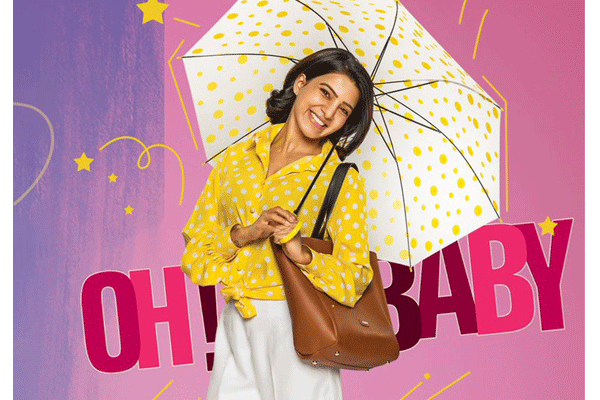 Telugu360 Rating 3/5
Samantha Akkineni is testing her luck at box office with a female centric film titled as Oh Baby. An official remake of Korean drama Miss Granny, the film's story revolves around a 70 year old woman who mysteriously finds herself in a 20 year old young girl. Yesteryear actress Lakshmi, Rao Ramesh, Naga Shaurya and Rajendra Prasad are essaying pivotal roles in this fantastical comedy caper.
Oh Baby has piqued the curiosity of audience with entertaining promos. Samantha is upbeat about her performance and hoping that Oh Baby will give her the long awaited solo hit she has been waiting for. Directed by Nandini Reddy, the film is releasing all over today.
Can Samantha deliver at box office without star power ? Let's find
Story :
Baby ( Lakshmi ) is an adamant old lady who irritates everyone in her family. Baby ( Lakshmi )is forced to leave home due to ill-health of her daughter-in-law. Mysteriously , Baby turns physically young and comes back as New Baby ( Samantha ) who is an energetic girl. Baby's family think she ran away from the home , but Samantha joins them as tenant of Chanti ( RP ).Rest of the story is about what she does following her family closely
Analysis : 
Young , dashing director Nandini Reddy tries her hand on a remake of a korean film Miss Granny this time. Inorder to custom it to Telugu nativity , the director took first 30 minutes to establish the premise. It was boring for that part , things change as soon as Samantha as Young Baby enters the story. Her diction , body language and performance are effortless while she switches between Old lady diction vs young. First half has some genuine laughs but at the end it is an average one. In second half , the story goes for toss and the purpose of Young Samantha's role is a puzzle.
There was an attempt to make this film a musical by introducing a rock / music band concept in 2nd half but it didn't work due to lackluster songs.
Sentimental scenes in second half have partially worked. Music by Mickey J Mayer is disappointing except Changu Bhala song. Production values are good.
Rajendra Prasad , Rao Ramesh , Lakshmi all seasoned artists performed well. Mainly Lakshmi
Positives :
Samantha's performance
Family Oriented Story
Casting
Some fun scenes in 1st half , Few sentiment dialogues in 2nd Half
Negatives :
Very Superficial story
Boring moments in second half
Songs are a setback except ' Changu Bhala '
Verdict : 
' Oh Baby ' is a mixed bag film which may leave family audience satisfactorly.Samantha entertains audience in few scenes but insipid story , artificial sentiment and poor songs work against the film. As Samantha factor and the long weekend work in favor , this film will do better at the US box-office
Telugu360 Rating 3/5
Release Date : July 5th
Director: B. V. Nandini Reddy
Produced by: D. Suresh Babu; Sunitha Tati
Starring : Samantha AKkineni, Naga Shaurya, Rajendraprasad, Lakshmi