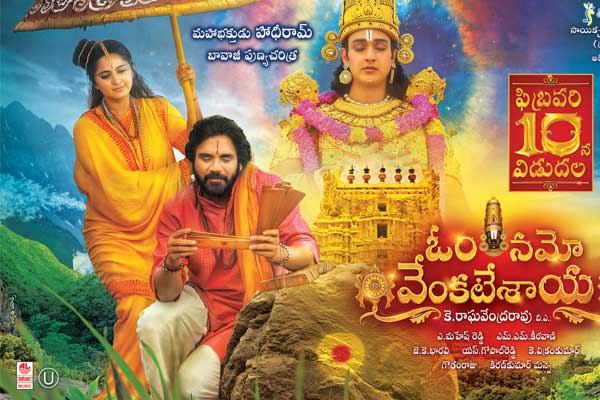 Om Namo Venkatesaya movie review, Nagarjuna ONV movie rating
ONV review, Om Namo Venkatesa
TELUGU360 RATING  3.5/5
Star hero Akkineni Nagarjuna and legendary filmmaker K.Raghavendra Rao are known for delivering devotional hits like Annamayya, Sri Ramdasu and Shirdi Sai. The hit combination is set to weave magic again with yet another devotional outing Om Namo Venkatesaya. After a huge round of promotions, Om Namo Venkateshaya is all set to hit the screens today. Let's us see if the hit combination of Nag – KRR repeats the magic or not.
Story:
Set in 16th century, Om Namo Venkatesaya , is about Raama – an ardent devotee of Lord Sri Venkateswara. Being so fascinated by the appearance of the Lord, Rama ( Nagarajuna) visits Tirumala temple often and spends time looking at the lord continuously. Finding it suspicious, temple authoritarian Govindarajulu (Rao Ramesh) , orders his men to push Raama out of the temple premises. Dejected Raama, begins constructing an ashram on Tirumala. At the same time he leads other devotees in their revolt against Govindarajulu who doesn't follow Aagama Shastram.
Impressed by his dedication, Lord first appears in his dream and later in real, plays dice with his devotee. One day Lord loses all his Gold ornaments to Raama in dice. Around the same time, some miscreants steal the gold ornaments belonging to Tirumala temple. Temple authorities and the emperor suspects Raama might have done the theft and raids his aashram. Knowing about the presence of ornaments at Raama's aashram, emperor orders to take him to custody.
Rest of the story is how and why Raama becomes Hathiram Bavaji ! At the end, Raama requests Lord to take his life away by performing Sajeeva Samadhi near his aashram .
Performances:
Casting is the main strength of "Om NamO Venkatesaya ". While writing about performances, reviewers have a tendency of using "one of the career best performances" so casually, so often. But, in this film, Nagarjuna's performance is truly lives up to such statements. In Annamaya, Ramadasu movies he performed well but in those films his character was elevated because of the depth & finesse of real characteristics of Annamayya & Ramadasu apart from his performance. Playing the role of Hathiram Bavaji is relatively more challenging as people knew little about Hathiram. Only with performance one has to elevate the character in such circumstances, a good actor always performs with panache. Nagarjuna is one such, hats off for his confident portrayal of a devotee.
Sourabh Raaj Jain as Lord Balaji is a superb choice. His divine looks were already popular in mythological roles such as Srikrishna in TV Mahabharata, and now as Sri Venkateshwara Swami he is top class. He looked little bit young though.Anushka as Krishnamma got good role. Her costumes, pleasant face appeals to the audience. Pragya Jaiswal as Raam's sister-in-law got a smaller role. In one song , K.Raghavendra rao mark artistic and glamourous portrayal of Pragya Jaiswal appeals to youth.Sampath Raj as emperor, Rao Ramesh as Govindarajulu are just OK. Brahmanandam played an insignificant role.Jagapathibabu's special appearance is a surprise, has one song with Anushka. However, his role is insignificant.
Analysis:
In Om Namo Venkatesaya , director K.Raghavendra Rao sticks to the core devotional point. Devotee Hathiram's story doesn't have Sri Ramadasu like arresting conflict point, nor Annamayya's like emotional outbursts … yet in this film, the director manages to get our attention.He smartly fills the scenes explaining the concepts like Significance of Swamivari Sesha Vasthram, Agni Teerdham, Venkatagiri and details about rituals like Nitya Kalyanam. This movie is a divine travelogue about Venkateshwara swami / Tirumala at times.First half of the movie is backed by 4 superb songs, while second half is better with core story and the climax is emotional.
Negatives:
Two songs are unnecessary drag especially at the times when movie is a bit slow while pathos
Lack of  as much as emotional depth of previous installments in these bhakti series
Lord and Devotee playing dice scenes are redundant
Behind the screen:
When K. Raghavendra Rao and M.M Keeravani join hands, a musical is assured and Om Namo Venkatesaya is no exception. Background score by Keeravani is fine as well. Producer A. Mahesh Reddy has spent adequate money on this film to look grand. Dialogues by J.K. Bharavi are just average, should have been better. As the film is set in 16th century, he has taken almost current day's slang at times. Cinematography by S.Gopal Reddy captures K.Raghavendra Rao's presentation well. The lighting schema for songs, 16th century Tirumala sets are good.
Songs that stand out:
"Entho Anandam.." shot on Nagarjuna , pragya jaiswal
"Veyi Namala vaada venkatesudaa.." shot on Anushka
Song that comes as background while Swami Nija roopa darshanam – Sung by Keeravani – "Brahmanda Bhandamula pal sobagula.."
"Akhilanda koti brahmanda nayaka .."- is the highlight in the movie
Shankar Mahadevan's "Pareeksha" song
Some other songs are Govinda Chantings and few are pretty average and couple of them could have been edited
Verdict:
Om Namo Venkatesaya is an effectively made film about Lord venkateswara's one of the greatest devotees Hathiram Bavaji. Devotional Songs and Nag's finest performance, Sourabh Raj Jain as Lord are the movie strengths. K. Raghavendra rao deserves an applause for sticking to the core story. Emotionally this film is not on par with Annamayya, but a MUST watch for devotees and a decent watch for all.
TELUGU360 RATING  3.5/5