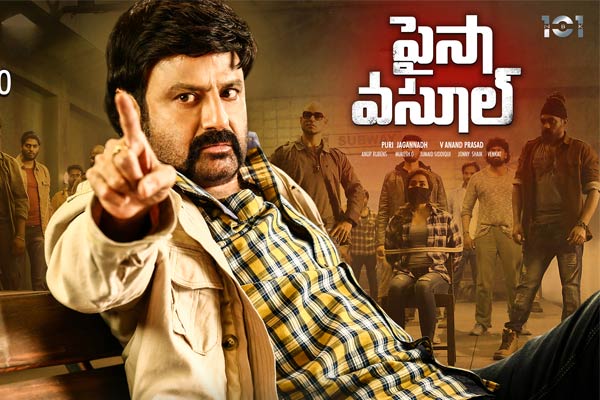 paisa vasool movie review
Telugu360 Rating : 2.5/5
Very few combinations in Tollywood could have matched the hysteria that erupted when Puri Jagannadh announced a film with Nandamuri Balakrishna. The duo have teamed up for the first time in their careers and audience are eagerly awaiting the result of this crazy combination.
Let's see if the dashing combination of Puri – Balayya strike it hard at the box office or not.
Story:
Teda Singh (Balakrishna) who wanders in the Hyderabad night clubs meets an IPS officer (Kyra Dutt) upon whose request, he takes up an assignment to assassinate Mafia don Bob Marley (Vikramjeet Singh) unofficially. Initially Teda Singh meets his neighbor Harika (Musskan Sethi) teases her but later the duo become friends. Harika, tipped by an anonymous person, suspects that Teda Singh was her sister's killer.
Second half opens in Portugal, portraying Balakrishna in the role of cab driver. He takes on mafia don Bob Marley as Sarika (Shriya) tries to record evidences against Bob Marley. A shocking news about Teda Singh is revealed, when Bob Marley finds about conspiracy against him. Rest of the story revolves around the flashback of Teda Singh and how he takes on mighty mafia gang.
Analysis:
'Teda Singh' is an uncanny name for Balakrishna who is well-known for larger than life mass portrayals. Balakrishna accepting a different kind of treatment for his role, particularly the one who cracks a joke on himself, is very much appreciated. The first half of the film runs just for 65 minutes and is fast paced. The dialogues and Balayya's new modulation will appeal to fans, as the storyline remains wafer-thin. Making it shoddier, the production values are cheap in first half. Especially the art work is disappointing. Director Puri Jagan despite being aware that there are many flicks with similar story line, picking this beaten to death story is surprising. Despite the shortcomings, Balakrishna as Teda Singh is successful in entertaining the fans in the first half. The movie in the second half has a serious tone slightly. The move is pretty fast paced, from the revealing the identity of Teda Singh till the Climax. Puri Jagan who did some homework around BalaKrishna's characterization, failed to do justice to all other areas in the movie.
Highlights:
Portugal episode in which Shriya is rescued. The jungle book dialogues and the entire episode is highpoint of the film
Balakrishna's performance
Dialogues
Maava Ek Peg Lao song and its picturization
Kannu Kannu kalisayi song tune is pleasant
Fast paced narration
Negatives:
Story is very similar to the director's previous films
Too many fights
Verdict :
'Paisa Vasool' portrays Balayya in a role different than his screen image. Consequently, Balayya's strengths are underutilized. Teda Singh's comedy characterization partly works. In general, three songs and Portugal episodes are good! Puri Jagan should seriously consider coming out of his template of mafia don script. Overall, this film will be enjoyed by fans and mass audience only.
Telugu360 Rating : 2.5/5
Release Date : 1st Sep, 2017
Director : Puri Jagannadh
Music Director : Anup Rubens
Choreography : Mukesh G
Production Company: Bhavya Creations
Starring : Balakrishna, Shriya Saran