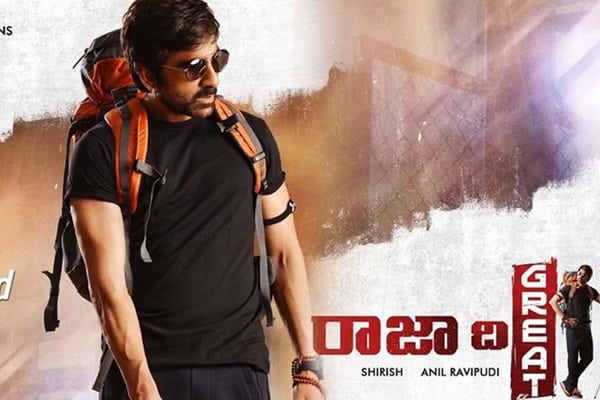 Raja The Great Review, Raja The Great Movie Review
Click here for 'Mersal' Movie Live Updates
TELUGU360 RATING : 2.75/5
Story :
C.I Prakash Raj executes Deva's (Vivan) dearest brother in a police encounter. Deva seeks vengeance from Prakash Raj and his doting daughter Lucky (Mehreen). Lucky was one of the reason cops succeeded in finding the antagonist's hiding brother. C.I. hides his daughter in Darjeeling at friend's place, to evade the life threat. As Deva succeeds in killing the C.I, police department looks out for a special team with an objective of security cardon for Lucky.
Ananta Lakshmi (Radhika) a lady constable, obliges with SP (Sampath Raj) to include her blind son Raja (Ravi Teja) to be part of this security team. Rest of the story is how Raja, being blind, takes on mighty Deva and his goons to save Lucky.
Analysis:
'Raja the Great' is primarily a farcical comedy film with Ravi Teja's image being savior of the film. The attempted comedy, clicks in some parts while it falls off the standards in the remaining parts. Director has taken too many cinematic liberties in conceiving many scenes around the character who is blind. The story line is the main culprit.
The best part of the film is the post interval 20-minute, opening with Posani Murali scenes till Gunna Gunna Mamidi song. Few catchy words like 'Mukha Chitram' and their appropriate usage have worked. However, there are a lot of redundant stuff.
The hero is shown as gifted with extremely good sensory capabilities sans vision. But some scenes in second half are unjustifiable and too hard to believe that an unsighted person can perform those rescue acts. Number of comedians including Jaya Prakash Reddy, Prudhvi, Srinivasa Reddy, Saptagiri, Sampoornesh Babu, Satyam Rajesh and others were roped in to generate comedy. Songs are forgettable which is unusual in Dil Raju films.
Bank robbery scene in the first half lacks humor and is vexing. This is one of the silliest sequences with the comedy tag. The train episode in the second half reminds audience of a star hero who is mocked for such stunts. The audience IQ is taken for granted, especially in the shots involving Ravi Teja's feats on-and-off a high-speed train. Ensuing last 20-minute action scenes are also unreasonable. This film may work for those who are satisfied with anything portrayed in the name of comedy.
Technical:
Director Anil Ravipudi who delivered good action blocks and comedy sequences in the past, could not succeed in levelling his own standards. However, he prospered only in fast screenplay and few comedy sequences. A clichéd and superficial story written by the director himself is the culprit. Sai Karthik's two songs are average and background score is adequate.
Performances:
Ravi Teja as Raja delivered his trade mark performance to cater his fans. Ideally, playing a blind role might be risky and not viable commercially. He must be highly appreciated for courageously accepting this role. Signs of ageing are clearly visible in his face, but his energy levels are undeterred. Mehreen does looked good and fits the role.
Star cast ensemble is of higher order. Rajendra Prasad, Prakash Raj, Sampath Raj, Radhika, Tanikella Bharani, Posani Krishna Murali, Srinivasa Reddy, Annapurna and whole bunch of comedians acted in this film. However, each one of these good actors got limited scope to perform.
Verdict:
'Raja the great' is a forced mass comedy which succeeds only in parts. While Ravi Teja did his best with his trademark timing, the poor story line and illogical scenes play the spoilsport. You may watch it at your leisure, if you can bear with the aforesaid downsides.
TELUGU360 RATING : 2.75/5
Release Date : 18th Oct, 2017
Director : Anil Ravipudi
Music Director : Sai Karthik
Choreography : Mohana Krishna
Production Company: Sri Venkateswara Creations
Starring : Ravi Teja, Mehreen Pirzada