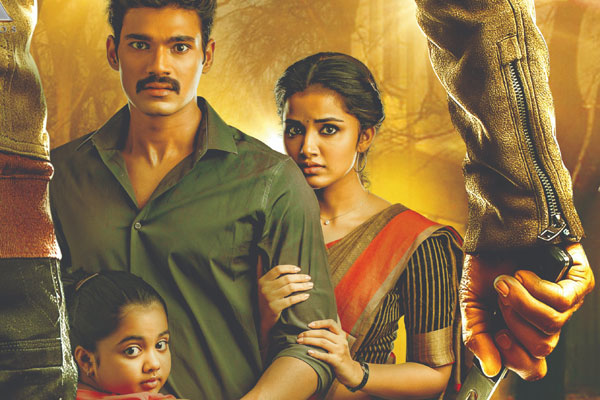 Rakshasudu Review
Rakshasudu Review
Telugu360 Rating 2.75/5
Bellamkonda Sreenivas is desperate of success and after a series of failures, he has his hopes on Rakshasudu, the remake of Tamil blockbuster film Ratsasan. Ramesh Varma directed this action drama and Anupama Parameshwaran plays the female lead. Satyanarayana Koneru is the producer and Rakshasudu releases on August 2nd in India, premiered on August 1st in USA. Ghibran composed the music and the background score.
Story :
An aspiring film maker Arun quits his futile attempts in film industry , finally takes up a Police SI Job. At that time city is panic about a serial killer who is targeting school girls. As his research for cinema scripts was on psycho killers,Arun dedicatedlyfocusses on investigating the serial killer's case. One after another his initial suspects are wrong ones, how he completes the tough task of tracking down the real culprit is the rest of the story
Analysis:
Serial killer or Psycho killer movies often setup with a weird, flashy backdrops and directors tend to over try the things. Here in Rakshasudu, the setup around the prime characters is realistic and simple. The surprises are organically blended in the narration. First half is decent but some predictable structure to the premise. The director (read as the original director) has succeeded in engaging the audience with his tight screenplay until the pre-climax. The flashback for the villain, which is the key element,has been told blandly and looked very artificial. Thus, Pre-climax and climax scenes are dragged.
Bellamkonda sreenivas got a good role finally, he performed well. There is one scene after the interval, in which both Sreenivas and Rajiv Kanakala excelled in emotions. Anupama parameswaran got lesser important role as a school teacher and she is just okay. Except one song bit, there are no commercial songs in this film .Rakshasudu is one osreenivas's career best as he looks fit as cop, confident and carries the role with ease and conviction
Director Ramesh Varma succeed in remake. Ghibran's music helps the film tremendously. Venkat C. Dilip 's cinematography is good. The art work designed for the psycho's residence is bit out of the place
Positives:
Good screenplay which engaging narration mostly
Performances
Background score
Negatives:
Prolonged in pre-climax , Climax
Villain flashback is not effective
Verdict
Rakshasudu film offers a tight screenplay that keeps the proceedings interesting till the end. First half is decent but with some predictable structure to set the theme. Second half is engaging but prolonged at times. Overall ..Rakshasudu , a dark psycho thriller , is watchable for the audience who like this genre.
Telugu360 Rating 2.75/5