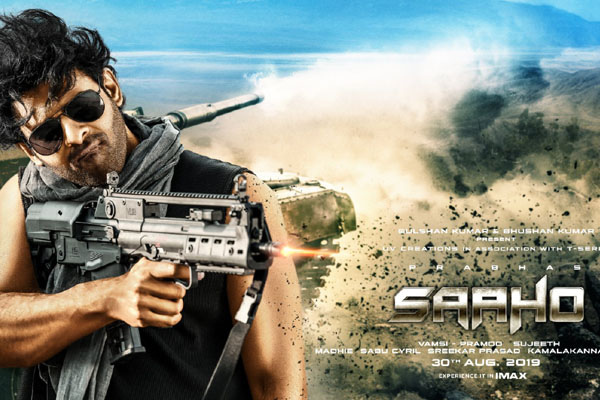 Saaho Review
Telugu360 Rating 2/5
The much awaited Indian film of the year, Saaho which features Prabhas, Shraddha Kapoor and Neil Nithin Mukesh is all set for a grand opening worldwide amid huge expectations. Touted as the costliest action film made on a whopping budget of 300 Crores, Saaho has been the talk of the town ever since the spectacular trailers and riveting posters evoked a stirring response from audience.
Can Saaho live up to the heavy expectations and cement Prabhas' position as a pan-India star ? Let's find out with our review.
Story :
Underworld don Roy ( Jackie Shroff ) and his rival Devraj ( Chunkey Pandey ) live in a fictious city of Waaji, where the movie is based. The Ageing don Roy hides whereabouts of his son to protect from rivals. Back in India , a 2,000 crore robbery is under investigation by undercover officer Ashok Chakravarthy ( Prabhas ). There is a thief Jai ( Neil Nitin Mukesh ) whom Ashok & Amrita ( Shraddha Kapoor ) chase.
At some point , the robbery is linked to the waaji city dons. Rest of the story is unfolding of twisted identity events
Analysis :
A Grandiose takeoff in Waaji City greets Saaho audience. After that introduction , a parallel story at India begins on dull note. Right from the mighty hero Prabhas's lukewarm entry scene , by one hour into the movie ..one can smell the things are not in right place. An undercover cop investigating a high profile case gives ample scope to thrills and excitement but sadly except the good twist at interval , first half of the film is pretty much flat. Prabhas' styling , looks are not taken care adequately. ' Ye chota nuvvunna ' song visuals are good , ' Psycho Saiyaan ' song is disappointing on screen.
Second half moves at quicker pace for 15 minutes. Lead sequence to ' Bad Boys ' song , The ' Bad Boys ' song picturisation are very good. Afterwards , it is difficult to decipher what's going on in the second half with confusing screenplay. None of the action scenes or graphics scenes make any impact until the much talked about Dubai action block. That 20 minutes action block , shot in Dubai , came out OK. Few poor VFX shots can't go unnoticed though. Then one more layer in the story , about 'Karana village' begins. Then flashback has been revealed in bits n pieces with Climax being penultimate point of the story.
On technical front , Ghibran background stands out . UV Creations production values are lavish but budget wouldn't be 300 Crores as touted. The output seems like a 150C or less film with its tacky VFX work in some scenes. Stunt coordinators have done commendable job but you don't get to appreciate any of those due to hurried screenplay.
The director Sujeeth who envisioned this film at mammoth scale , couldn't setup not even a decent backup in form of story or screenplay. He completely missed out utilizing Prabhas's larger than life image. Hero Characterization is something the director has forgot.
Dialogues are unimpressive throughout the film , audience have no single dialogue to remember after exiting the theatre.
Performances by lead actors Prabhas , shraddha kapoor and Neil Nitin Mukesh are Okay. As said earlier , lack of proper characterization takes the toll. Huge number of other actors are wasted as well.
Positives :
Interval Twist
Pre-Climax Action Block
Two Songs
Negatives :
Boring , flat narration
Cliched story with confusing screenplay
Prabhas Image under utilized
The love track is miserable
Hodgepodge screenplay
Verdict :
' Saaho ' is a disappointing film at many levels. A supposedly high octane action thriller has gone wrong , suffered badly by a confusing screenplay. Young director Sujeeth has done gross injustice to Prabhas , his sky high image.
Yet to digest what we have seen on-screen this evening.
Telugu360 Rating 2/5