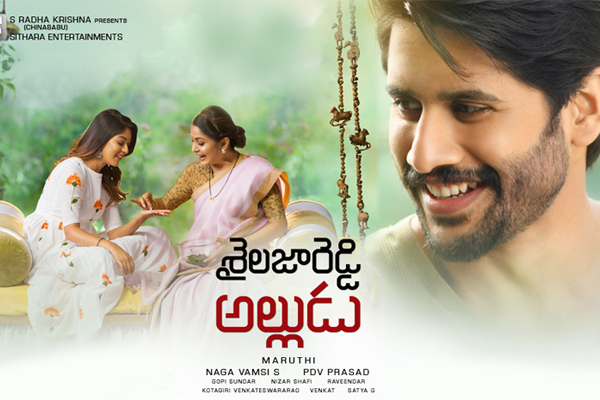 Sailaja Reddy Alludu Review Rating
Telugu360 Rating 2.25/5
Akkineni Naga Chaitanya teamed up with hit filmmaker Maruthi for a full length family drama titled as 'Sailaja Reddy Alludu'. The trailers and teasers hinted that Maruthi is exploring the highly successful 'Attha – Alludu' theme with this film. Ramya Krishna is essaying a substantial role and Anu Emanuel is playing the female lead. Let's find out if Maruthi can recreate the magic with this film or not. Here is our review :
Story:
Chaitu( Naga Chaitanya) is the only son of rich and highly egoistic industrialist Rao Garu ( Murali Sharma). Chaitu falls for a rich and beautiful fine arts student Anu (Anu Emmanuel), eventually finds her to be very much replica of his father in terms of ego. In an impromptu situation, Chaitu's father rushes Chaitu and Anu to engage instantly(without even informing her parents) . After the engagement, it will be revealed Anu is the only daughter of warangal's powerful landlord, lady leader Sailaja Reddy(Ramya krishna). Sailaja Reddy is equally stubborn and more egoistic than her daughter Anu. Now the onus of convincing sailaja reddy falls on Chaitu. He joins Anu family in Warangal on the secret mission of impressing Sailaja reddy, rest of the story is how he succeeds in his mission
Analysis:
'Sailaja Reddy Alludu' film has a commercial story line that is heavily dependent on treatment and narration. Box-office potential for such commercial stories is very lucrative – given the characterizations,dialogues, and narration etc. fundamental elements work in their favor.This particular film has a story with three easily manageable threads, first one Mother versus Daughter conflict, second Hero's father and Hero, third being the love between a positive minded Hero and egoistic Heroine. Given this premise, there is an ample scope for a successful entertainer. But, this film suffers from sloppy direction, weak characterizations and unappealing comedy track.
Sailaja Reddy Alludu opens with establishing the egoistic nature of hero's father, followed by introducing a positive attitude son Chaitu. Then heroine Anu has been introduced, with few scenes depicting her high handedness and egoistic nature. First she refuses to recognize Chaitu's love, eventually falls for him. Chaitu and Anu get engaged in unavoidable circumstances, later her family background is revealed. First half ends with Ramyakrishna introduction. A fight designed for fans, with Nag's 'Hello Brother' song 'Priya Ragale Gundelona pongutunna ee vela' came out well. In first half, Anu characterization is interesting. Comedy dialogues written for Vennela Kishore are mediocre, he keeps on talking meaningless words. In First half songs," Anu Baby " is the highlight, " Gold Rangupilla" is decent enough , " Thanu vedikina " song is pretty average. Overall, first half has no high moments nor boring ones – a typical average one.
Sailaja Reddy Alludu film starts faultering in 2nd half with the title character introduction. Ramya Krishna as Sailaja Reddy has been introduced as a leader who doesn't tolerate injustice to women in her village. Her body language (walking style, dialogue delivery) is replica of Baahubali shivagami character. Other than establishing she is an egoistic person as well, other scenes to elevate her turned out pale. Her character is a half baked one, there is much scope left untapped to get mileage from her post Baahubali following. Coming back to story, Chaitu – Anu duo cover up their engagement matter from sailaja reddy. Chaitu settles in heroine's home to make his love win, but realizes more important thing is to resolve the issues between Sailajareddy and Anu who are not in talking terms. Thus story takes another path for a while, finally comes back to familiar lines
Second half lacks any emotions, Prudhvi – Vennela Kishore pranic healing comedy thread tests patience. In second half songs, 'Egiregire ' duet stands out as good one , ' Sailaja Reddy Alluduchude " is a situational one. Overall, second half disappoints with not much in entertainment.
Technical:
Production values by Sithara Entertainments are good. 3 songs are lavish, visuals are rich. However, supporting cast could have been better. GopiSundar's music for two songs " Anu Baby " " Egiregire " is good , others average. Background score in few comedy scenes is good. Nizar Shafi's cinematography is adequate. Director Maruthi misses his mark strength in delivering 'comedy '. Despite being a writer, Maruthi is unable to deliver at least few good dialogues in a high profile film – that is something need immediate sincere introspection
Performances:
Naga Chaitanya as Chaitu looked very positive, acted with ease. In stylish outfits, his screen presence is much better than previous outings. However, his role is not so hero centric – rather female characters dominated at times. Ramyakrishna as Shailaja Reddy brings much weight to the role, but the body language could have been used different from Baahubali. Anu Emmanuel is glamorous,fitted in egoistic rich girl role well. Murali Sharma is just okay. Vennela Kishore, Prudhvi could not entertain in their poor comedy roles. Senior actor Naresh as Ramyakrishna husband has no scope to perform.
Positives:
Average first half
2 Songs
Naga Chaitanya, Anu Emmanuel
Some fans elements ( A fight with PriyaRagale song BGM )
Ramya Krishna star image
Negatives:
Sloppy direction
Poor characterizations
Failed comedy
Verdict:
Sailaja Reddy Alludu is a below average film with commercial template story. Director Maruthi has failed in his strength element "Comedy "and narration is flat. Overall, with an average first half and below par second half, it's not up to the mark. The catchy title, Chaitu -Anu following , Ramya Krishna's craze and lack of competition in festive season etc. factors may work to some extent in favor of this film at Indian Box-office.
Telugu360 Rating 2.25/5
Release Date : 12th Sep 2018
Director : D. Maruthi
Music Director : Gopi Sundar
Cinematography : Nizar Shafi
Production : Sithara Entertainments
Starring : Naga Chaitanya, Anu Emmanuel , Ramya Krishna
Telugu360 is always open for the best and bright journalists. If you are interested in full-time or freelance, email us at
Krishna@telugu360.com